---


A-Z Artist Index
Compilations
Record Labels
Media
Help Us!
Contact Us
Resources
Timeline
---
From: UK?

Active: late 60s onwards

Style: Mod/Soul



Bio:

Son of Larry Adler, the US jazz harmonica player. Peter Adler was studying at Trinity College Dublin when he became a member of Bluesville, playing saxophone. He assumed the lead singer role while Ian Whitcomb was on the promo circuit in America in 1965, much to the latters displeasure. He joined The Action in 1966 but soon left them for The Next In Line, who backed him on his second solo single.

His first solo single resulted from his friendship with Michael Chaplin, son of Charlie Chaplin. Chaplin recorded a solo single "I Am What I Am" b/w "Restless" in 1965 which featured Adler on harmonica. It was produced by Larry Page who immediately spotted Adler's talent and commissioned him to write a second single "Love And Not Hate" which became Adler's solo debut. Released in October 1965, it consists of two heavily orchestrated 60s pop ballads and is not worth tracking down.

Adler's second solo single is worth tracking down. The A-side "I'm Gonna Turn My Life Around" was written by Adler and has been described as a "blue-eyed soul mod banger"! It's streets ahead of the debut. The B-side is a decent cover of Oscar Brown's "But I Was Cool".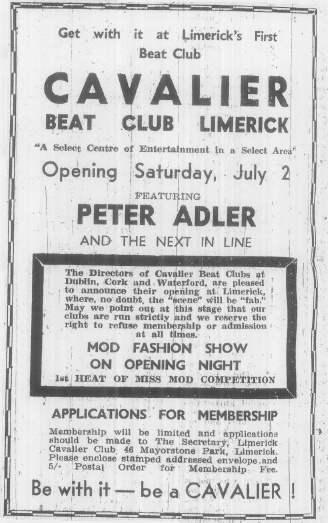 Peter Adler & the Next In Line opening the Cavalier Club in Limerick, Saturday 2 July 1966.



Discography:

• Love And Not Hate / You Especially
7" - Decca Records - F.12262 - October 1965
Both sides written by Adler and produced by Larry Page.



• I'm Gonna Turn My Life Around / But I Was Cool
7" - Decca Records - F.12394 - 1966





---
From: London

Active: 196?-66

Style: Mod/Soul

Lineup:
Bruce ? - vocals
Max Ker-Seymer - lead guitar
Bojang Meftah - rhythm guitar
Tony Cousins - bass
'Bunt' Stafford-Clark - drums


l-to-r: Max, Bruce, Bunt, Tony
Bio:

The Next In Line were a London mod/soul band influenced by The Who, Small Faces, Kinks and Tamla Motown who were based in Ireland for a short period. They lived in a flat in Harcourt Street in Dublin above The Green Tureen restaurant, directly opposite The Five Club. Peter Adler (ex Bluesville, The Action) joined the band in Feburary 1966 and the Next In Line backed him on his 1966 solo single "I'm Gonna Turn My Life Around".

The Next In Line supported headlining acts from the UK in Dublin such as The Hollies (National Stadium, 3 March 1966) and The Who (National Stadium 7 May 1966). They split from Adler circa May 1966 and Bojang left the band around the same time. Their final Irish date was in Belfast in September 1966. They split soon afterwards with Max Ker-Seymer going on to join A Wild Uncertainity.






See also: Bluesville


External Links:



Help!: We need your help to complete this entry. If you can tell us more about this band then please do! We welcome any corrections, missing details, connections to other bands, where are they now, etc. We also need photos, scans, copies of releases or live or demo recordings, and any other memorabilia gathering dust in the attic. If you can help, then please get in touch.

thanks to Max Ker-Seymer


---

A-Z Artist Index
Compilations
Record Labels
Media
Help Us!
Contact Us
Resources
Timeline
---