---


A-Z Artist Index
Compilations
Record Labels
Media
Help Us!
Contact Us
Resources
Timeline
---
From: IRL

Active: c1984-86

Style:

Lineup:
Teresa Kenny - vocals
John Byrne - guitar
Turlough O'Connor - keyboards
Paul Boothman - sax
Liam Dargan - bass
Shay Ryan - drums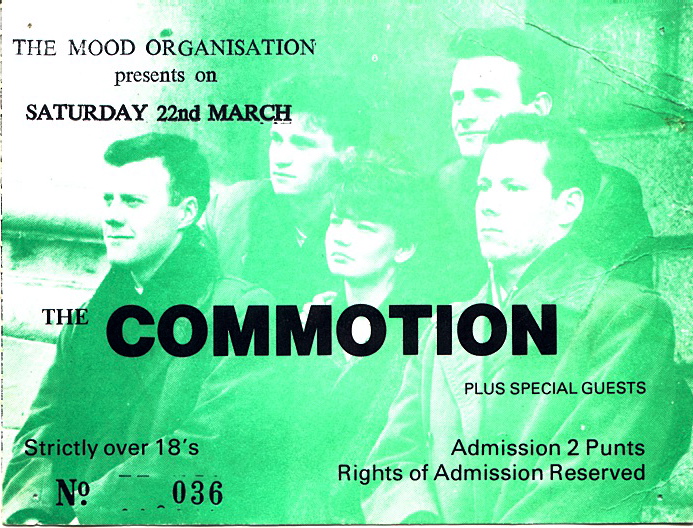 Bio:

The Commotion was formed by ex Jagz bassist John Byrne. They were a mod/pop band who played regularly in Tommy Dunnes Tavern in Dublin.

They were one of several mid eighties mod / garage / pop bands documented on the Hip City Boogaloo compilation LP on Hotwire Records in 1984. Other bands included the Fontaines, Side One, the Temps and the original Light a Big Fire. The Commotion also released a split single with Private Number in 1985.

They split in 1986, then reformed in 1987 as Hallelujah Freedom.

Author Roddy Doyle has acknowledged that The Commotion were part of the inspiration behind The Commitments, a comparison which made some of the band members wince. But it was only the format of the band and their soul leanings which bear any real comparison. Unlike The Commitments, The Commotion wrote most of their own material and any covers they included in their live set tended to be obscure sixties soul numbers rather than the cliched Pub Rock by numbers stuff that featured in the Commitments film. John Byrne appears in a crowd scene at the end of the film. He later became a journalist, writing for the RTE Guide.





Discography

• various artists - Hip City Boogaloo
LP - Hotwire Records - HWLP001 - IRL - March 1984
See Compilations section for full track listing.



tracks:
You'd Never Know
(Don't Say Goodbye) Today


• The Commotion / Private Number (split)
7" - Hotwire Records - HWS 851 - January 1985 - PS?



side one:
Private Number - Don't Take It Away

side two:
The Commotion - (Don't Say Goodbye) Today


• various artists - Sound Of Irish Mod 1979-1989 / Powerpop Gems #1
K7 - boot
See Compilations section for full track listing.
tracks: You'd Never Know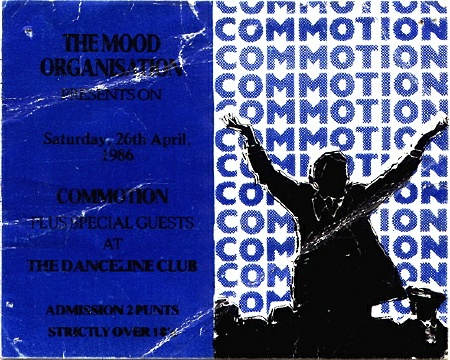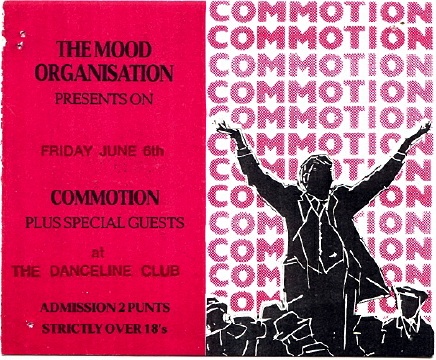 Help!
We need your help to correct and/or complete this entry. If you can provide more information about this band, have scans, photos or any other memorabilia we can use, or spare copies of any releases, then please get in touch.
---

See Also:


---

A-Z Artist Index
Compilations
Record Labels
Media
Help Us!
Contact Us
Resources
Timeline
---