---


A-Z Artist Index
Compilations
Record Labels
Media
Help Us!
Contact Us
Resources
Timeline
---
From:

Active:

Style:



Timeline:

1968-69 -> Tramcarr 88
1996-75 -> Tír Na nÓg
1975-79 -> solo
1979-?? -> Scullion




Bio:

When Tír Na nÓg split in 1975, Sonny Condell returned to Ireland where he recorded his debut solo album Camouflage, now widely regarded as Ireland's first and most important traditional & jazz cross-over album. He previewed material from Camouflage during his performance at the Macroom Festival of 1976, when he was backed by Supply, Demand and Curve. While he reputedly found some difficulty getting across to the kind of audience present (Rory Gallagher fans), he turned in a workmanlike set, remarkably free of the gaucherie he'd sometime been guilty of in the past.

Following a series of celebrated sessions in Dublin, he formed seminal group Scullion with Philip King, recording their ground-breaking self-ttiled debut album in 1979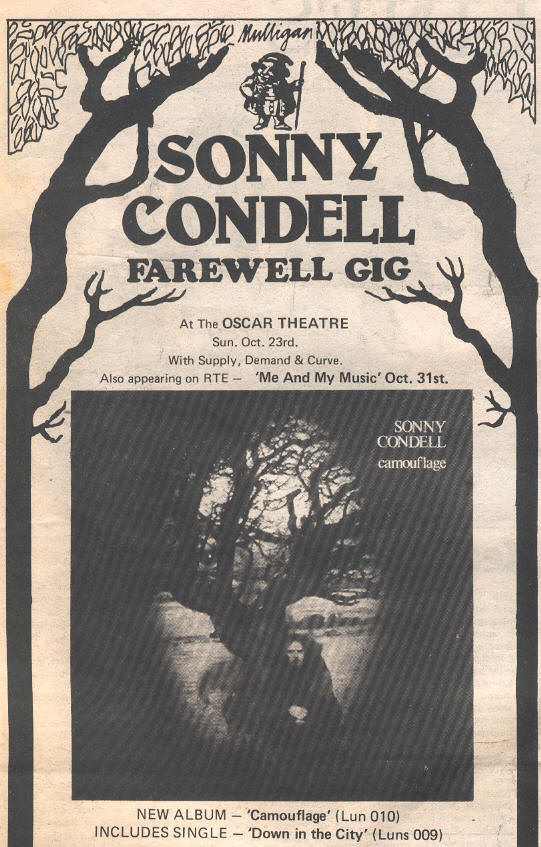 1977 Mulligan Records advert for Sonny's debut solo LP


Discography

• Camouflage
LP - Mulligan Records - LUN 010 - IRL - 1977

side one:
Camouflage
MoonDust
Red Sail
Down In The City

side two:
Movie To You
Why Do we Fight?
Leaders of Men
Backwaterawhile


• The Fruitsmelling Shop (Ulysses extract) / Down in the City
7"- Mulligan Records - LUNS ??? - IRL - 1979 - PS


• s/t EP
12" - Grapevine - 19?? - no PS


• Someone to Dance With
CD - Starc - IRL - 1995


• French Windows
CD - Hummingbird - 2000


• Backwater Awhile





Help!


We need your help to correct and/or complete this entry. If you can provide more information about this band, have scans, photos or any other memorabilia we can use, or spare copies of any releases, then please get in touch.



---

See Also: Supply, Demand & Curve, Tír Na nÓg, Tramcarr 88


---

A-Z Artist Index
Compilations
Record Labels
Media
Help Us!
Contact Us
Resources
Timeline
---