---


A-Z Artist Index
Compilations
Record Labels
Media
Help Us!
Contact Us
Resources
Timeline
---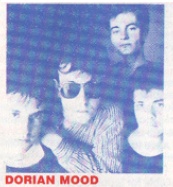 From: Drogheda

Active: 1985-90

Style: Rock/Powerpop

Lineup: (1986)
Roland Hoek - vocals & guitar
John White - keyboards (1986-89)
Eamon Foley - bass (1985-87)
Graham Hoek - drums


Lineup: (1989)
Roland Hoek - vocals & guitar
Paul McQuillan - guitar, vocals (1989-90)
John White - guitar, keyboards, vocals
Gavan Kierans - bass (1988-90)
Graham Hoek - drums
Bio:

Powerpop quartet from Drogheda who had a huge local following. Made their Dublin debut at the Underground on 15 February 1986 and TV debut on RTE the same year. Dorian Mood released a fantastic debut single in 1986, a re-recording of "It's A Funny Thing" from a Dave Fanning session. This was followed by a mini-LP approx 3 years later, by which time Eamon Foley had left and the band had expanded to a five piece with Gavin Kierans (initially their manager) taking over on bass and new member Paul McQuillan. Eoin Holmes (of Hot Press) became their manager. They split sometime in late 1989. Gavin Kierans was later in Sharpesville.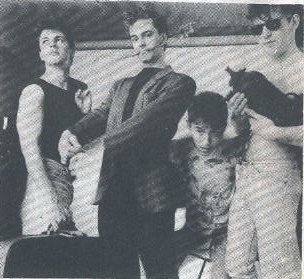 The band recorded several tracks for Dave Fannings Show, including "What You Want", "Sleazy Attic", "Falling Deep Inside", "Vigilence" and the original version of "It's A Funny Thing". If anyone has a tape, please get in touch!

Dorian Mood's single is now considered a classic. Their LP doesn't attract as much attention from collectors but copies are even harder to locate. But praise was not universal. Richie Taylor reviewed it as follows: "I should really say that this is good because it's Irish and it's reasonable. However, the lightweight production and general lack of passion render it decidedly uneventful" (In Dublin #266, Oct 1986).

In 2014, an mp3 download album of selected recordings was made available. Let us hope this leads to a full discography CD.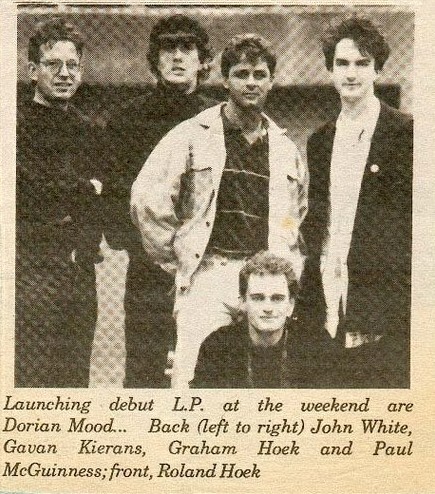 Discography

• Tomorrow
K7 - demo - 1985
Recorded at Slane Studios.

tracks:
Tomorrow
I Will Help You
Inspiration
a.o.?


• Dave Fanning Session

tracks:
What You Want
Sleazy Attic
Falling Deep Inside
Vigilence
It's A Funny Thing


• It's A Funny Thing / Brand New Dream
7" - One By One Records 1x3 - IRL - October 1986 - PS +insert
Originally planned for March 1986. Recorded at TMW Studio in Antrim.


• Can't Stand Still
LP - Big Mood Records - BMR 1 - IRL - 10 October 1989 - plays at 45rpm
K7 - Big Mood Records - BMRC 1 - IRL - 10 October 1989
Recorded live to 8-track at R'N'R Studios, Drogheda, April 1989.



side one:
The Tide
Can't Stand Still
Annie Baby

side two:
Didn't See It
Late For A Date
Thumbnail Express
Just Do It
Notes: Recorded on 8-track at Roland Hoek's R'N'R Studio in Drogheda in April 1989. The album was recorded in single takes and completed in less than five hours.



• XXV
DL - Big Mood Records - none - IRL - 14 December 2014- plays at 45rpm
MP3-download album.



tracks:
The Tide
Late For A Date
Can't Stand Still
Didn't See It
Annie Baby
Thumbnail Express
I Will Help You
Tomorrow
Inspiration
Notes: Released 25 years after the 'Can't Stand Still' mini-album, this collects 6 of the 7 tracks from that release and adds 3 demos recorded at Slane Studios in 1985.
Help!
We need your help to correct and/or complete this entry. If you can provide more information about this band, have scans, photos or any other memorabilia we can use, or spare copies of any releases, then please get in touch.
---

See Also:


---

A-Z Artist Index
Compilations
Record Labels
Media
Help Us!
Contact Us
Resources
Timeline
---