---


A-Z Artist Index
Compilations
Record Labels
Media
Help Us!
Contact Us
Resources
Timeline
---
From: Drogheda

Active: 1981-

Style: Punk / Powerpop

Lineup (1983):
Tony Conaghy - vocals
John Hodgins - guitar
Barry 'Baz' Quinn - bass
Joe McCormack - drums


Exile circa 1984, LR: Quinn, Conaghy, McCormack, Hodgins
[thanks to Susan O'Flynn]
Bio:

Highly promising punk band from Drogheda of whom great things were expected. They recorded a demo tape ("The Day They Came") at Slane Studios in 1983 which was played on national radio and earned them an invitation to record a Fanning Show session.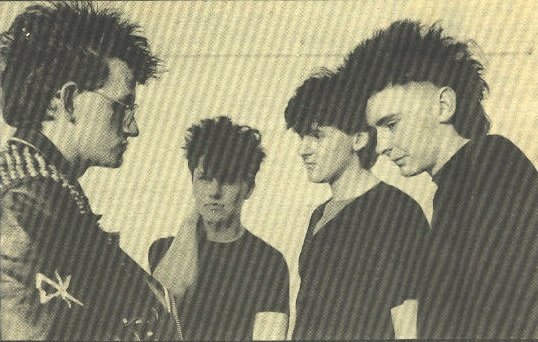 Exile In The Kingdom in 1983, LR: Hodgins, Quinn, McCormack, Conaghy

A single was recorded for the Kabuki label in 1983 which finally came out on Prophet Records in 1984. The catalogue number reflects it's originally intended release. It reminds me of The Three Johns. The band's later Fanning session reputedly mirrors Ruefrex's development.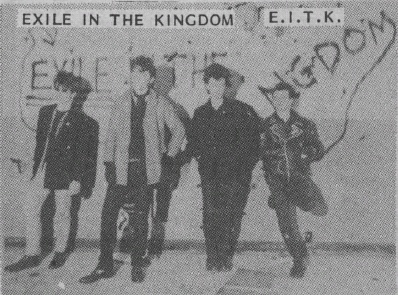 Exile featured in Maximum Rock N Roll in September 1984





According to MRR #17 (September 1984), E.I.T.K. completed a video which was intended for sale. This was made by Enda Murray (see external links below).
Nicky Mallon was an earlier drummer (circa 1981)





Discography

• The Day They Came
K7 - demo - 1983


• Freedom / Total Disorder
7" - Prophet Records - PREFIX 8 - 1984 - PS
Produced by Jon Langford
Entered the UK indie charts on 2.2.85 for a 5 week run, peaking at #38.



• various artists - World Class Punk
K7 - ROIR - A??? - USA - 1984
CD - ROIR - RUSCD 8243 - USA - 200?



track: Freedom

Notes:
International punk compilation assembled by Mykel Board. The tape is separated into a "Core" side and a "Fringe" side. E.I.T.K. appear on the latter.
Help!
We need your help to correct and/or complete this entry. If you can provide more information about this band, have scans, photos or any other memorabilia we can use, or spare copies of any releases, then please get in touch.
---

See Also:

External Links: Enda Murray's video for Freedom is on youtube.


---

A-Z Artist Index
Compilations
Record Labels
Media
Help Us!
Contact Us
Resources
Timeline
---