---


A-Z Artist Index
Compilations
Record Labels
Media
Help Us!
Contact Us
Resources
Timeline
---
From: Lurgan, Co.Armagh

Active:

Style: Heavy Metal

Lineup:
Ivan Lavery - guitar, keyboards, vocals
Paul Lavery - bass, vocals
Ray McKenna - drums, percussion


Bio:

Initially a heavy metal quartet with vocalist Dermot O'Kane, they'd slimmed down to a trio by the time they recorded their debut LP, which was produced by Vivian Campbell (then of Sweet Savage). This was released on their own Electric label in 1984, followed by a second in 1986. Both are now difficult to find. There are also a number of unique tracks scattered across various compilations.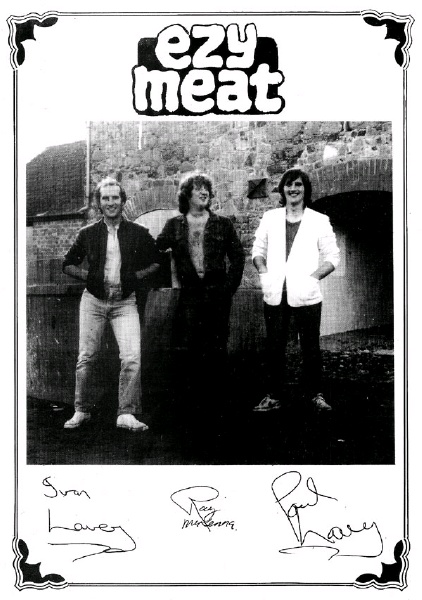 The German Iron Pages label is currently handling the reissue program of this highly regarded band. Ivan Lavery now runs http://www.widzvidz.com





Discography

• Makin' Noise
K7 - demo - August 1980


• various artists - Belfast
LP - Shock Rock Records - SLR007 - 1980
See Compilations section for full track listing.

tracks:
Sexy Lady
Soho Escapade


• Not For Wimps
LP - Electric Storm Records - ES001 - November 1984 - insert
CD - Iron Pages - IPR 001 - 2003 - with 6 bonus tracks (4 from samplers + 2 unreleased)
Recorded at Slane Studios. Produced by Vivian Campbell



side one:
Not For Wimps
Freedom Seeker
The Loner
Vampire Lady
Wasting Time
Get Em Off

side two:
Ban The Bomb
Ban The Bomb Part 2
Shoot Out In The City
Life And Death Of Pete


• Rock Your Brains
LP - Electric Storm Records - ES002 - September 1986 - insert





side one:
Rock Your Brains
Never Met A Woman Like You
Sodum And Gomara
So Tired
I Gotta Run

side two:
Massacre
Alien Tale (20:31)
Notes: All songs by Ivan Lavery. Produced by Ivan Lavery. Engineered by John Dee. Recorded at Slane Studios Dublin.



• various artists - Rock Meets Metal, Vol 2
LP - label? - ??? - 1987


• various artists - Metal Warrior
LP - Metalother Records - OTH9 - 1987


• Rockinī the Colosseum (Live 1985)
LP - Iron Pages - IPR 005 - 2006 - inner



side one:
Life and Death of Pete
Rock It Out
Lady

side two:
Wasting Time
Not for Wimps
I Gotta Run
D.A. Blues
Recorded live at The Wilmar House Hotel, Newcastle, Ireland in May 1985 except "D.A. Blues" taken from the "Makinī Noise" demo.
Help!
We need your help to correct and/or complete this entry. If you can provide more information about this band, have scans, photos or any other memorabilia we can use, or spare copies of any releases, then please get in touch.
---

See Also:


---

A-Z Artist Index
Compilations
Record Labels
Media
Help Us!
Contact Us
Resources
Timeline
---