---


A-Z Artist Index
Compilations
Record Labels
Media
Help Us!
Contact Us
Resources
Timeline
---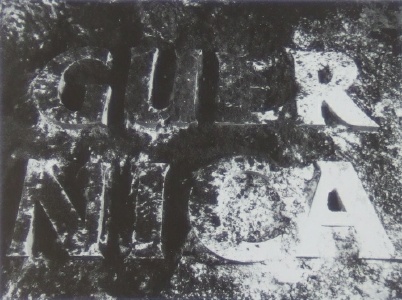 From: Dublin

Active: 1984-1989

Style: Indie

Lineup:
Joe Rooney - vocals
Derek Turner - guitar
Ray McCarthy - keyboards
Derek Lee - bass
Dara Broe - drums





L-R: Dara Broe, Derek Lee, Joe Rooney,
Ray McCarthy, Derek Turner

Bio:

Dublin band formed in mid 1984: "We were a New Order type band that ended up going rockabilly. We were a depressing soul-searching rockabilly band, if you can imagine that. We came up with a new type of music in fact, but we broke up after that. The keyboard player found God and he started playing keyboards at a Born Again Christian church. The bass player joined the band Sack and then he left us. Another guy has a studio near Dundalk and the drummer just got loads of girls pregnant!"--Joe Rooney, from a 2004 interview in the Galway Observer

Guernica took a heavy New Order/Joy Division influence and mixed it with indie/C86/jangle-pop sounds. They also incorporated lighter, rockabilly touches to fantastic effect. After a debut single on Solid, they signed to Idol Records in London and released some acclaimed singles. They appeared on TV several times including MT USA (performing "Americano"), TV Ga Ga ("Americano"), Anything Goes ("New Boy"), Borderline ("Deep Sea Diving"), Megamix ("Homing") and Visual Eyes (on 13 Aug 1986). Fanning session in April 1986. There are many unreleased songs/recordings including "Collapsable Man", "Auditorium", "Dodge City", "Sweet Genius" and "Inclination of Her Step" among many others. Many are on good quality demo tapes and are crying out for CD release (if I win the lottery, I'll do it).

Guernica's records are particularly popular in Spain, where "Red And Orange" has been included on a number of Spanish compilation CDs. Here is Hugo's explanation for the band's popularity in Spain:


"During the mid 80's there was a Belgian DJ called Frank Lenaers that lived in Valencia and played at a very famous club called Spook. He made Orange and Red "very popular" (considering that was a reduced circle of people). He was a true legend on the decks, he developed an unique style of mixing using early EBM's, electro, house and industrial minimal tunes as a base for Indie pop, brit pop & rock songs like Guernica's. Those years of good music, memories & "unhealty life" -the explosion of mescalin and xtc- are still present for some of us..."

There have also been Spanish, Italian and Japanese bands named Guernica, the source of some confusion perhaps.

Note there is NO LINK to the late '90s pop group named Guernica from Buncrana, Co. Donegal who formed in 1997 and released two CD singles ("Surf Buddy" and 1998's "Sights Are Cool") before disbanding, the core duo continuing as Palomino.

Joe Rooney is a now a well known TV actor ("Father Ted") and standup comedian. Derek Lee later in Sack (see Lord John White). Derek Turner (ex Ifter the Shifter) later formed the excellent Honey Thieves.



Discography



• Deep Sea Diving / New Boy
7" - Solid Records - ROK 707 - 1987 - PS


• Orange And Red EP
12" - Idol Records - 12ID2 - UK - March 1987
Recorded at Slane Studios, Dec 1985 and Aug 1986


Notes: "Guernica" is mispelled (red lettering below image):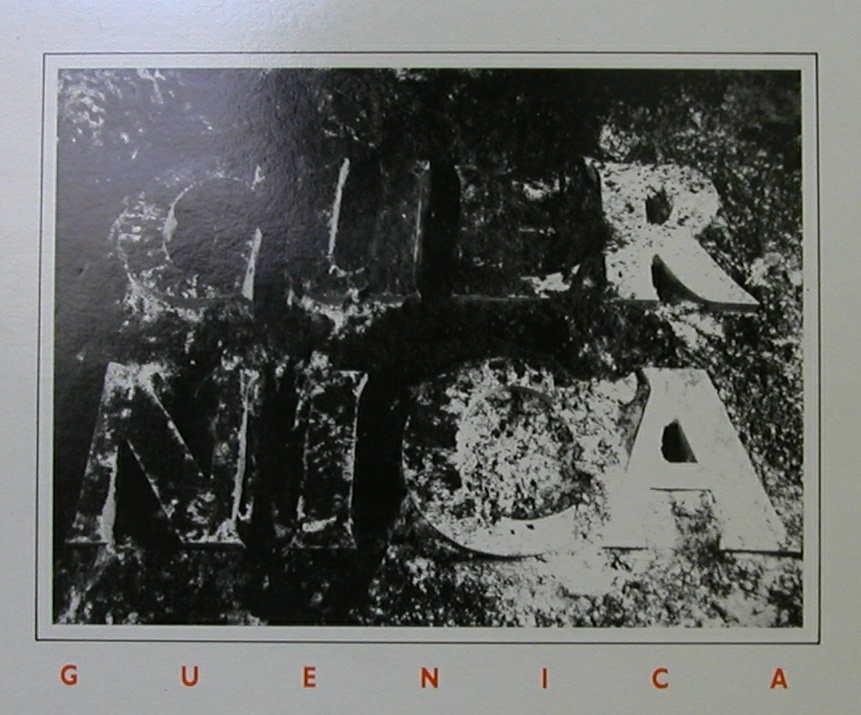 Thanks to Hugo for the scans.



• Humming of the Engine EP
12" - Miss Pedestal - MP 001 - UK - July 1988



side one:
Humming of the Engine

side two:
Summerville
Veil of Tears


• various artists - Solid Citizens
K7 - Solid Records - ROCC 1 - 1988
See Compilations section for full track listing.


• various artists - title?
LP - Eden Music - TVSLP01 - 1996
track: The Queen of Our County


notes: indie compilation with tracks by Severed Heads, Underworld, A Popular History of Signs, New Order, Wall of Voodoo, etc.



• various artists - Maxi Pop V
2xCD - Contrasena CON-061-CD - Spain - 1998
track: Orange And Red


notes: compilation of '80s indie/C86 maxi-single tracks by the likes of The Alarm, The Mission, The Creepers, and James.



• various artists - Remember Collection
2xCD - label? - Spain 200?
track: Orange And Red


notes: Another Spanish compilation of 8s0/90s maxi-singles, including Grauzone (the immortal "Eisbar"), The Bolshoi, the Pixies, The Essence, Joolz, etc.




Help!


We need your help to correct and/or complete this entry. If you can provide more information about this band, have scans, photos or any other memorabilia we can use, or spare copies of any releases, then please get in touch.



---

See Also: Honey Thieves, Lord John White


---

A-Z Artist Index
Compilations
Record Labels
Media
Help Us!
Contact Us
Resources
Timeline
---