---


A-Z Artist Index
Compilations
Record Labels
Media
Help Us!
Contact Us
Resources
Timeline
---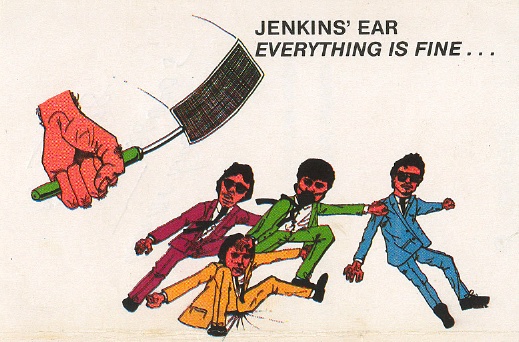 From: Dublin?

Active: 1987-90 approx

Style: blues rock

Lineup:
Robby Murphy - vocals
John McLoughlin - lead guitar
Alan McLoughlin - bass
Jerry Culloty - drums
Bio:

Blues rock band with some reggae influences here and there. Jenkins' Ear self-released a cassette album in 1988 which was sold at gigs. There's at least one other tape with circa 40 minutes of demo material. If anyone knows more about this band, please get in touch.

Jenkins' Ear reformed for occasional gigs in 2012. At time of writing their next gig is at JJ Smyth's on Sat 28th September.



Discography

• Everything Is Fine
K7 - PHS Records - je001t - IRL - 1988 - 100 copies
Recorded at Ashtown Gate Studios Dublin in 1987.





side one:
Into the Night
Private Line
Comin' Around
Grey Mother

side two:
My Babe
My Friend the Elephant
As Time Goes By
Love in the Sluice Room
Notes:
All songs by Jenkins' Ear except "My Babe" by W.Dixon/G.Stone. Ashtown Gate Studios was set up by Eddie O'Donovan who'd previously been in a band called The Quest. Eddie did most of the real production work on the LP.



• Mind Over Media / Shove It
7" - PHS Records - JE 0001 - IRL - 1989? - PS


• various artists - Live at Mojo's
LP - DMD Records - DMD 0102 - IRL - 1989 - 500 copies
See Compilations section for full track listing.
tracks: My Friends The Elephants / Walls


• Too Late / City Livin'
7" - PHS Records - JK 001 - IRL - 1990
Recorded at Ashtown Gate Studios Dublin.



Help!


We need your help to correct and/or complete this entry. If you can provide more information about this band, have scans, photos or any other memorabilia we can use, or spare copies of any releases, then please get in touch.



---

See Also:


---

A-Z Artist Index
Compilations
Record Labels
Media
Help Us!
Contact Us
Resources
Timeline
---