---


A-Z Artist Index
Compilations
Record Labels
Media
Help Us!
Contact Us
Resources
Timeline
---


From: Dublin

Active: 1986-88

Style: Thrash Metal

Lineup:
Chris Rooney AKA Gitzy - vocals
Paul Kennedy AKA Ratz - guitar
Anthony Flynn - bass
Steve McCormack - drums


Bio:

Dublin thrash/speedmetal band who released the "Death" EP in 1987. They split in 1988 by which time guitarist Paul Kennedy was also playing with Chromatic Death. He was later in Moral Crusade.

Check the Videos page for a clip of the band performing a cover of "Pretty Vacant" on Mega Mix (RTE) in 1986 or so.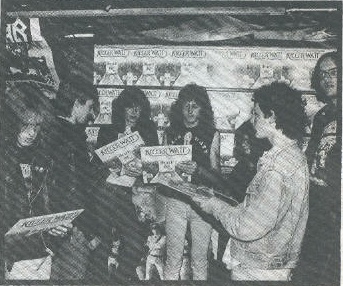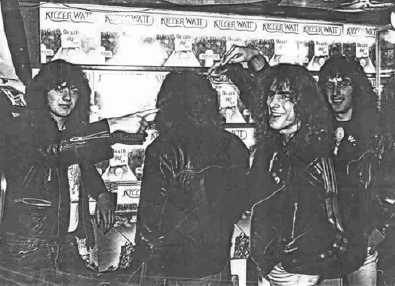 above: Killer Watt in the Sound Cellar, signing copies of their EP.



Discography

• Death EP
12" - Raglan Records - RGS 312 - IRL - 1987


side one:
Freddie's Revenge

side two:
Game of Death
All Hell Breaks Loose


• various artists - Solid Citizens
K7 - Solid Records - ROCC 1 - 1988
See Compilations section for full track listing.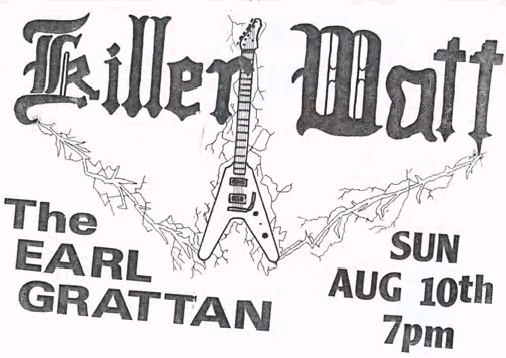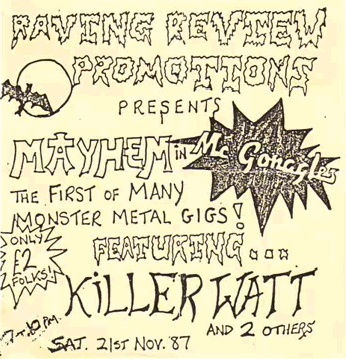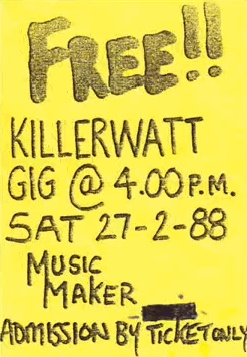 Help!
We need your help to correct and/or complete this entry. If you can provide more information about this band, have scans, photos or any other memorabilia we can use, or spare copies of any releases, then please get in touch.
---

See Also: Chromatic Death, Moral Crusade.


---

A-Z Artist Index
Compilations
Record Labels
Media
Help Us!
Contact Us
Resources
Timeline
---