---


A-Z Artist Index
Compilations
Record Labels
Media
Help Us!
Contact Us
Resources
Timeline
---
From: Ballyfermot, Dublin

Active:

Style: New Wave Pop / Powerpop





Bio:

Tony Coughlan (RIP) began gigging as the Tony Coughlan Band before naming his backing band Inner Sounds (briefly) and then Casanova OK. The latter appeared on his debut single, a fine new wave pop single, and consisted of Brendan Bonass (guitar), Paul Ashford (bass) and Robbie Brennan (drums). This lineup goes a long way to explaining why it's his best single. It was produced by Pete Cummins (ex Grannys Intentions) who also acted as manager. Koklin signed to Chiswick Records in 1979 who chose not to release the Mulligan single in the UK, though it did gain a release in Holland, licensed by Chiswick to Ariola.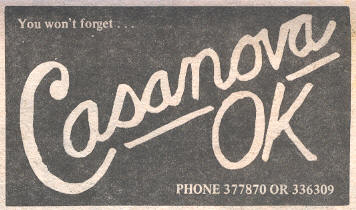 Casanova OK advert 1979
Koklin began rehearsing with a new band for his debut album with Phillip Cullen (bass/vocals), Brian Brady (keyboards) and Ronnie Fitzpatrick (drums). They rehearsed for six months in a cottage in The Devils Glen and recorded demos for the upcoming album. An excellent single "Claude Monet" released in January 1981 bode well for the album, but then things started to go wrong.

When the band got to the Manor Farm studios in England, there was an attempt to makeover Coughlan's music in Elvis Costello mode. It's almost impossible now to say exactly how and why this happened. The band was very young (Brady was 17) and inexperienced and Tony had almost no control over the what went on. It's been suggested that Tony was possibly sold to Chiswick as Ireland's answer to Costello; or the label or Pete Cummins saw commercial potential in re-moulding Tony's songs in an Elvis Costello style. Producer Roger Bechirian was unhappy with the (well rehearsed) band and wanted to hire Steve Neive, who ultimately played on one track. Bechirian ousted keyboard player Brian Brady first (whose Kraftwerk/Roxy style didn't fit the Costello bill) and later sacked drummer Ronnie Fitzpatrick, bringing in a session player. Pete Cummins ex Granny's Intentions bandmate John Ryan was brought in to play the keyboard parts, which ultimately were not that much different to the demo versions.

These problems undoubtedly affected the album. "Time Chaser" was certainly not all it could have been. Some of the blame falls on producer Roger Bechirian, some on Pete Cummins, and some on Tony himself. Koklin didn't consider the recordings ready for release as they were not fully mixed to his satisfaction, nor fully recorded for that matter, but the recording budget had been used and Chiswick were keen to release it. And so it came out in March 1981. On the back cover in small letters it says "Thanks to Ronnie and Brian", a reference to Ronnie Fitzpatrick and Brian Brady. Ronnie Fitzpatrick passed away in the early 2000s.

"Time Chaser" certainly doesn't deliver on the promise of the singles. It contains several good songs that are worth hearing but others are a little too derivative of Elvis Costello at times. Though it's become somewhat difficult to track down, it's not particularly collectable and so is findable cheap. If you like the first two singles, it's definitely worth checking out. Steve Neive of the Attractions plays keyboards on "Death In The Subway''.

"Time Chaser" received a bad review (followed by a hostile interview) in Hot Press. It failed to sell and a followup single "On Pop" / "Talking To Myself" was cancelled by Chiswick. Koklin's career seemed to struggle to recover from these setbacks. Unhappy with how his career was progressing, Tony parted company with his manager Pete Cummins in 1981. This split was amicable.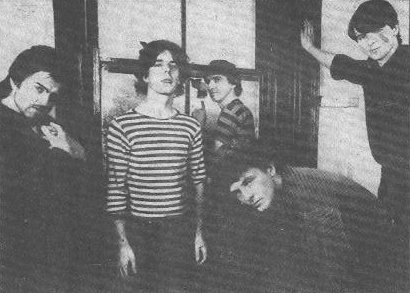 Tony Koklin & Wall To Wall circa April 1981. left-to-right:
Tim McStay, Earl Gill, Tony Koklin, Paul O'Reilly, Philip Cullen
Tony with Phil Cullen assembled a new band to promote the album. This band was named Wall To Wall. The lineup was Koklin and Cullen with Tim McStay (keyboards) and Paul O'Raghallaigh (guitar) of The Resistors and Earl Gill on drums. This lineup played the Lisdoonvarna festival twice, in 1981 and 1982. The 1981 program notes read:
"Tony Koklin is a Dublin born songwriter who has been writing songs as long as he can remember. He cites Lou Reed, John Cale and Elvis Costello as his principal influences. Tony first came to prominence when Freddie White sang his songs and the Freddie White Band recorded two of his songs, "Down On Main" and "Death in the Subway". Tony Koklin has just released a first album of songs on the Chiswick label, entitled Time Chaser. For his debut at [the] Lisdoonvarna Festival, Tony will be joined by his band Wall To Wall with Philip Cullen (bass), Paul One (guitar), Earl Gill (drums) and keyboard player Kelso"--bio taken from the 4th Lisdoonvarna Festival Official Programme 1981
When Wall To Wall came to an end circa 1982, Koklin and Cullen began to perform and record as a duo. There were many demo recordings made, but the rumoured second LP does not exist. After the relationship with Chiswick ended (probably by 1982) and apart from a track on the 1983 Scoff sampler Stock 'N Trade, there were no further releases. Koklin and Cullen continued to perform and record together until 1985, when Philip Cullen's home studio was burgled. Instruments and equipment were stolen but more significantly all the duo's home demos, recorded on reel to reel, were taken in the theft. With everything gone, Tony Koklin decided to move to London and essentially ended his career in music. Philip Cullen now works as a film editor.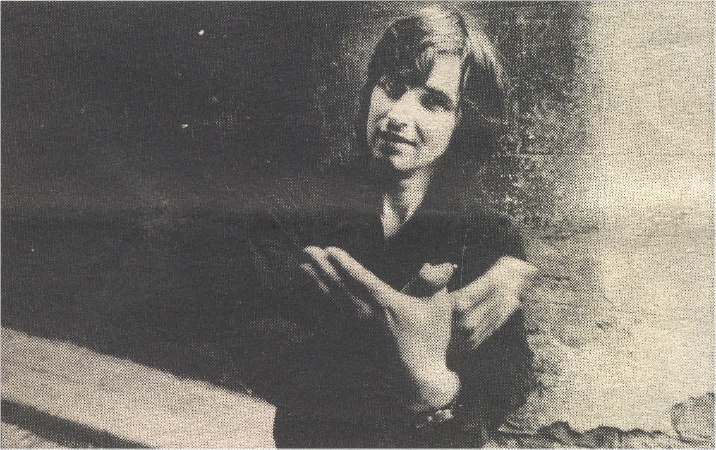 Tony Coughlan was living in Narberth in Wales when he passed away on 20th December 2010. He'd recorded some new material a few months earlier which was uploaded to youtube (by sriad27): "Walking In The Footsteps Of Jesse James", "Let The Cowboy Walk You Home", "Its A Long Way Across The Water" and "Saracen Moon". He was buried in Llanelli on 6 January 2011.





Discography

• Cinderella / Living With The Times
7" - Mulligan Records - LUNS 735 - IRL - December 1979 - PS
7" - Ariola Records - ??? - NL - December 1979 - PS
Recorded at Windmill Lane, produced by Pete Cummins.



• Claude Monet / Lucky Man
7" - Chiswick Records - CHIS 137 - UK - January 1981 - PS



• Time Chaser
LP - Chiswick Records - CWK 3017 - UK - March 1981 - inner sleeve
LP - Chiswick/Metronome Records - 0067.075 - Germany - 1981



side one
Movie Faces
Slow Dancing
Claude Monet (Reincarnation of an Artist)
Lucky Man
Death in the Subway (with Steve Naive on keyboards)
So Strange

side two
Museums
On Pop
Easy Street
Struttin'
You Waste My Time
Time Chaser



• various artists - Stock 'N Trade
LP - Scoff Records - DTLP30 - IRL - 1983
See Compilations section for full track listing.



tracks: Watching For My Blue Eyes

Help!
We need your help to correct and/or complete this entry. If you can provide more information about this band, have scans, photos or any other memorabilia we can use, or spare copies of any releases, then please get in touch.
---

See Also: The Resistors

Thanks to Philip Cullen
---

A-Z Artist Index
Compilations
Record Labels
Media
Help Us!
Contact Us
Resources
Timeline
---