---


A-Z Artist Index
Compilations
Record Labels
Media
Help Us!
Contact Us
Resources
Timeline
---
From: Dublin

Active: circa 1976-1978

Style: Bluegrass, Be-Bop, Blues

Lineup:
Dermot O'Connor - guitar, mandolin
George Kaye AKA Jerzy Kryzanowski - fiddle, guitar
Leo Gillespie - guitar, harmonica
Pat Gibbs - clarinet, sax, piano, harmonica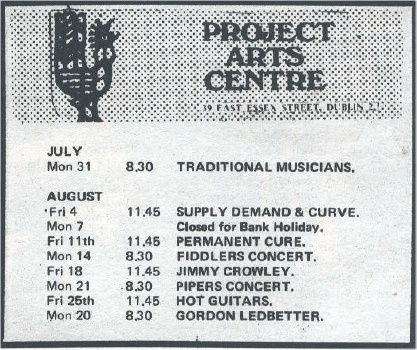 Bio:

Formed in 1976 by Dermot O'Connor (ex Spud) with George Kaye (ex Smokey Mountain Ramblers, Rocky Tops), and performing initially in St.Stephens Green during the long hot summer of that year - busking, in other words, though they soon moved into proper venues. Accomplished musicians all, the played a variety of styles all marked by virtuoso acoustic performance, chiefly blues, bluegrass and bebop. They also incorporated surrealistic comedy routines into their sets, and were comfortable playing in experimental theatre settings. This led to TV appearances and high profile gigs around the country. A single was released on Starlight Records titled "Down On The Jollity Farm", a song made known by the Bonzo Dog Band (see the Starlight label for more details).

Before long they attracted the attention of record labels and management companies but then ran into contractual problems (I don't know the exact details) which stalled the negotiations for too long. Although they completed the recording of their debut LP, George Kaye chose to leave, and the band fell apart towards the end of 1978. The band's debut album 'Works' was never released.

Dermot O'Connor played with various groups in Dublin before forming Hobo Junction with fiddlers John Caulfield and Imor Byrne and guitarist/bazouki player Brendan 'Hairy' Hearty. They toured to great acclaim. Byrne and Caulfield were also members of the Sackville String Band with Richard Hawkins. Imor Byrne died tragically in 1977. Clive Collins took his place, but the magic was gone and the band split in 1980. Dermot then moved to London.

Permanent Cure reformed in 1993 with O'Connor, Kaye and Gillespie joined by Tommy Gallagher and Squeezebox Teddy. They became very popular in Germany and went on to record four albums,





Discography

• Down On The Jollity Farm / Old McDonald
7" - Starlight Records - STAR 2 - IRL - 1976 - no PS
Recorded at Trend, produced by Permanent Cure and John D'Ardis


• The Permanent Cure . . . Works
LP - Chrysalis Records - ??? - 1977-78 - released?





See also: Spud




Help!: We need your help to complete this entry. If you can tell us more about this band then please do! We welcome any corrections, missing details, connections to other bands, where are they now, etc. We also need photos, scans, copies of releases or live or demo recordings, and any other memorabilia gathering dust in the attic. If you can help, then please get in touch.



---

A-Z Artist Index
Compilations
Record Labels
Media
Help Us!
Contact Us
Resources
Timeline
---