---


A-Z Artist Index
Compilations
Record Labels
Media
Help Us!
Contact Us
Resources
Timeline
---
From: Fermanagh

Active: 1981-

Style: Heavy Metal / Pop Metal

Lineup:
April South - vocals, bass
Gerry Curtiz (AKA Curtis) - electric fiddle, rhythm guitar
Brian McBreen - lead guitar (1982-)
Alfie Dowd - drums (1982-)


April South in 1983
Bio:

Pop metal goddess who received extraordinarily hostile reactions from some quarters of the music business in Ireland at the time (famous Egghead and all round groovy 'enlightened' dude B.P.Fallon lost his cool and dismissed her as a 'tart' on Record Cabinet on RTE Radio. The mask slipping, oh groovy one?--ed.). She was listed among Ireland's Worst Dressed Women in the Sunday World by Micheline McCormick. And this in the age of Samantha Fox et al? Her raunchy image seems tame by todays standards. Shame on Hot Press for even questioning her about it. The past really is a foreign country.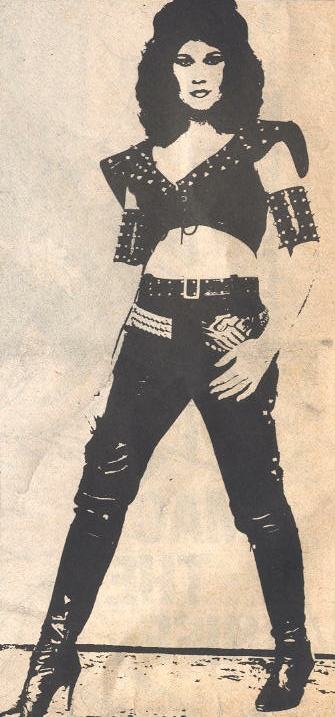 Before all that April South (AKA Marian Curry) left school at 16 and moved to Dublin in search of a career in music. She landed a job singing and playing keyboards with The Pennies showband, AKA The Silver Pennies, who were fronted by Paddy Boyle AKA Paddy Boy, from County Cavan. They sometimes practiced in a bus parked in a side street in Kingscourt, County Cavan. April spent a number of years on the showband circuit with The Pennies, often billed as April and The Pennies. They recorded a single for Velvet Records which is unlikely to be of interest to the reader.

In an interview in Hot Press in the early 80s, April claims to have spent four years with the Pennies. As the single featuring April dates from 1973, this suggests she left the band circa 1977. What she did during 1977-79 is unclear but by 1979 she was fronting her own hard rock band, the April South Band, who played the clubs and more unusually toured the ballroom circuit in Ireland. April played bass and was the main songwriter along with guitarist Gerry Curtis (AKA Jerry Curtiz).

Though her days with the showband didn't do much for her credibility, her negative experiences during this period informed the April South persona she later adopted. She penned a fake bio (claiming to be an American) and played up the sex angle in her live act. He act was described as "raw and crude" by Hot Press, and "her assertiveness vulgar rather than showbiz savvy". Her show was "Rock'N'Roll Burlesque, a comedy of errors and eros, that absolutely leaves it to the eye of the beholder". This kind of thing was simply 'not on' in 1981 and it led to bannings by the clergy, etc, but also a lunchtime show at TCD was picketed by feminists.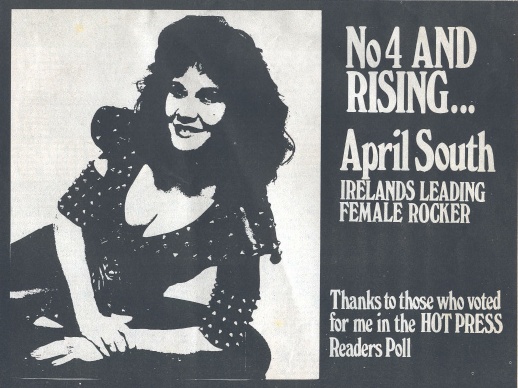 April South recorded a handful of singles in the early 80s, all of which are sought after now, especially the three Rockelly releases of 1980-81. "Light of Love" is a brilliant piece of pop punk magic. Most of these Rockelly singles still include the Pennies name in the credits. As her career took off, she toned down her image considerably and drifted into slicker presentation and production. Her final single released in 1985 was a cover of Dobie Gray's 1973 hit "Drift Away" (recorded under the guidance of Louis Walsh?). The tracks on the "Green Metal" LP (1985) pre-date this drift into MOR territory.

April South still performs to this day under her original name.





Discography

• One Tin Soldier // The Brew / Yes To-Night Josephine
7" - Velvet Records - VE.038 - 1973
A-side by Dennis Lambert & Brian Potter, credited to April & The Silver Pennies
B-side tracks credited to Paddy Boy & The Silver Pennies
For diehards only!




"April South, the Queen of Rock'N'Roll" and "Pop Rock band The Pennies".
Rockelly promo postcard circa "Light of Love"
Note bondage gear!



• Light of Love / Paradise Walk
7" - Rockelly - RKR 10780 (Ellie Jay EJSP 9470) - UK - 1980 - no PS?
A-side credited to April & The Pennies, B-side credited to The Pennies
Both sides written by Curtis/Kelly.
Many copies came with the postcard show above.
An excellent pop/punk single.


• Love and Inspiration / You're So Different From the Rest
7" - Rockelly - RKR 10381 (Ellie Jay EJSP 9608) - UK - 1981 - PS?
A-side credited to April & The Pennies, written by Curtis/Kelly.
B-side credited to Paddy Boy And The Pennies.
Offered on ebay as punk/NWOBHM, but caveat emptor, this predates her metal phase.


• Heroes of the Night / Come The Dawn
7" - Rockelly - RKR 10781 (Ellie Jay EJSP 9730) - IRL - 1981 - no PS?
A-side credited to April South & The Pennies, written by Curtiz/South.
This may be a different recording to the President single.


• Heroes of the Night / The Boys Are Out To Get Me
7" - President Records - PTZ 501 - UK - 1982 - PS
Both tracks by Jerry Curtiz/April South, produced by Alan D.Barson.


• The Chains That Bind Me / You Want To Rock
7" - President Records - PT 513 - UK - 1982 - no PS
Both tracks by Jerry Curtiz/April South.


• Drift Away / I'm Not Foolin'
7" - Tara Records - TS 024 - 1985 - PS
B-side written by Errol Walsh
Produced by P.J.Curtis.


• various artists - Green Metal
LP - Crashed/Metal Masters - METALPS 107 - UK - 1985
See Compilations section for full track listing.



tracks:
Oro Se Do Bheatha Bhaile
Rock 'N' Roll Rodeo
Help!
We need your help to correct and/or complete this entry. If you can provide more information about this band, have scans, photos or any other memorabilia we can use, or spare copies of any releases, then please get in touch.
---

See Also:


---

A-Z Artist Index
Compilations
Record Labels
Media
Help Us!
Contact Us
Resources
Timeline
---