---


A-Z Artist Index
Compilations
Record Labels
Media
Help Us!
Contact Us
Resources
Timeline
---
From: Dalkey, Dublin

Active: 1980s

Style: Goth Punk

Lineup:
Donagh O'Leary - guitar/vocals
Gipo (?) - guitar
Ken Webster - guitar
Pat Thorpe - bass
Ken Sullivan - drums
David Sullivan AKA Sullo - guitar (Drunken Jury)


Very Mental in the early 80s: Pat Thorpe, Donagh O'Leary and Ken Webster.
Bio:

Dublin area punk band renamed Drunken Jury sometime after releasing their only single (some say the name change was a week later, some say it came in late 1983 - they were certainly Drunken Jury by September '83). The contact address for the label was Dalkey but some sources claim the band was from Dun Laoghaire -- in fact it was both. The single had a very small pressing and is almost impossible to find now. Ken Sullivan plays drums on the A side, while a drum machine was used on the AA side. His brother David 'Sullo' Sullivan joined after the single.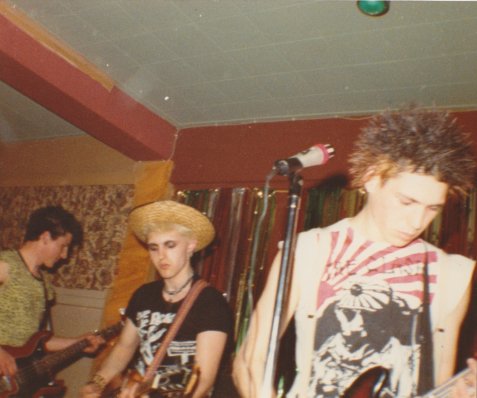 Very Mental live ca 1983. LR: Pat Thorpe (?), Ken Webster (in hat), David Sullivan.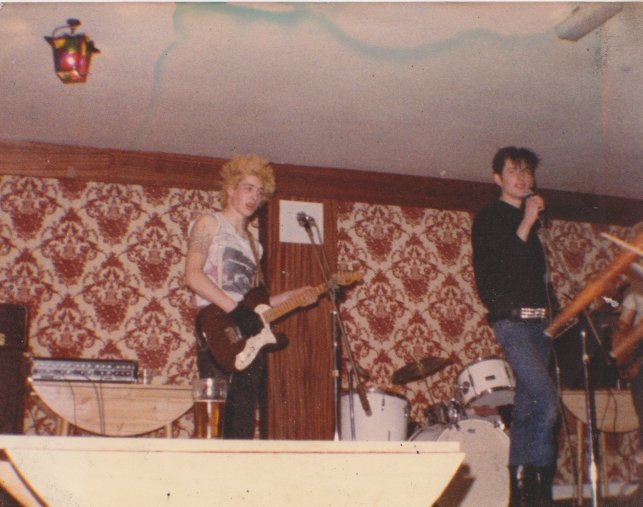 David Sullivan AKA Sullo and Donagh O'Leary of Drunken Jury





Drunken Jury played at the "Let's Get Serious 2" punk festival held at the TV Club on the 30 September 1983 featuring the cream of Dublin's punk bands at the time plus UK headliner Conflict.

According to the scene report in MRR #17, published September 1984, a second EP was planned.

Ken Webster left the band in late 1983 and went to London. He later joined the Foreign Legion in France. Donagh O'Leary also moved to London where he is now based and has played in various outfits (Jesse James, Dave Vanians Phantom Chords, The Wild Frontiers, Naz Nomad & The Nightmares, Tenpole Tudor) and done session work with Marc Almond and Peter Perrett a.o. Pat Thorpe is currently in the Ultra Montanes. Another member Gipo (later of Stigmata Martyr, now in the Dubtones) later formed Raw Hide with Donagh O'Leary.





Discography

• Slaughtered and Maimed EP
7" - I Live In Hell Records - BURN 1 - May 1983 - PS
Both tracks are published by Dark Fox Music, associated with Deke O'Brien.





side one:
Slaughtered & Maimed

side two:
Reality Dreams
Love/Hate
Help!
We need your help to correct and/or complete this entry. If you can provide more information about this band, have scans, photos or any other memorabilia we can use, or spare copies of any releases, then please get in touch.
---

See Also:


---

A-Z Artist Index
Compilations
Record Labels
Media
Help Us!
Contact Us
Resources
Timeline
---