---


A-Z Artist Index
Compilations
Record Labels
Media
Help Us!
Contact Us
Resources
Timeline
---
From: Cork/Dublin

Active:

Style: Psycho

Lineup:
Aidan Walsh - guitar & vocals


Aidan Walsh in 1986 [photo Huw Thomas]

Bio:

The self-styled Master of the Universe is an eccentric figure who rose to prominence in the mid-80s underground scene in Dublin thanks to his Eagle rehearsal studios in Temple Bar (before Temple Bar became the tourist trap it is today). He famously appeared at the cabaret hosted by Gavin Friday at The Waterfront in the mid-80s, which led directly to his signing with Kaleidoscope Records in November 1986. Many of his recordings feature the Golden Horde as backing band, variously credited as The Master Plan, the Screaming Eagles an dThe 4th Dimension Orchestra. Aidan is also pictured on the back cover of the first Golden Horde LP.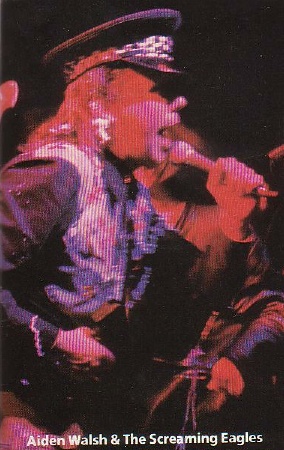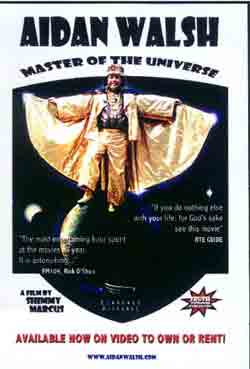 See the Videos page for details of online videos. For more details about Aidan, check out his webpage http://www.aidanwalsh.com





Discography

• Aidan Walsh & The Master Plan - A Life Story Of My Life
LP - Kaleidoscope Records - KS LP 002 - UK - 1987 - inner


Notes: With Gavin Friday & Guggi



• Aidan Walsh & The 4th Dimension Orchestra - Christmas in 4 Dimensions EP
12" - Kaleidescope Records - UK - 1987
12" - Solid Records - ROCK 2 - IRL - 1987



side one:
White Christmas Hurgle
Rock My Brainy Head Hurgle

side two:
Christmas In 4 Dimension (Duet With Paul Cleary)
The Master Of The Universe Vs Jonathan Philbin Bowman (Beyond Time)



• various artists - Solid Citizens
K7 - Solid Records - ROCC 1 - 1988
See Compilations section for full track listing.

tracks:
Rock My Brainy Head
Help!
We need your help to correct and/or complete this entry. If you can provide more information about this band, have scans, photos or any other memorabilia we can use, or spare copies of any releases, then please get in touch.
---

See Also: Golden Horde

External Links: http://www.aidanwalsh.com


---

A-Z Artist Index
Compilations
Record Labels
Media
Help Us!
Contact Us
Resources
Timeline
---