---


A-Z Artist Index
Compilations
Record Labels
Media
Help Us!
Contact Us
Resources
Timeline
---
From: Limerick

Active: mid 70s

Lineup:
Paul Healy - lead guitar/vocals
Dermot Sheehan - guitar/vocals
John Noughton - bass/vocals
Liam Darcy - drums
Bio:

"One little interesting suss-cum-vibe I got on viewing the band was, they appear to model their operation in many little ways on that of thoes great old troupers, 'Skinny Lizzy' (ie Thin Lizzy).........The boys list their influential forces as..Thin Lizzy, Whisbone Ash, Doobie Brothers, Steely Dan, and the Average White Band"--from Smiley Bolger's 'Let It Rock' column in the June '76 issue of Starlight.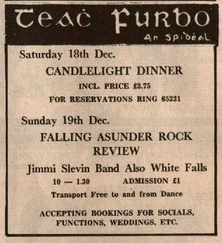 The second Falling Asunder Rock Review reaches Teach Furbo, 19 December 1976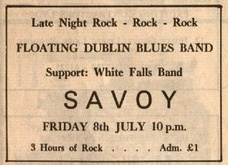 Still gigging, July 1977





The White Falls Band sole appearance on vinyl was a split EP with the The Jimi Slevin Band, issued in conjunction with the second Falling Asunder Tour of December 1976.

Discography:

• v/a - The Falling Asunder Rock Review Part II EP
7" - CBS Records - EIR 1 - 1976 - no PS
Split EP shared with the The Jimi Slevin Band





tracks:
Blackjack
Spider Legs





See also:




Help!: We need your help to complete this entry. If you can tell us more about this band then please do! We welcome any corrections, missing details, connections to other bands, where are they now, etc. We also need photos, scans, copies of releases or live or demo recordings, and any other memorabilia gathering dust in the attic. If you can help, then please get in touch.



---

A-Z Artist Index
Compilations
Record Labels
Media
Help Us!
Contact Us
Resources
Timeline
---