---


A-Z Artist Index
Compilations
Record Labels
Media
Help Us!
Contact Us
Resources
Timeline
---
From: Belfast

Active: 1960s onwards

Style: Rock/Blues



Bio:

Eric Bell was born in East Belfast in 1947. Inspired by Lonnie Donegan and The Shadows, he began playing guitar as a teenager with a succession of small local bands, before being invited to join The Bluebeats, a showband based in Glasgow. He took the opportunity to turn pro and gained his first experience of being on the road. Returning to Belfast a year or so later, he joined the Shannon Showband, who toured the Irish clubs and pubs in the UK.

Eric next joined a blues group called Shades of Blue, replacing the departing Gary Moore. Through Shades of Blue Eric met John Farrell of Dublin band The Movement, who told him about a new band being formed in Dublin called The Dreams, who were designed to combine the best of the group and showband scenes. Eric auditioned and got the job in 1968. The Dreams recorded four singles and one LP while Eric was with them. He left in 1969.

In late 1969, Eric and Eric Wrixon of The Trixons got together with with the rhythm section of Orphanage, Phil Lynott and Brian Downey, to discuss forming a new band. The result was Thin Lizzy, formed in early 1970. They were forced to slim down to a trio due to financial problems. Wrixon left in July 1970, relocating to Sweden.

Eric Bell remained with Thin Lizzy during the first phase of their career, releasing three excellent and varied albums on Decca Records between 1971-73 and scoring a world-wide hit with "Whiskey In The Jar". They also recorded as Funky Junction. After years on the road, and being somewhat uncomfortable with the heavy that followed the hit single, Eric quit Thin Lizzy in 1973.

Eric played with the Noel Redding Band during 1975-76, releasing several records on RCA which expose the bands lack of a strong songwriter; guested on Brush Shiels solo LP in 1976, and backed Ron McQuinn on his sole single. He also guested on a single in 1981.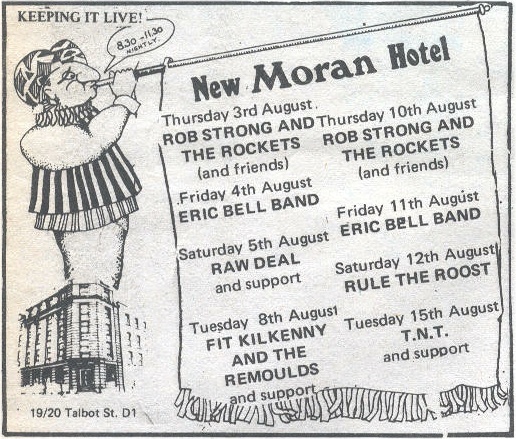 Appearing at Moran's Hotel, Dublin, August 1978.





Meanwhile Eric also fronted his own Eric Bell Band for a number of years from the late 70s onwards. Several musicians played in his band over the years. In 1979 the backing band was ex Radiator Mark Megarey and ex Angel, Rob Strong Band, Skid Row and Spud drummer Dave Gaynor, a formidable partnership. Both later joined UK NWOBHM act Girl. Donal McGrath played with the band in the early 80s.

By the time Eric released his debut EP in 1981, he was based in London and the backing band was Dave Nilo (ex The Photos) on bass and David Donovan (ex Wizzo) on drums. This EP was issued on the band's own Hobo label. eric subsequently played with Dick Heckstall-Smith's blues rock big band Mainsqueeze.





Discography:

• The Eric Bell Band EP
7" - Hobo Records - HOS 012 EP - UK - 1981 - PS, some autographed
Produced by Martin Webster.








side one:
Lonely Man
Vampire Lady

side two:
Anybody Seen My Baby?
Deep End
Notes: Some copies have a pressing fault on A1 which causes a few pops. Also released as a more common 2-track single.



• Lonely Man / Anybody Seen My Baby
7" - Hobo Records - HOS 016 - UK - 1981 - no PS?
2 track edition of the EP


• Live Tonite
CD - BMA Records - ??? - Sweden - 1996


tracks:
The Stumble
Oh, Pretty Woman
Things I Used To Do
Baby Please Dont Go
Madame George
Walk On Water
Three O'clock Blues
Hold That Plane
Whiskey In The Jar
The Rocker


• Irish Boy
CD - Barsa Records - ??? - Spain - 1998
Studio recordings


• A Blues Night in Dublin
CD - Voiceprint Records - VP247CD - UK - 2002
Live at the Olympia Dublin 13.6.98



Noel Redding Band


• Clonakilty Cowboys
LP - RCA Records - APL1-1237 - 1975

side one:
There's A Light
Throw Me A Buoy
After All
Roller Coaster Kids
Eight Nights A Week

side two:
Clonakilty Cowboys
Snowstorm
Born To His Name
If I Had
Got To Move Away
Lineup: Noel Redding (bass, vocals), Eric Bell (guitar), Robbie Walsh (guitar), Les Sampson (drums).



• Roller Coaster Kids / Snowstorm
7" - RCA Records - RCA 2662 - UK - 1975


• Take It Easy / Back On The Road Again
7" - RCA Records - PB 9026 - UK - 1976


• Blowin'
LP - RCA Records - RS 1084 - UK - 1976
LP - RCA Records - APL1-1863 - USA - 1976



side one:
Back On The Road Again
California
Yes It's Alright
I'd Rather Go Blind
You Make Me Feel So Good

side two:
Take It Easy
Love And War (Eric Bell)
Before The Photograph
I'm Just A Sinner (Dave Clarke/Eric Bell)
Hold On (To What You've Got)
Lineup: Noel Redding (bass, vocals), Eric Bell (guitar, lead & backing vocals), Don Michael Young (keyboards), Les Sampson (drums).



• The Missing Album (1976)
CD - Mouse Records - CD 0053 - USA - 1994
Recorded 1976-ish



Mainsqueeze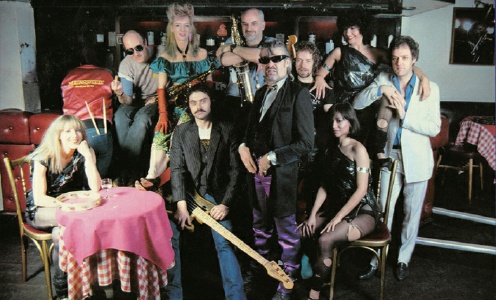 Mainsqueeze pictured on the back of their 1983 LP with Eric fourth from the right.

• s/t
LP - Expulsion Records - Exit 1 - France - 1983
Recorded live at Ronnie Scotts London 15.1.83


side one:
Voodoo Man
Frosty
You Can Have My Husband
Born In Chicago
Itch
Casting My Spell

side two:
Framed
Sweet Sixteen
The Creeper
Rock My Baby
Hipshake
Notes: Lineup: Dick Heckstall-Smith (alto, tenor and soprano sax), Diana Wood (vocals, alto sax), Keith Tillman (ex-Bluesbreakers) (bass), John O'Leary (Savoy Brown) (harmonica), Eric Bell (ex-Thin Lizzy) (guitar), Dave Moore (Roland organ), Victor Brox (ex-Blues Incorporated) (vocals, trumpet), Keith Hartley (ex-Bluesbreakers) (drums) later replaced by Stretch.



• Bo Diddley [backed by Mainsqueeze] - Hey... Bo Diddley In Concert
LP - Conifer Records - CFRC 507 - UK - 1986
Mainsqueeze was backing band



Barrelhouse Brothers
• Pick It Up, Pass It On
CD - ??? - ??? - 2003
With Noel Redding, Corky Laing, etc.






Help!: We need your help to complete this entry. If you can tell us more about this band then please do! We welcome any corrections, missing details, connections to other bands, where are they now, etc. We also need photos, scans, copies of releases or live or demo recordings, and any other memorabilia gathering dust in the attic. If you can help, then please get in touch.



---

A-Z Artist Index
Compilations
Record Labels
Media
Help Us!
Contact Us
Resources
Timeline
---