---


A-Z Artist Index
Compilations
Record Labels
Media
Help Us!
Contact Us
Resources
Timeline
---
From: Tuam

Active: 1979-81

Style: Punk/Powerpop

Lineup:
Paul Cunniffe - guitar/vocals
Davy Carton - guitar/vocals
Jarlath Keating - bass
Paul Ralph - drums

l-r: Paul Ralph, Jarlath Keating, Davy Carton, Paul Cunniffe
Bio:

Powerpop/punk band who self-released a fantastic single which is now impossible to find. It's as good as anything released on Good Vibrations and is highly recommended. A CD of Blaze X recordings came out in 2002 which included the full 6-song demo session from which the single was culled. Amazingly, there are even better songs than the two released on the single. The more often I play this demo, the better it sounds. Think Moondogs, Tearjerkers and Ramones. Buy the CD!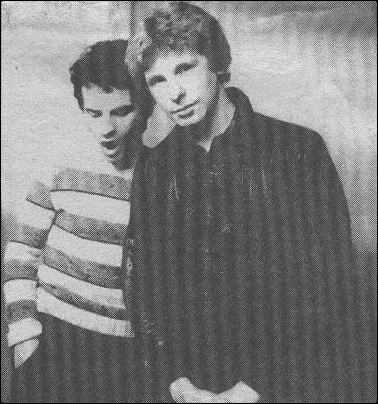 above: the two Pauls
Blaze X formed in late 1975 in Tuam. They quickly learned to play and scored support slots for touring bands such as The Radiators, The Fuze, Horslips, Tony Koklin and most famously U2 at Leisure Land in Galway on December 18 1980.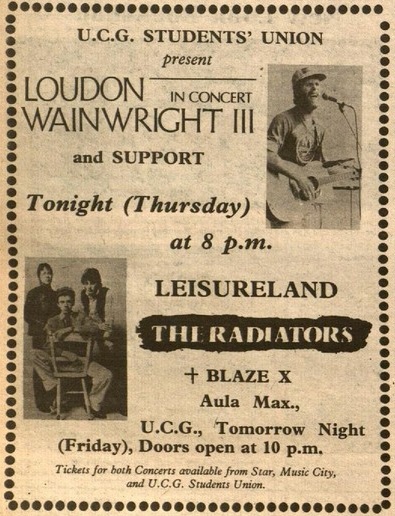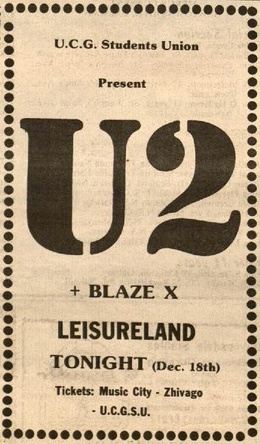 Supporting The Radiators (Nov 7th) and U2 (December 18th) in 1980.

In November 1980 they entered RCF Studios in Galway and recorded their self-released single which sold well locally but didn't have much distribution apart from some mailorder sales. They split in 1981 when they failed to achieve their ambitions.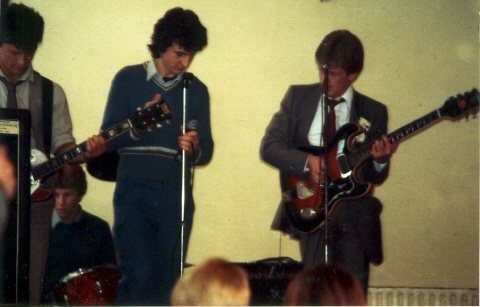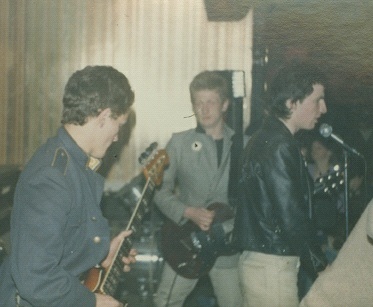 Davy Carton later found fame in the Saw Doctors, who also count among its members ex Blaze X manager Padraig Stevens and one Leo Moran , an early supporter of the band who handled mailorder sales of their single and was later in The Mix, managed All Cats Are Grey and played in an early lineup of Too Much For The Whiteman. Paul Cunniffe contributed to early Saw Doctors releases and performed as a solo artist in London. He died tragically in 2001.

A documentary about Paul Cunniffe was premiered at the Tuam Arts Festival in August 2007. "Paul Cunniffe Man of Music Heart of Gold" can be viewed here.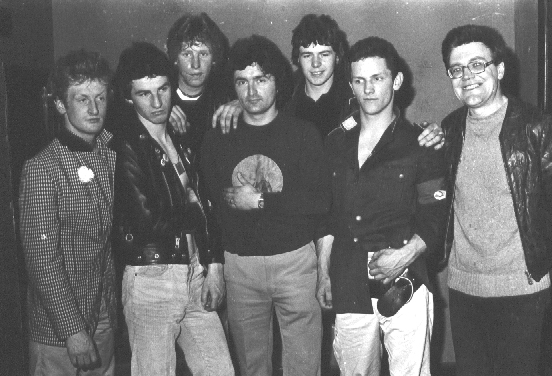 Dates
(under construction)
20 July 1980 "Big Push" Open Air Charity Concert, Salthill with Night Rider, Kevin Garvey and Friends, Kelly and Taylor, Sprykly Dance, All that Jazz, Jacinta Kenny and Blaze X 6 Nov 1980 The Fuze, Luxury Fleet, Blaze X at Great Southern Hotel, Galway
7 Nov 1980 The Radiators at UCG (support act)
12 Dec 1980 U2 at Leisureland (support act)


Discography

• Live Tape
K7 - 1980


Recorded on St.Patrick's Day 1980 at the Scout Hall in Tuam (that's March 17 to you foreign devils). This is a live tape which circulated among fans at the time. It may in fact be their first gig. None of this material was used for the CD. About 17 tracks in all.



• Some Hope / Rippy
7" - Fixed Wheel Records - FX1/FX2 - 30 December 1980
500 copies, wraparound PS, some copies hand coloured
7" - Sing Sing Records - Sing 007 - USA - August 2009



thanks to Pat Nalty for the cover scans above


another hand-coloured copy with slightly different colours

Only 500 copies pressed and it's a tough one to find these days. Plans to release the single in time for Christmas were scuppered by the death of John Lennon: Beatles records monopolised the pressing plants for several weeks thereafter. The single was finally collected by the band on December 30th. Most were sold locally and some were sent out as promos -- one of which went to RTE DJ Larry Gogan, who made it his Hit-Pick of the week (though the B-side "Rippy" was banned). Despite this success, the band failed to get on TV and the single was no more copies were pressed.

thanks to Stephen McConville for these label scans
The crownd noises at the end of "Some Hope" were recorded at Pope John Paul's rally in Galway in 1979. 'Blackie' is credited with piano. Cover and label artwork by Jimmy McHugh, whose brother Mouse McHugh was in Too Much For The Whiteman.

fully autographed inside cover
[courtesy Teresa Dundon]


• I Used To Love Her (live 24 January 1981)
7" - Solid Records - ROK731 - July 1990 - PS
K7 - Solid Records - ROC731 - July 1990 - PS
A Blaze X live recording appears on the B-side of this Saw Doctors single.




side one:
Saw Doctors - I Useta Lover

side two:
Saw Doctors - Captain Joe Fiddles
Blaze X - I Used To Love Her (live 24 January 1981)



• Blaze X
CD - Another Back Duke Production - [no cat.nbr.] - 2004?



l-r: Davy Carton, Paul Cunniffe, Paul Ralph, Jarlath Keating

tracks:
Some Hope
Checkpoint
Rippy
Heartstops
The Police
Individual
Escape
Destroy
Movement
Mass Murderers
Should I?
Summergirl
That Door
Destroy

This CD contains the complete 6-track session recorded at RCF Studios in Ballybane, Galway on 23 November 1980 that yielded the single, plus 8 live tracks from the gig recorded at the local Scout Hall in Tuam on 24.1.1981 which yielded the "I Used To Love Her" track on the Saw Doctors single which (which itself is not included on the CD). A complete tape of this show exists.

Finally, video footage of live performances of "Some Hope" and "Should I?" exists. Hopefully the next edition of the archive CD will include this material as bonus tracks.
Help!
We need your help to correct and/or complete this entry. If you can provide more information about this band, have scans, photos or any other memorabilia we can use, or spare copies of any releases, then please get in touch.
Thanks to Jamie Ralph for additional photos and information.
---

See Also: The Mix, Saw Doctors, Too Much For The Whiteman

Blaze X live footage on youtube, External Links: Padraig Stevens,


---

A-Z Artist Index
Compilations
Record Labels
Media
Help Us!
Contact Us
Resources
Timeline
---