---


A-Z Artist Index
Compilations
Record Labels
Media
Help Us!
Contact Us
Resources
Timeline
---
From: Dublin

Active: 1977-79

Style: Powerpop

1st Lineup:
Adrienne Darragh (AKA Ed Darragh) - keyboards/bass/vocals
Carol Walters - guitar
Cathy Owens - bass/vocals
Ita Carr - drums


The Boy Scoutz in 1979 [photo: Patrick Brocklebank]

Bio:

The Boy Scoutz were an all girl powerpop band assembled in response to an advert placed in Heat #2 in 1977. The original lineup was Adrienne Darragh (keyboards/vocals), Carol Walters (guitar), Cathy Owens (bass/vocals) and Ita Carr (drums). They were well covered in the fanzine press, especially Heat, who described their sound as raunchy Rock & Roll which avoided metal and R&B cliches. It won't come as a surprise to learn that they were managed by Jude Carr, co-editor of Heat and brother of Eamon Carr of Horslips, Zen Alligators and Hotwire Records fame.

Cathy Owens left for The Boylers and Adrienne Darragh switched to bass. Kathy Kryer AKA Kitty O'Donoghue joined as new vocalist. Adrienne Darragh then left for The Modernaires and the band then went in limbo while a new bass player was sorted out. The second, stable lineup was then Kathy O'Donoghue (vocals), Carol Walters (guitar), Deirdre Creed (bass) and Ita Carr (drums)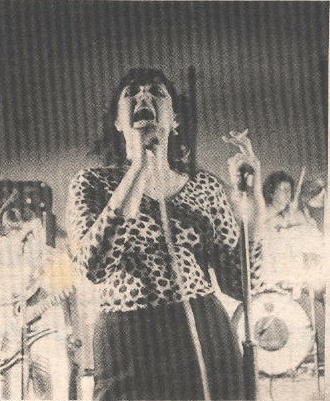 Heat planned to launch a record label with singles by the Boy Scoutz and The Sinners but these plans were scrapped when Heat ran into financial difficulties and were forced to close. Despite mentions in Heat and other sources (e.g. Hot Press in February 1978), there is no Boy Scoutz single, but there should be a demo tape (anyone heard it?). The Boy Scoutz toured Ireland in July 1979 as part of "The Dream Dates Tour" with Fabulous Fabrics and The Sinners, including a gig at the Dandelion Market on Sunday 15 July 1979. The bands other Dandelion appearance was on Saturday 30 June 1979.

The Boy Scoutz moved to London during 1979 but nothing came of the move and they split soon after. Kathy Kryer joined the SM Corp.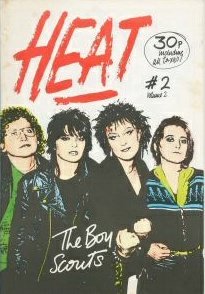 Boy Scoutz on the cover of Heat Vol.2 #2 (1979)

Carol Walters was later in New Heroes
Deirdre Creed later in The Threat Ed Darragh later in The Modernaires, Toy With Rhythm and Geoffrey's First Affair. When Mother Records was first launched, they were interested in recording Katherine O'Donoghue but she walked away from it as it was taking too long.

If anyone can help straighten out the chronology and dates or has more details about the scrapped single please get in touch.

A Boy Scoutz recording of sorts was made in 2003 for RTE as part of some punk retrospective but involved only a couple of ex members of the band (Kathy Kavanagh nee O'Donoghue & Ed Darragh). I know no more details other than the recording is by all accounts forgettable.


Help!
We need your help to correct and/or complete this entry. If you can provide more information about this band, have scans, photos or any other memorabilia we can use, or spare copies of any releases, then please get in touch.
---

See Also:


---

A-Z Artist Index
Compilations
Record Labels
Media
Help Us!
Contact Us
Resources
Timeline
---