---


A-Z Artist Index
Compilations
Record Labels
Media
Help Us!
Contact Us
Resources
Timeline
---
From: Ballymena
Active: 1966? - 1973
Style: pop-rock
Lineup (October 1966):
Cahir O'Doherty - vocals, rhythm guitar
Victor McCullough - lead guitar
Gerry O'Neill - organ (left January 1969)
Ronny Souter - bass, vocals
Mervyn Doole - drums
Lineup: (May 1969)
Cahir O'Doherty - vocals, rhythm guitar
Norman Lindsay - lead guitar
Scott Mulvey - organ
Ernie Durkin - bass
Greg Donaghy - drums
Lineup: (1972)
Cahir O'Doherty - vocals, rhythm guitar
Brian Harris - lead guitar
Kevin McAlea - organ
Liam McKenna - bass
Noel Bridgeman - drums
Bio:

The Gentry began life as a mid 60s beat group. The briefly attempted to change their name to The Nobility in 1968 in order to avoid confusion with the American act The Gentrys, but this was idea was abandoned and they reverting to the Gentry name again. Billy Boyd (drums) replaced Mervyn Doole and Norman Lindsay took over from Victor McCullough. Gerry O'Neill's left in January 1969 (turning up in Lyttle People), replaced by Scott Mulvey (keyboards), who'd previously been with The Movement.

The Gentry began playing as a showband in the summer of 1969, adding Davy Trainor (sax) and Donie Devaney or Deveney (sax), from Bray, to the lineup. At this point the rhythm section was Ernie Durkin (ex Orange Machine) and Greg Donaghy (ex Granny's Intentions), who'd been in the short-lived Blue supergroup. They contined to play pop and rock material but crossed over into showband territory. This occasionally led to identity crisis problems, with rock fans viewing them as a showband and vice versa.

By far their most interesting track is the Pink Floyd-ish "Attempted Contact", released as a B-side in 1969. The A-side "Sing Me A Sad Song" is a good 60s pop ballad with some nice organ. They followed this up with the unspeakable "Yellow River" (1970). "The Long Road" (1970) is good 70s pop while "Let It Shine" (1972) is a decent gospel flavoured track. What would have been their debut single "Walk Under Water" was announced as early as January 1968 by CBS Records but this never came to pass. If it's anything like "Attempted Contact", it should be tracked down. The differences in style across these recordings is explained by the many lineup changes. The only constant was singer and band leader Cahir O'Doherty.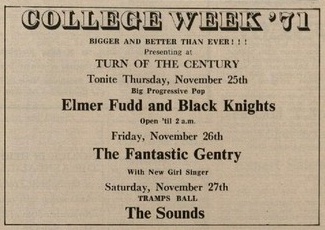 26 November 1971 gig in Galway

There were a number of lineup changes over the next couple of years. Brian Harris (ex Creatures) replaced Norman Lindsay in 1970 and Shay Murphy (ex Purple Pussycat) replaced Greg Donaghy. Gerry Mulryan joined as trumpet player. Billy Boyd returned briefly as bassist in 1972 but was soon replaced by Liam McKenna (ex Creatures, Real McCoy) while Scott Mulvey was replaced by a Kevin McAlea (also ex Real McCoy). Shay Murphy get involved in the Purple Pussycat (near) reunion and his place was taken by Noel Bridgeman, who'd been looking for a decent band since Skid Row had split. Brian Harris was also involved in the attempted Purple Pussycat reunion.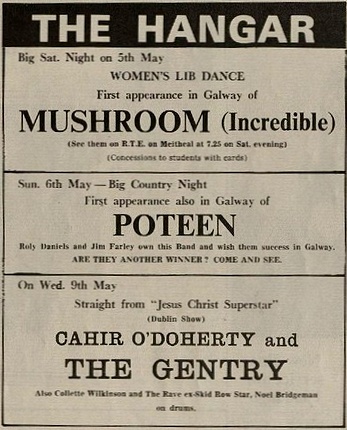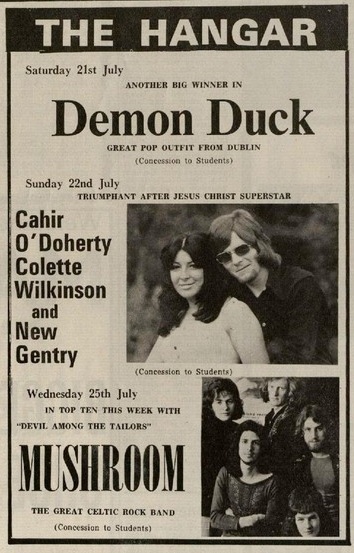 The "New Gentry" at the Hangar, Salthill, Galway in May and July 1973





Meanwhile, Cahir O'Doherty's public profile was raised considerably by his appearance in the Irish cast of Jesus Christ Superstar, from late 1972 through into 1973. In May 1973, in Ken Stewart's regular column in Billboard, the Gentry was reported to be in London at AIR studios, recording under the direction of Peter Sullivan. Among the tracks to be recorded was a new version of "Let It Shine". These recordings were never released. In mid-73, Pat Egan reported that two members of Dublin rock band Jack (ex Adolf J Rag and The Urge) had been lured into the band, bringing Jack to a halt. As I don't know the full lineup of Jack, I can't be sure of the details. This was around the time Noel Bridgeman rejoined the reformed Skid Row, in June 1973, and was replaced by Brian Donaghy (ex Alyce, Crypt), who may have been playing with Jack at that point. Kevin McAlea also joined the reformed Skid Row.

There were more comings and goings before the end. Cahir revamped the band when occasional female singer Collette Wilkinson left in late 1972. Paul Duffy (ex Blue) may have joined around this time and Seamus Caulfield played drums somewhere along the line, but the bands days were numbered. The band split when Cahir landed a role in another Andrew Lloyd-Webber musical, starring in Joseph & The Amazing Technicolour Dreamcoat.

Cahir O'Doherty later formed the Dazzle Band in 1974, recording glam and rock & roll revival material for various labels. He released his solo debut LP in 1975, "Rock My Soul" (EMI). O'Doherty and Harris played together again in the late 70s in Beats Workin' with Bobby Kelly (ex The Hootenannys, The Chosen Few, The Greenbeats, Sands) on guitar, Bob Bolton on bass and Jimmy Compton (ex Lyttle People, Real McCoy) on drums. Ernie Durkin was later in Buckshot and Greg Donaghy later in The Times.

No relation to the pop/rock band active circa 1980.





Discography:

• Sing Me A Sad Song / Attempted Contact
7" - Dolphin Records - DOS 35 - IRL - May 1969
A-side by Lindsay; B-side by Lindsay & O'Doherty.
Produced by Larry Mooney & Bill Somerville-Large.


• Yellow River / Lonely But Free
7" - Dolphin Records - DOS 56 - IRL - February 1970
A-side by Jeff Christie, B-side by O'Doherty/Harris.
Recorded at Eamonn Andrews Studios, produced by Brian Tuite.


• The Long Road // Sing Me A Sad Song / Attempted Contact
7" - Dolphin Records - DOS 71 - IRL - September 1970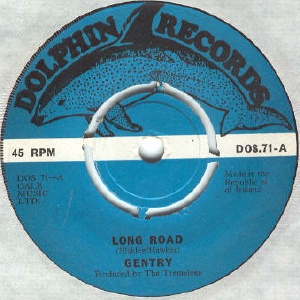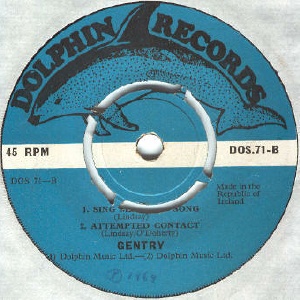 • How Do You Do? / Lonely But Free
7" - Philips Records - 6156 003 - IRL - 1972
A-side is a Mouth & MacNeal cover.
B-side by Cahir O'Doherty & Brian Harris.
A-side produced by Bill O'Donovan at Trend Studios, Dublin.
B-side produced by Cahir O'Doherty.


• Let It Shine / Keep Playing That Rock 'n' Roll
7" - Philips Records - 6156 004 - IRL - September 1972


Compilation Appearances:

• v/a - The Electric Asylum #2
CD - Past & Present - PAPRCD2098 - UK - 2009
track: Attempted Contact
Also surfaced on Electric Sound Show #1 [2010].

• v/a - Piccadilly Sunshine #2
CD - Past & Present - PAPRCD2110 - UK - 2009
track: Sing Me A Sad Song



Help!


We need your help to correct and/or complete this entry. If you can provide more information about this band, have scans, photos or any other memorabilia we can use, or spare copies of any releases, then please get in touch.



---

See Also: Blue, Grannys Intentions, Orange Machine, Purple Pussycat, The Urge


---

A-Z Artist Index
Compilations
Record Labels
Media
Help Us!
Contact Us
Resources
Timeline
---