---


A-Z Artist Index
Compilations
Record Labels
Media
Help Us!
Contact Us
Resources
Timeline
---
From: Dublin

Active: circa 1981-82

Style:

Lineup:
Tony Pugh - guitar & vocals
Paul Rooney - guitar
Mick Nolan - bass
Bernie Walsh - drums
Bio:

Formed when New Heroes split and Tony Pugh, Mick Nolan and Bernie Walsh returned from London and teamed up with Paul Rooney of Fabulous Fabrics. Nolan had been in the Fabrics before joining Pugh & Walsh in The Sinners who preceeded New Heroes.

Ghostdance was managed by Ger Siggins. They recorded a demo at Alto Studios and signed a publishing deal with Reekus. They recorded a session for Dave Fanning's radio show and gigged heavily round Dublin.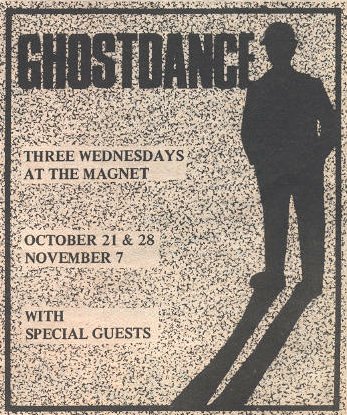 Things looked very promising for the band but for whatever reason it simply was not to be.

Mick Nolan was replaced by Stan Erraught (Peridots, Modernaires). The 1982 Hot Press Year Book (publised December 1981) reports the lineup as Rooney, Pugh (on bass) & Walsh and one Gerry Oliver on vocals, so further lineup changes occurred and perhaps Erraught's arrival was not immediately after Nolan's departure.

If anyone can supply me with a copy of Ghostdance's demo, please get in touch.

Stan Erraught and Bernie Walsh were later in the mighty Stars of Heaven. Tony Pugh later became a house DJ.

Note: completely unrelated to the UK indie/goth band Ghost Dance who recorded for Karbon & Chrysalis between 1985-90 approx.





Discography

6 track demo recorded at Alto Studios, Dublin - 1981

Tracks:
Going Sideways
So Sad
Only Shadows Follow Me
Stars Pull Apart
Views Of Athens
Point Of No Return
Help!
We need your help to correct and/or complete this entry. If you can provide more information about this band, have scans, photos or any other memorabilia we can use, or spare copies of any releases, then please get in touch.
---

See Also: Fabulous Fabrics, New Heroes, peridots, The Sinners, Stars of Heaven


---

A-Z Artist Index
Compilations
Record Labels
Media
Help Us!
Contact Us
Resources
Timeline
---