---


A-Z Artist Index
Compilations
Record Labels
Media
Help Needed
Contact Us
Resources
Timeline
---
Phaeton Records (AKA Faetain Records)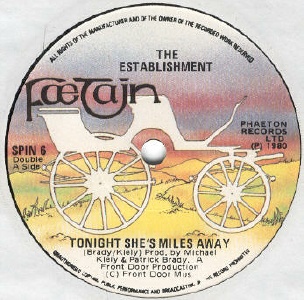 last updated 22 May 2019
last updated 21 August 2013
last updated 15+1 August 2012
last updated 14 February 2012
Label launched circa 1980 by Claddagh Records, the well-known Irish folk label. The singles were issued in pink die-cut sleeves (though SPIN 7 was also issued in a stamped white sleeve) while the label (on which the Irish spelling "Faetain" is used) was customised with a band logo. A phaeton (faetan or faetain in Irish) is a type of horse drawn carriage.

The Spies, Banditz and Major Thinkers are all listed in the main band pages. The Spies single is a gem and is especially recommended. The cancelled second single is a great loss. The Banditz also recorded an unissued second single though it was not assigned a catalogue number.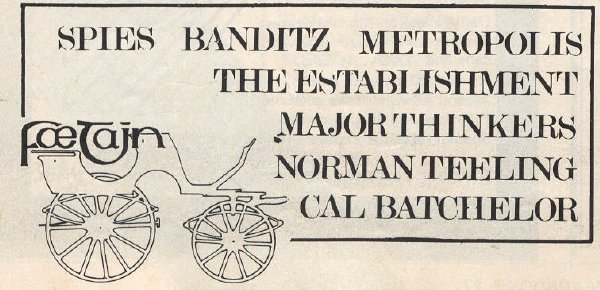 Cal Batchelor is a Canadian musician who lived in the UK during the 70s and 80s and was a founding member of Quiver. He recorded with Kevin Ayers, Cochise and Matthews Southern Comfort to name but a few. In the late 70s he recorded a solo album which came to the attention of Phaeton Records. Phaeton announced a single but it never came out and the deal fell through. Norman Teeling is now best known as a fine arts painter. He was active in the music scene in Dublin in the 1960s playing with The Difference among others; he graduated from NCAD in 1975 and became a full-time painter in the 1980s; he is credited with composing both sides of the Jim Power & Taurus single from 1978 and released his first solo single on Phaeton in 1981, the live B-side of which features Eric Bell (ex Thin Lizzy) and is now hard to find, as are his two solo LPs for the label. The first is a mix of styles, the second is blues rock. The Establishment were the ex Cromwell duo of Micheal Kiely & Patrick Brady who had an earlier LP on Irish EMI ("The Unfree Child", 1978). Cromwell's "At The Gallop" LP is a major rarity but is neither the bludgeoning heavy rock nor the Stones-meet-Lizzy mix it's usually claimed to be by dealers.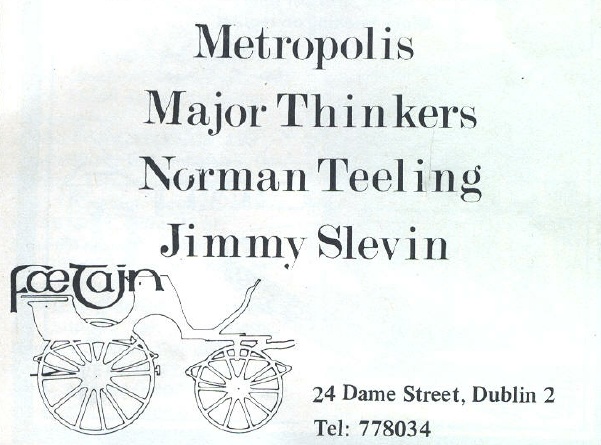 By 1981/82 the roster was new wave free! Metropolis were a jazz rock outfit featuring ex Peggy's Leg drummer Don Harris who had designed the Phaeton label logo. Their single came out on Phaeton but their album came out on the parent Claddagh label (though it bore the Phaeton logo). Ex Peggy's Leg guitarist Jimmy Slevin was also listed as a Phaeton artist at this time but his solo LP of the era "Freeflight" also came out on Claddagh.



Singles

SPIN 1	The Spies - Thinking About The Sun / Hippy Hangover 7" [1980]
SPIN 2	The Banditz - JCB / Bad For Your Health 7" [1980]
SPIN 3	Major Thinkers - Back in the 80s / Farewell To The Coast 7" [1980]
SPIN 4	The Spies - Saturdays / King And I 7" unreleased
SPIN 5	Norman Teeling  - Nag Nag Nag / Better Listen to Me 7" [1981] B-side features Eric Bell
SPIN 6	The Establishment - Tonight Shes Miles Away / Al Hiat Fi Al Emirat (Life In The Emirates) 7" [1980]
SPIN 7	Metropolis - Skyways / Avril 7" [1981]
SPIN 8?	Cal Batchelor - 7" unreleased


	 


Albums


SPIN  991	Major Thinkers - s/t LP [1981]
SPIN  992	The Establishment - Bad Catholics LP [1981]
SPIN  993	Norman Teeling - Guitar Dimensions LP [1984]
SPIN  994	Frank Harte with Dónal Lunny and Bertram Levy – And Listen to My Song  [1986] folk
SPIN  995	Frank Harte with Dónal Lunny – Daybreak and a Candle-End LP/CD  [1987] folk
SPIN  996	The Voice Squad ( Gerry Cullen / Fran McPhail / Phil Callery ) - Many's the Foolish Youth LP [1987] folk
SPIN  997	Norman Teeling - Downtown City Blues LP [1987?]
SPIN  998	Eddie Lenihan – Saint Patrick was a Gentleman K7
SPIN  999	James Kelly and Zan McLeod – The Ring Sessions: Irish Traditional Music on Fiddle and Guitar CD  [1995]
SPIN 1000	Paul McGrattan and Paul O'Shaughnessy – Within a Mile of Dublin CD  [1995]
SPIN 1001	Eoghan O'Sullivan, Gerry Harrington, Paul de Grae – The Smoky Chimney CD  [1996]
SPIN 1002	Paul Redmond – The Legacy: Moore's Melodies CD
SPIN 1003	Amongst Women (TV soundtrack) CD
SPIN 1004	Brian Rooney – Leitrim to London CD [2002]
SPIN 1005	Harry Bradley – As Carelessly I Did Stray ... CD [2002]
SPIN 1006	Tina McLoughlin – Just for Now CD [2003]
SPIN 1007	The Tap Room Trio CD [2003]
SPIN 1008	Ciarán Ó Maonaigh – Ceol a' Ghleanna CD [2004]
SPIN 1009	Aoife Ní Fhearraigh – If I Told You CD [2006]
SPIN 1010	David Power – The Little Cuckoo of Glen Nephin CD [2007]

	 

F.SPN 988	Norman Teeling - Forcefield K7 [198?]

Releases in the main Claddagh LP series bearing the Phaeton logo:

CCF4	Metropolis - Morning Shadows LP [1981]
CCF7	Jimi Slevin - Freeflight LP [1982]

	 





---

A-Z Artist Index
Compilations
Record Labels
Media
Help Needed
Contact Us
Resources
Timeline
---