---
A-Z Artist Index
Compilations
Record Labels
Media
Help Us!
Contact Us
Resources
Timeline
---
Plough Records
last updated 7 December 2013
last updated 5 November 2013
last updated 19 April 2012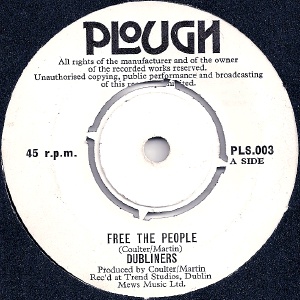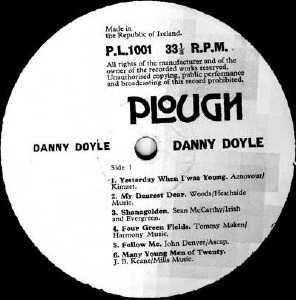 Launched in 1970-71 but short-lived. Danny Doyle and The Dubliners had previously been with Tribune Records who folded around the same time, and there is undoubtedly a link between the two labels. The address on PLS002 is given as Tribune House, Harcourt Street, Dublin 2.

The Sands LP was unauthorized and had to be withdrawn following legal action, which may have contributed to the label's early demise. It also resulted in what is undoubtedly the rarest showband LP.

If anyone knows more about Plough Records, please get in touch.





 

Singles (PLS series)
Singles
PLS 001
PLS 002	Bridie Gallagher - If I Had My Life To Live Over / Golden Jubilee
PLS 003	The Dubliners - Free The People / The Beggarman [1971] (PS)
PLS 004	Danny Doyle - My Dearest Dear / Mr. Bojangles [1971]


Albums (PL series)
PL 1001	Danny Doyle - s/t [1971]
PL 1002	Niall Toibin - Toibin Being Behan [1971] extracts from Brendan Behan's Borstal Boy, The Hostage, and other writings

PLX 501	The Sands - Time Out With The Sands [1971] withdrawn



---
A-Z Artist Index
Compilations
Record Labels
Media
Help Us!
Contact Us
Resources
Timeline
---