---


A-Z Artist Index
Compilations
Record Labels
Media
Help Us!
Contact Us
Resources
Timeline
---
Tribune Records
last updated 19 Nov 2021
last updated 7 Oct 2021
last updated 11 Feb 2019
last updated 18 Aug 2018
last updated 4 June 2018
last updated 22 May 2018
last updated 16 Jan 2017
last updated 21+4 July 2016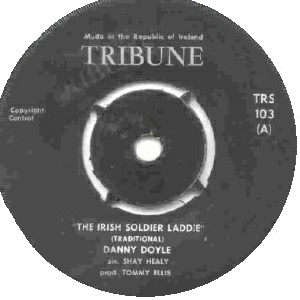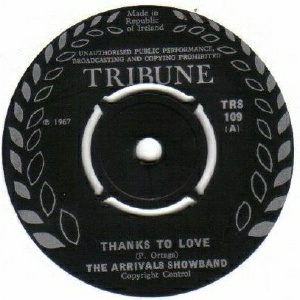 Tribune House, Harcourt Street, Dublin 2. Distributed by EMI.
Launched in 1967 by Noel Pearson, manager of The Chessmen and long associated with the Abbey Theatre in Dublin. He is now better known as a film producer (My Left Foot, The Field, etc.). Several albums were licensed to Capitol Records in Canada and the USA.

The most collectable record by far is the single by Sugarshack, featuring a young Brian Downey. The A-side is included on the "Showband Special" compilation. The most durable and probably best selling artist on the label was folky troubadour Danny Doyle whose career spans four decades. He was also a member of The Gatecrashers foursome along with Pecker Dunne, Paddy Reilly & Shay Healy.

Tribune folded in 1971. Danny Doyle and The Dubliners turned up on the new Plough label the same year, which was Pearson's label after Tribune.








Singles (TRS series)


TRS 101	Ricky Valance and The Chessmen - Tell Laura I Love Her / 24 Hours From Tulsa [1967]
TRS 102	The Saints Showband feat. Joe Flynn - The Broken Hearted Farmer / The Old Bog Road [1967]
TRS 103	Danny Doyle - The Irish Soldier Laddie / Morning Train  [1967]
TRS 104	The Newmen - Holiday Girl / Loveland Harbour [1968]
TRS 105	Al O'Donnell - Spanish Lady / Sammy's Bar [196?] both sides on TRLP 1005
TRS 106	Sean Fagan & The Pacific - For He's A Jolly Good Fellow / She Thinks I Still Care [1967] also released on Major Minor (MM 528)
TRS 107	Danny Doyle - Whiskey On A Sunday / Reason to Believe [1967]
TRS 108
TRS 109	Arrivals Showband - Thanks To Love / Fool Number One [1967]
TRS 110	Sean Fagan & The Pacific - My Jenny / Since I Don't Have You [1967]
TRS 111	The Chessmen - Cryin Time / Billy Jones [1968]
TRS 112	Sugarshack - Morning Dew / Sunshine of Your Love [1968]
TRS 113	Jim McCann - Some Day Soon / There Ain't No Lock Upon My Door  [1968] both sides on TRLP 1005
TRS 114	The Sands - Help Me Rhonda / Some Enchanted Evening [1968]
TRS 115	Clipper Carlton - A Little Bit of Me Dies / The March Hare [1968]
TRS 116	The Spalpeens - Saly-O / The Willow Garden
TRS 117	Danny Doyle - The Mucky Kid / Gone Away [1968]
TRS 118	The Chessmen - Up and Down / Loving You [1968]
TRS 119	Gerro Doyle - Golden Wedding (trad) / Round and Round (Paxton) [1968] both sides on TRLP 1005
	probably Danny Doyle's sister Geraldine Doyle who emigrated to Australia where she achieved some success as a singer.
TRS 120	The Sands - Yummy Yummy Yummy / Peanuts 7"
TRS 121	Danny Doyle - Johnny / Leaving On A Jet Plane [1968]
TRS 122	The Sands - Dance Dance Dance / The Cheater (11/1968)
TRS 123	Mike Munro & The Chessmen - Bang Shang A Lang / Billy Jones [12/1968]
TRS 124	Sean Fagan & The Pacific - My Lovely Rose And You / I'll Remember You (12/1968)
TRS 125	Sean Fagan & The Pacific - Remains To Be Seen / We Are Happy People [1969]
TRS 126	The Chessmen - Swan Song / When The Swallows Fly [1969]
TRS 127	Danny Doyle - Where's Jack / The Ballad of Jack Sheppard [1969]
TRS 128	Peter Law & The Pacific - My Mothers Eyes / Sunday Drive [1969]
TRS 129	The Sands - Bubblegum Music / Sherry [1969]
TRS 130	The Paragons - That's My Desire / Seasons Of Love
TRS 131	Peter Law & The New Pacific - Ruby / Red Sails In The Sunset [1969] also credited to Peter Law & The Sound Of The Pacific
TRS 132
TRS 133
TRS 134
TRS 135
TRS 136	Noel V Ginnity - Mrs McGrath / McAlpine's Fuisiliers  [1969]
TRS 137
TRS 138	The Dubliners - Molly Maguires / Bold Princess Royal
TRS 139
TRS 140	Peter Law & The Sound Of The Pacific - Mamma's Waiting / Rollin' Common [1970]
TRS 141	Danny Doyle - The Long And Winding Road / Roundstone River [1970]
TRS 142
TRS 143	Brendan Clancy & The Rovers - These Are My Mountains / Shall My Soul Pass Through Old Ireland  [1970]
TRS 144
TRS 145
TRS 146
TRS 147
TRS 148
TRS 149
TRS 150	The Dubliners - Scorn Not His Simplicity / Raglan Road [1970]
TRS 151?	 The Dubliners - Joe Hill / The Louse House In Kilkenny [1971?] EMI Columbia release in UK, uncertain if released on 45 by Tribune
TRS 152	The Dubliners - Hand Me Down My Bible / Humpty Dumpty [1971]


TRS ???	Roly Daniels & Green County - Sunday Tennessee [1971]
TRS ???	Sandy Jones & The Royal Earls - I Don't Want To Play House [1971]


EPs (TRE series)
TRE 501	Danny Doyle - Step It Out Mary EP [1967]


 



Albums (TRLP series)


TRLP 1001	v/a - Live at the Embankment [1967] also released on Capitol Canada
TRLP 1002	The Gatecrashers - s/t (live at the Gate Theatre June 1966) [1967] also released on Capitol Canada
TRLP 1003	Danny Doyle - Expressions of Danny Doyle [1968] later issues in different sleeve design; also released on Capitol Canada
TRLP 1004	Michael Moran and His Shamrock Céilí Band – A Little Bit of Irish, A Little Bit of Heaven [1968]
TRLP 1005	v/a - Ballads for Drinking and the Crack [1969?] also released on Capitol Canada
TRLP 1006	Danny Doyle - Hits of Danny Doyle [1969?] also released on Capitol Canada
TRLP 1007	v/a - The Showband Special [1969] also released on Capitol Canada
TRLP 1008
TRLP 1009	The Sands - Sand Doin's [1969]
TRLP 1010	The Dubliners - At Home With The Dubliners
TRLP 1011	Danny Doyle - A Portrait Of Danny Doyle [1969]
TRLP 1012	Peter Law & The Sound Of The Pacific LP [1969] also released on Capitol Canada
TRLP 1013
TRLP 1014
TRLP 1015	The Dubliners - Revolution [1970]




Albums (TRLB series)


So far, we've identified a handful of LPs in this series but there are bound to be more. These are recordings made for Dominion Records 
in Canada and released in Ireland by Tribune. Though pressed in ireland, the records where housed in Canadian sleeves, though sometimes
with Irish back cover slicks, so that the front cover showed the Dominion catalogue number and the back cover the Tribune catalogue
number and Dublin address.

TRLB 1010	The Sons Of Erin - s/t [1970] licensed from Dominion (LPS-93055)
TRLB 1001
TRLB 1012	Larry McKee & The Shandonairs - Come Back To Erin [197?] (Dominion LPS 1382)
TRLB 1013	Stompin' Tom Connors (Canada) – Canadian Country Songs (Canadian title 'Bud The Spud') [1970?] licensed from Dominion


thanks to John Lynch for his help


---

A-Z Artist Index
Compilations
Record Labels
Media
Help Us!
Contact Us
Resources
Timeline
---