---


A-Z Artist Index
Compilations
Record Labels
Media
Help Us!
Contact Us
Resources
Timeline
---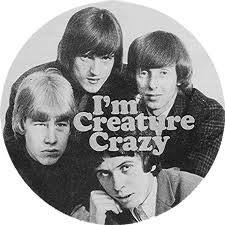 From: Dublin

Active: April 1965 - September 1967

Style: Beat

Lineup:
Liam McKenna - rhythm guitar, vocals
Brian Harris - lead guitar
Frank Boylan - bass
Ray McDonald - drums

clockwise from left: Ray McDonald, Brian Harris, Liam McKenna, Frank Boylan
Bio:

Arguably the most important Irish beat group, and one of the first to score international success. The Creatures were formed in April 1965 by Frank Boylan, Liam McKenna and Ray McDonald of The Hootenannys, with Brian Harris (ex Tonics).
Some sources claim an earlier version of the Creatures pre-dated The Hootenannys but I have no confirmation of this. The lineup was Boylan & McKenna with Reg Dunne and an unknown drummer. They may also have been known as The Wogs. This earlier band never recorded and were presumably short-lived.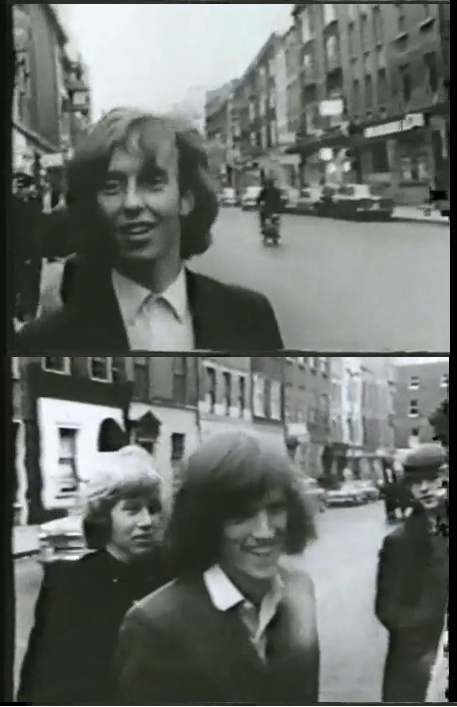 Above: Frank Boylan (top) and Liam McKenna (bottom) in stills from the Rolling Stones documentary 'Charlie Is My Darling' filmed during the Stones' 2nd Irish tour of September 1965. Liam and Frank appear as fans rather than musicians. Liam is interviewed on camera and when asked if he's in a group he replies "Yes, the Creatures".
The Creatures played the Dublin clubs during 1965 and built a following. They were managed by Brendan O'Brien and then Kevin Dunne. They were spotted performing at the Locomotive Club in Paris in August 1965 by Neil Levenson, a staff producer at Columbia Records in New York. Levenson arranged some demo recordings at Advision Studios in London a few weeks later. During one 3 hour session the band recorded 10 songs and this tape led subsequently to the band signing to Columbia Records USA at the end of 1965. This tape presumably still sits in a vault somewhere.

The Creatures travelled to the USA in 1966 for a promotional tour and stayed for an extended period, making many recordings with Levenson. In all four singles were released in the USA and 3 in Ireland and the UK.

The A-side of their debut single was "Turn Out the Light", credited to D. Lindsay who is undoubtedly Derry Lindsay, who played with the Pat Loughman Showband and The Kamels and later co-wrote "All Kinds Of Everything" for Dana in 1970. The B-side was a Neil Levenson song. "Turn Out the Light" was released in early 1966, first in the USA, where promo copies were housed in an attractive picture sleeve, and then in the UK and Ireland. It was a big hit in Ireland despite being banned by RTE Radio because of the slightly risque lyric. It peaked at #8 in the Irish charts. This single was probably the band's best chance of a chart hit outside Ireland. The band played the Columbia Records Convention on 21 July 1966 but this did not help. The single failed in the USA. They recorded another Neil Levenson song "String Along" as followup but it also failed to provide a break through. It also did not chart in Ireland. Two more singles were released to little effect, all Levenson songs apart from one B-side "Someone Needs You" written by Frank Boylan's brother.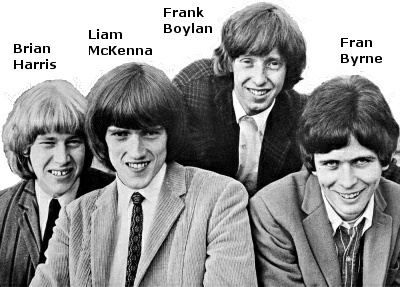 The Creatures second lineup with Fran Byrne, 1966-67




The Creatures returned to Ireland in late 1966. Liam McKenna had brought back to Dublin two songs from the many demos they'd listened to in New York while selecting material to record. Both were Neil Levenson compositions, "The House With The White Washed Gable" (originally titled "222 East Maple") and "Walking In The Park". These were recorded by The Deep Set who scored a hit in Ireland. The lifestyle in New York didn't appeal to everyone and Ray McDonald took this opportunity to leave. His replacement was Fran Byrne (ex Chosen Few, Rockhouse) in late 1966.

Capitol chose not to renew their one year option with the band which had lapsed while they were back in Dublin at the end of 1966. With their US adventure at an end, the band followed the King Bees to Germany in April 1967, playing the Hit Club in Hamburg. Their stay in Germany was fraught with problems, culminating with manager Pat Fay taking their work permits back to Ireland by accident. They returned to Ireland in August 1967. An unspecifed incident with UK customs in London caused a minor scandal when it made the papers in Ireland. Bookings in Dublin dried up and the Creatures finally split in September 1967.

Boylan, McDonald and Harris all joined Ditch Cassidy & The News. Brian Harris subsequently joined The Gentry and the Cotton Mill Boys. Frank Boylan joined Mellow Candle and later the Gary Moore Band and Chips. Liam McKenna joined The Real McCoy and later played the showband circuit with The Memories. Fran Byrne joined The Sands.

The Creatures discography is crying out for a CD release.



Discography:

• Turn Out The Light / It Must Be Love
7" - Columbia Records - 4-43480 - USA - 1966 - WL promo in promo-only PS
7" - Columbia Records - 4-43480 - USA - 1966 - stock, no PS
7" - CBS Records - 202048 (5312) - IRL/UK - March 1966 - no PS
Reached #8 in the Irish charts.
Produced by Neil Levenson.
A-side by Derry Lindsay; B-side by Neil Levenson.



• String Along / The Night Is Warm
7" - Columbia Records - 4-43689 - USA 1966
7" - CBS Records - 202350 (A 5526) - IRL/UK 1966
A-side by Neil Levenson; B-side by Derry Lindsay.
The Canadian issue miscredits "The Night Is Warm" to Liam McKenna.



• Looking at Tomorrow / Someone Needs You
7" - Columbia Records - 4-43884 - USA 1966
7" - CBS Records 2666 - IRL/UK 1967
A-side by Mann & Weil; B-side by R.Boylan



• Hurtin' All Over / Love is a Funny Little Game
7" - Columbia Records - 4-44145 - USA 1967
Produced by Neil Levenson.
A-side by Neil Levenson & E.Reeves; B-side by Levenson/Robinson/Venet
This single may be promo only and was USA only.






See Also: Ditch Cassidy & The News, The Chosen Few, The Gentry, The Hootenannys, Mellow Candle, Real McCoy



Help!: We need your help to complete this entry. If you can tell us more about this band then please do! We welcome any corrections, missing details, connections to other bands, where are they now, etc. We also need photos, scans, copies of releases or live or demo recordings, and any other memorabilia gathering dust in the attic. If you can help, then please get in touch.

thanks to TP McLoughlin


---

A-Z Artist Index
Compilations
Record Labels
Media
Help Us!
Contact Us
Resources
Timeline
---