---


A-Z Artist Index
Compilations
Record Labels
Media
Help Us!
Contact Us
Resources
Timeline
---
From: IRL

Active: 1978-82

Style: New Wave

Lineup:
Donal Coughlan - guitar & vocals
John Redmond - keyboards
Andrew Martin - bass
Keith Edgely - drums


The Departure in 1980.


The Departure in 1981, l-to-r: Keith Edgely, Donal Coughlan, Declan Lucas, John Redmond
Bio:

New wave band influenced by The Cure, XTC and The Stranglers. They were around for a number of years and appeared on two local compilations, in 1980 and 1981, but never managed a release themselves. The band changed bassist a couple of times with Andrew Martin, Declan Lucas (1981), who later worked for RTE, and Joe Donnelly (circa 1981-82) all playing with the band at different times. Donal Coughlan was later in Hinterland.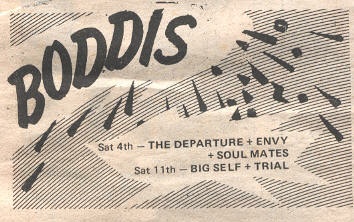 Boddis gig, April 1981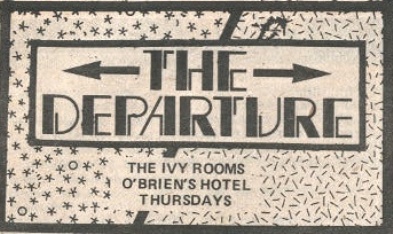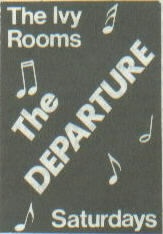 Advertising February (left) and May (right) Residencies at the Ivy Room Dublin in 1982.



Discography

• various artists - The Boddis
7" - Nineteeneightease Records - DC9-003 - 1980 - PS
See Compilations section for full track listing.



tracks: Stop



• various artists - Vinyl Verdict
LP - Scoff Records - DTLP006 - IRL - 1981
See Compilations section for full track listing.



tracks: Convoy

Help!
We need your help to correct and/or complete this entry. If you can provide more information about this band, have scans, photos or any other memorabilia we can use, or spare copies of any releases, then please get in touch.
---

See Also: Hinterland


---

A-Z Artist Index
Compilations
Record Labels
Media
Help Us!
Contact Us
Resources
Timeline
---