---


A-Z Artist Index
Compilations
Record Labels
Media
Help Us!
Contact Us
Resources
Timeline
---
From: Letterkenny, Donegal

Active: 198?-1990

Style: Powerpop

Lineup:
Mark Bradley RIP - vocals & guitar
Danny McTaggart - guitar
Marty McElroy - bass
John Lafferty - drums


live July 1989, l-to-r: Danny McTaggart, Mark Bradley,
John Lafferty & Marty McElroy


Bio:

Late 80s powerpop quartet from Letterkenny, managed by Tony Strickland (Upfront Management). They played whenever and wherever they could, including lots of gigs in the Dublin area during 1989-90. They did a few radio appearances including Dave Fanning's show and signed to the Dublin based Danceline label, for whom they recorded two singles. A promo video was made for the second of these "Fear of Falling". Their last gig was at the Baggot Inn in Dublin in October 1990, after which they split. In recent years the band has come together for xmas gigs in the Letterkenny area.

Mark Bradley died in 2011.

The "Fear of Falling" promo video can currently be viewed on youtube along with three early vintage performances from Ballyshannon ("Reality", "Impossible" and "Walk From You") and a further three recorded live at the Mean Fiddler in London on 9th May 1990 ("Break The Ice", "All In Your Mind" and "So Far From Here"). See external links below for the link.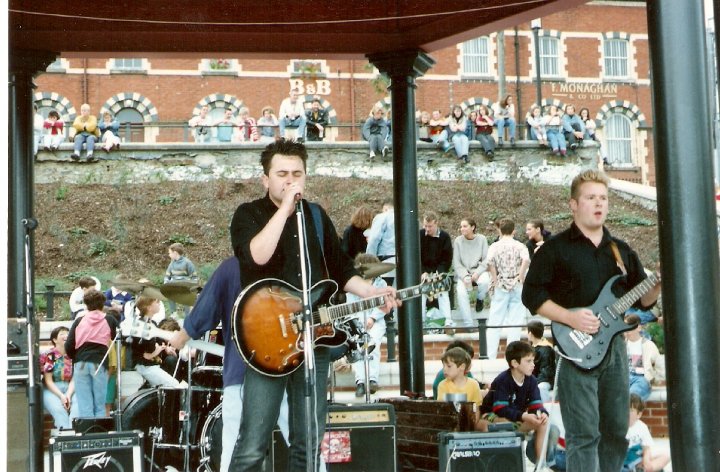 Letterkenny Festival 1990
[photo courtesy Danny McTaggart]

Discography

• various artists - Nationwide Vol.3
LP - Danceline Records - DLS1004 - 1989
See Compilations section for full track listing.



tracks:
All In Your Mind
Strange To Me


• All In Your Mind / Strange To Me
7" - Danceline Records - DLS008 - IRL - May 1990 - PS
A-side produced by Aslan's Joe Jewell and Chris O'Brien.


• Fear of Falling / (mix)
7" - Danceline Records - DLS013 - IRL - 1990 - PS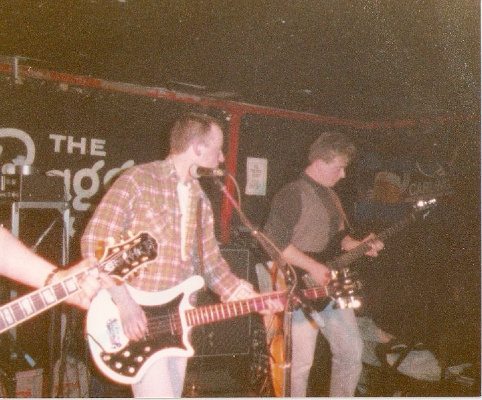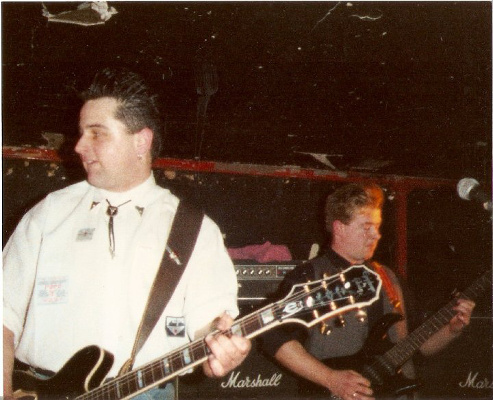 At the Baggot Inn, Dublin, 1990
[photo courtesy Danny McTaggart]



Help!


We need your help to correct and/or complete this entry. If you can provide more information about this band, have scans, photos or any other memorabilia we can use, or spare copies of any releases, then please get in touch.



---

See Also:

External Links: Ego Minefield videos on youtube


---

A-Z Artist Index
Compilations
Record Labels
Media
Help Us!
Contact Us
Resources
Timeline
---