---


A-Z Artist Index
Compilations
Record Labels
Media
Help Us!
Contact Us
Resources
Timeline
---
From: Galway

Active: 1980-83

Style:

Lineup:
Pat Coyne - vocals
Dave Fitzgerald - guitar
Paul Gaughan - guitar John Fitzpatrick - keyboards
Michael Staunton - bass
Mike Arrigan - drums


Bio:

New wave/powerpop quintet from Galway. Drummer Mike Arrigan had been in an earlier band with Rob Coen of Scum Of The Earth, whose last gig in 1980 was The Fuze's first ever live performance.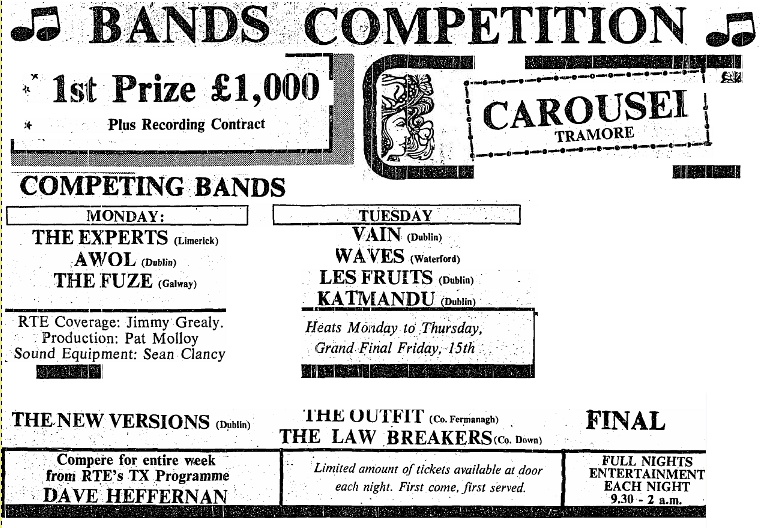 Tramore Bands Competition August 1980



The Fuze won the Tramore Band Competition in 1980. The prize was £1000 cash and a single to be released on Mulligan Records in conjunction with the organisers of the competition who called themselves Tramore. This is the reason for the Tramore logo on the label of the band's debut single on Mulligan "Stone Age Man". An LP featuring all finalists of the competition was also considered but Mulligan and Tramore fell out almost immediately and these plans were scrapped.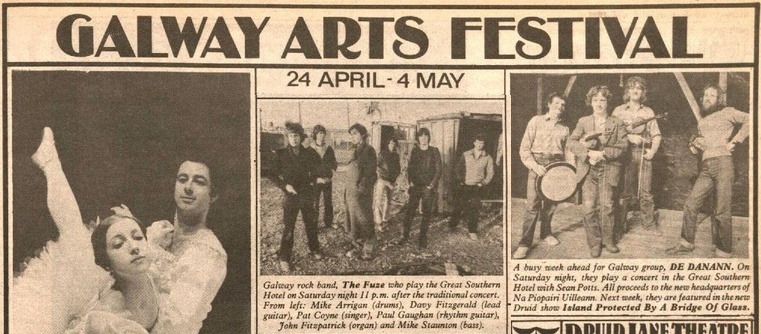 Galway Arts Festival April 1980



Supporting U2 at Seapoint 9 May 1980



Mulligan were so impressed with The Fuze they signed them to a three single deal and the band began recording suitable tracks for future singles at Windmill Lane. Mulligan Records' finances became overextended promoting the Boomtown Rats in the UK and they were unable to meet their commitments. They were subsequently taken over, leaving The Fuze and bands like them with unpaid bills. This is how the band came to pay for it's own debut single even though it was supposedly released on Mulligan. They formed their own One Up label to promote it and also designed a picture sleeve which bore the One Up logo. One Up also paid the bands outstanding bills, including the recording costs of the second single, which eventually came out on Release Records and charted in Ireland in July 1981.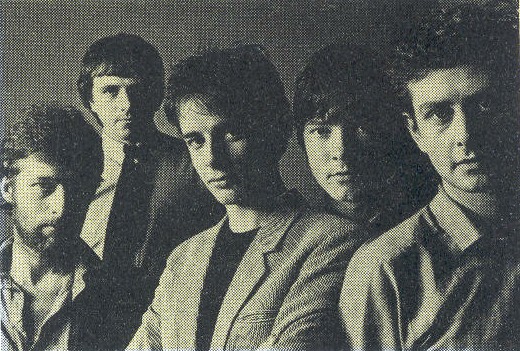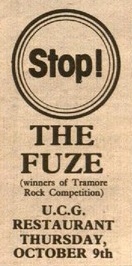 Despite these two very strong singles and a solid live reputation across the West, the type of label support necessary to record and release an LP in Ireland at that time was not forthcoming and the band split late 1981 or early 1982. They reformed again briefly a year or so later.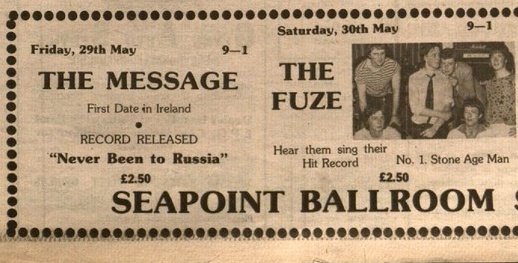 A selection of the band's many studio and live recordings has been assembled into a 20 track retrospective CD called A Blast From The Past which will be available soon from the band's own www.fuzesounds.com site.



Discography

• various artists - Vinyl Verdict
LP - Scoff Records - DTLP006 - IRL - 1981
See Compilations section for full track listing.



tracks: Zealano


• Stone Age Man / Zealano
7" - Mulligan Records - LUNS 745 - IRL - 1981 - some with PS
Some copies issued in a PS which used the same design as the poster pictured below. These bear the bands own One Up Records logo.


• It's Sunday Morning / Insanity
7" - Release Records - RL1060 - IRL - July 1981 - PS
Produced by Donal Lunny
Reached #14 in Irish charts during a 5 week run in July/August 1981


• A Blast From The Past
CD - self-released - IRL - 12.10.2007
15 remastered studio recordings from the early '80's plus 5 live tracks.



tracklisting:
It's a Sunday Morning
Voices
Zealano
It's Not Too Late
Back In Time
Insanity
The Journey
Stone Age Man
New Boy
Scenes From a Movie
The Forces
Way Of Doin'
I Am a Soldier
Space Boys Never Die
Once In The Daytime
Mystical Forces (live at The Castle, Salthill)
I've Heard Angels (live at Peacocks, Maam Cross)
Invasion (live at The Carousel, Tramore)
Look What She's Done To Me (live at The Baggot Inn, Dublin)
Shining Star (live at the Western Hotel, Claremorris)
Help!
We need your help to correct and/or complete this entry. If you can provide more information about this band, have scans, photos or any other memorabilia we can use, or spare copies of any releases, then please get in touch.
---

See Also:

External Links: www.fuzesounds.com is no longer online


---

A-Z Artist Index
Compilations
Record Labels
Media
Help Us!
Contact Us
Resources
Timeline
---