---


A-Z Artist Index
Compilations
Record Labels
Media
Help Us!
Contact Us
Resources
Timeline
---
From: Dublin

Active: Late 80s

Style:

Lineup:
Mick Bates - Lead Vocals & guitar
Joe O'Reilly - Keyboards & vocals
Neil Buckingham - Bass & vocals
Pat O'Connell - Drums & vocals


Jabel L-R: Joe O'Reilly, Pat O'Connell, Neil Buckingham, Mick Bates.
[photo courtesy Neil Buckingham]




Bio:

Dublin guitar/keyboards quartet previously known as Vis-A-Vis. Songwriting duties were mostly by Bates & Buckingham with the whole band collaborating on some tracks. A 4 song demo recorded at Sun Studios in 1988. Two tracks in 1989 on the first Nationwide compilation on Danceline.





Discography

• various artists - Nationwide
LP - Danceline Records - DLS1002 - IRL - 1989
See Compilations section for full track listing.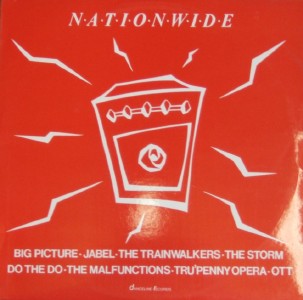 tracks: Fool That You Are
Big Boom
Help!
We need your help to correct and/or complete this entry. If you can provide more information about this band, have scans, photos or any other memorabilia we can use, or spare copies of any releases, then please get in touch.
---

See Also:


---

A-Z Artist Index
Compilations
Record Labels
Media
Help Us!
Contact Us
Resources
Timeline
---