---


A-Z Artist Index
Compilations
Record Labels
Media
Help Us!
Contact Us
Resources
Timeline
---
AKA The French Letters
AKA P.O. Box & The French Letters

From: Dublin

Active: 1977-79

Style: Punk

Lineup:
Mark 'Spot' Phelan - vocals
Tom Doyle - guitar/vocals
Stephen Ryan - guitar/vocals
Des O'Byrne - bass
Dave Herlihy AKA Dave O'Herlihy - drums.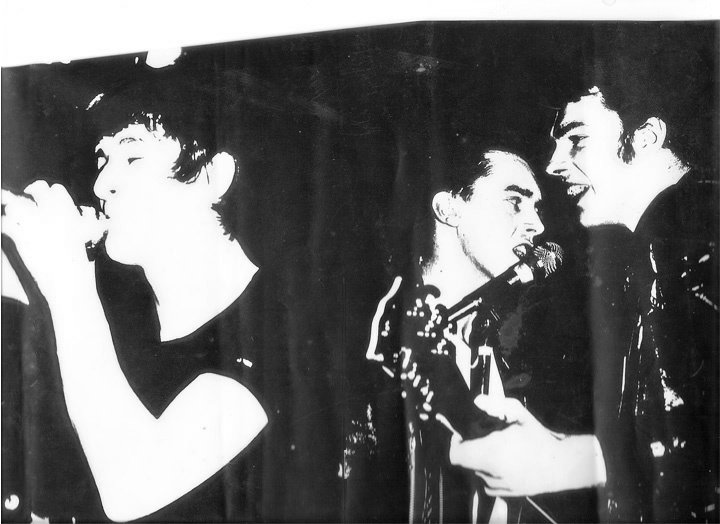 P.O.Box & The French Letters, live circa 1977, venue unknown
left-to-right: Mark 'Spot' Phelan, Donal Murray, Des O'Byrne
Bio:

Late 70s Dublin punk band originally called The French Letters (or P.O Box and The French Letters), who shortened their name in order to get bookings, indicating just how different a place Ireland was back then.

The Letters grew out of a group of school friends at Belvedere College during the punk explosion of 1977-78. Other bands from the same scene included The Spurts, The Urban Urges and Neu Belsen.

The lineup listed above was as far as I know the most stable version of the band who gigged around Dublin in 1978-79, including the Dark Space Festival on February 16-17 1979 and the Dandelion Market on Sunday 20 May 1979 (with the Black Catholics). The mainstays where Mark Phelan & Des O'Byrne. They were joined in the original quartet by Colin 'Bonk' Dolan (bass) and Paul Hyland (drums). The latter pair were replaced by Donal Murray and Dave Herlihy. Then Donal Murray left, and Tom Doyle & Stephen Ryan joined. Mark Phelan left sometime before the band split in late 1979.

The band never recorded as far as I am aware.

Tom Doyle, Des O'Byrne and Dave Herlihy played in Ju Ju Gooks in 1981.

Mark Phelan now plays in New York based garage/Psychobilly band Triple Hex.
Tom Doyle later in the Fallen Angels.
Stephen Ryan later in the Stars Of Heaven.
Des O'Byrne later in The Golden Horde.
Dave Herlihy is now an actor (Glenroe, etc).
Paul Hyland, the original drummer, is now a sports journalist.
Donal Murray, another early member, was later in The Golden Horde.



Help!
We need your help to correct and/or complete this entry. If you can provide more information about this band, have scans, photos or any other memorabilia we can use, or spare copies of any releases, then please get in touch.
Thanks to Garrett Phelan
---

See Also: Fallen Angels, The Golden Horde, Stars Of Heaven

External Links: Triple Hex


---

A-Z Artist Index
Compilations
Record Labels
Media
Help Us!
Contact Us
Resources
Timeline
---