---


A-Z Artist Index
Compilations
Record Labels
Media
Help Us!
Contact Us
Resources
Timeline
---
From: Dublin

Active: 1977-79

Style: folk / folk rock / country rock

Lineup:
Thom Moore - vocals, guitar
Janie Cribbs - vocals
Gerry O'Beirne - guitars
Martin O'Connor - button accordion, Anglo concertina

l-to-r: O'Beirne, Cribbs, O'Connor, Moore



Bio:

Formed by Irish-American singer-songwriter Thom Moore (ex Pumpkinhead) and Janie Cribbs, together with Martin O'Connor and ace guitarist Gerry O'Beirne (ex Great Saturday Night Swindle and Hybrid). While mining similar trad / folk / country rock territory as Pumpkinhead, Midnight Well's album consists entirely of Thom Moore originals, in contrast to the earlier band's album of the year before.

Thom Moore returned to California in 1979, shortly after Midnight Well split, where he stayed for 10 years, eventually writing and recording again, returning to Europe in 1989 and settling back in Ireland in 1995. He is a well known songwriter whose songs have been covered by many (Irish) artists. See his website for more details.

Gerry O'Beirne was later in Patrick Street and played with Sharon Shannon, The Waterboys, Fiona Joyce, Barry Moore/Luka Bloom, etc. Mairtin O Connor was also with Boys of the Lough, Skylark and De Danann (note orig. spelling -- does this make me a 'stickler'?)



Discography:

• s/t
LP - Mulligan Records - LUN 011 - IRL - 1977 - insert
Recorded and mixed at Lombard Sound, Dublin.
Produced by Shaun Davey.



side one:
Still Believing
Saw You Running
Make Yourself At Home
Jesse's Friend
Soldier On

side two
Wheel of Fortune
Rosy-Painted Barge
Nicky's Song
The Mighty Turk
Low, Low Northern Moon
Notes: Guests include Paul Barrett (trombone), Greg Boland (acoustic guitar), Fran Breen (drums, percussion), Robbie Brennan (percussion), Kevin Burke (fiddle), Shaun Davey (string machine), Keith Donald (sax), Pat Farrell (electric guitar), Garvan Gallagher (electric bass), Jolyon Jackson (piano, cello), Donal Lunny (bouzouki, fiddle, bodhran), Brian Masterson (electric bass), Dave McAmaney (piano) and Ciaran O'Braonain (double bass).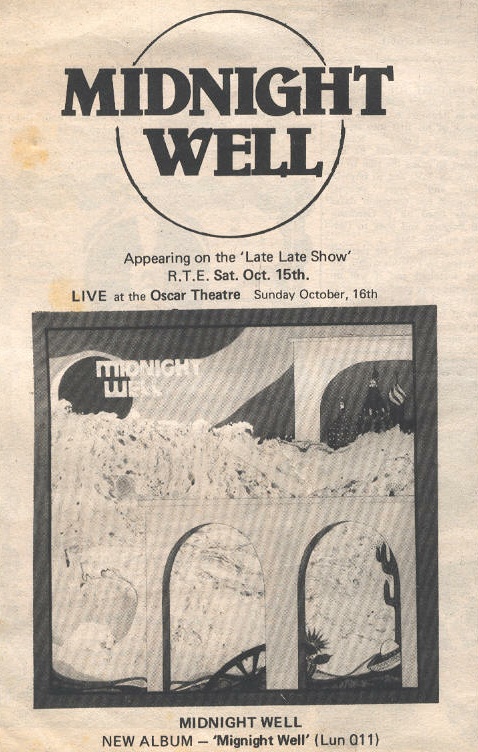 Related
• Thom Moore - Cavan Girl / Janie Cribbs - Baton Rouge
7" - Release Records - RL 962 - IRL - 1979 - PS
Split single by the two Midnight Well principles.





See also: Pumpkinhead

External links: www.thommooremusic.com, www.gerryobeirne.com




Help!: We need your help to complete this entry. If you can tell us more about this band then please do! We welcome any corrections, missing details, connections to other bands, where are they now, etc. We also need photos, scans, copies of releases or live or demo recordings, and any other memorabilia gathering dust in the attic. If you can help, then please get in touch.



---

A-Z Artist Index
Compilations
Record Labels
Media
Help Us!
Contact Us
Resources
Timeline
---