---


A-Z Artist Index
Compilations
Record Labels
Media
Help Us!
Contact Us
Resources
Timeline
---
From: Waterford

Active: 1981-84?

Style:

Lineup:
Aeon - AKA Shay Morris - vocals
Paul Butler - guitar
Ciaran Barry - bass
Pat Grant - drums


photo by Eoin Ronayne
Bio:

Art/synth new wave band from Waterford formed early 1981, managed by Eoin Ronayne (who also worked with The Village and took the band photos you see on this page). Paul Butler and Ciaran Barry had previously been in No Entry. They were initially compared to U2. The band ran an Artists Co-op called Club Nüage and were heavily involved in promoting the local scene in Waterford. Support slots with Echo & The Bunnymen and Simple Minds in Dublin. They recorded well received Dave Fanning session(s).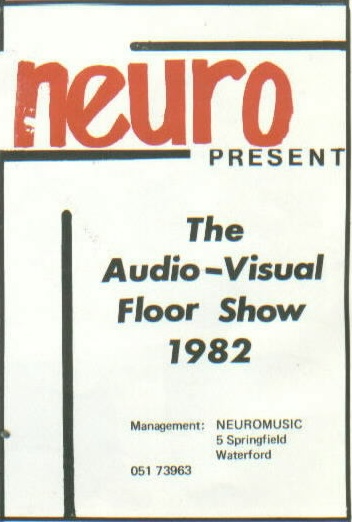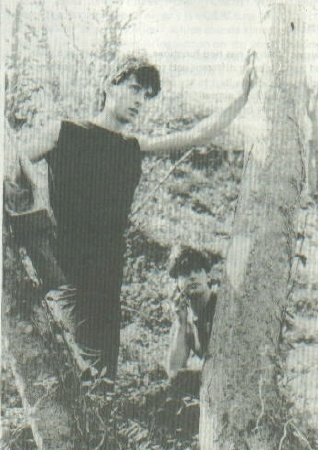 Neuro signed a world-wide 3 year deal with WEA for one album and two singles per year but only two singles emerged. "Nairobi" was chosen as the first of these as it had been so successful on Dave Fanning's show. They performed it on Non Stop Pop (RTE TV) with a dancer. There are many demo tapes including 24 tracks demos recorded at Lombard Sound with Phil Lynott. See the youtube links below for a live performance of "Nü Age", the band's Non Stop Pop appearance ("Nairobi") and an interview with Shay Morris.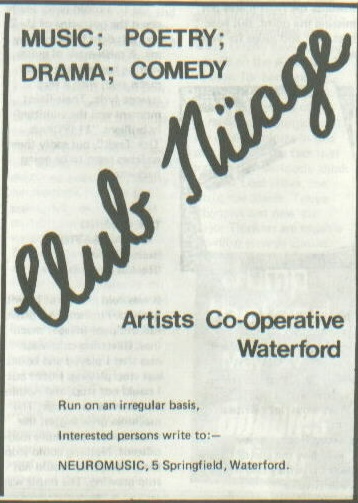 Neuro feature prominently in a documentary about Waterford music from the eighties, titled 051, made by Kramproductions in 2006. The tracks included on the accompanying compilation CD are reputedly not the best in terms of sound quality (I can't verify this as I haven't been able to locate a copy of this CD).

Ciaran Barry is now in New Zealand. Much more info needed about this interesting band.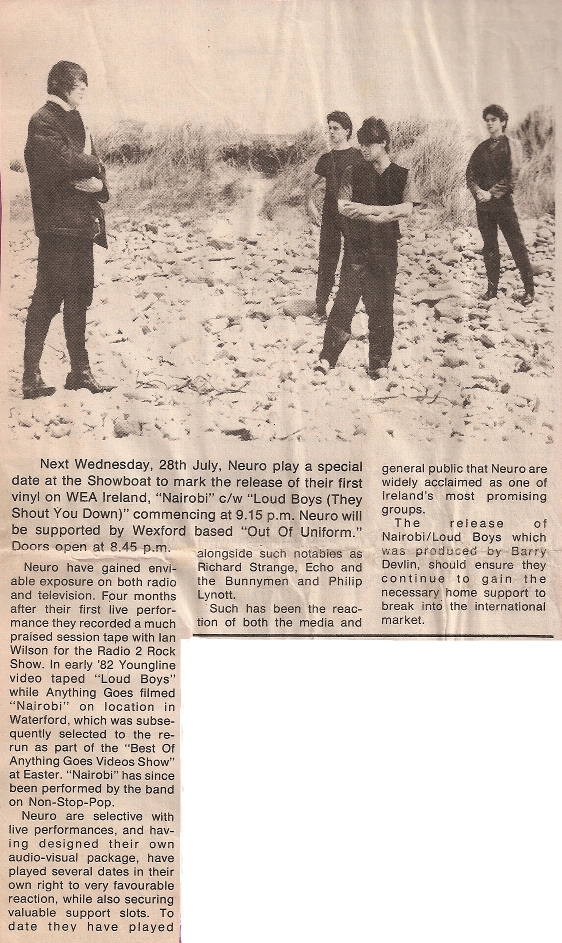 Article from the Munster Express 23 July 1982
[courtesy Seamus Morris]


Discography • Nairobi / Loud Boys (They Shoot You Down)
7" - WEA Records - IR 19250 - 1982 - PS
Produced by Barry Devlin at Windmill Lane Studios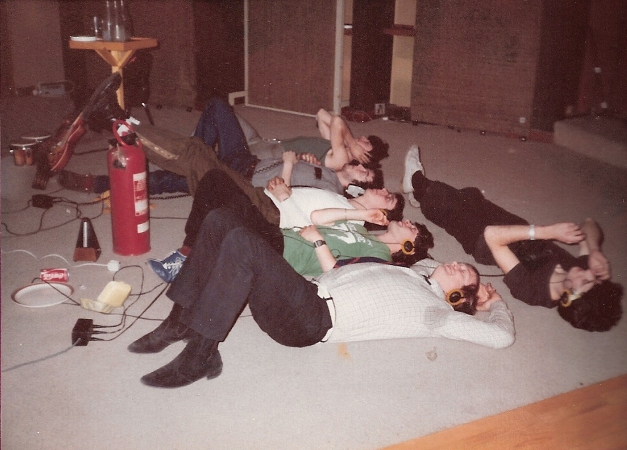 Neuro with producer Barry Devlin during the recording of their debut single at Windmill Lane .
[courtesy Seamus Morris]


• Silhouettes & Silent Figures / The Actress
7" - WEA Records - NEV 001 - 1983 - PS


• various artists - 015 Soundtrack
CD - ??? Records - ??? - IRL - 2006
See Compilations section for full track listing.
track(s): ?
If anyone has any more details about this CD release please get in touch. I believe it includes at least two Neuro tracks.


Help!


We need your help to correct and/or complete this entry. If you can provide more information about this band, have scans, photos or any other memorabilia we can use, or spare copies of any releases, then please get in touch.



---

See Also:

External Links: video segment on you tube


---

A-Z Artist Index
Compilations
Record Labels
Media
Help Us!
Contact Us
Resources
Timeline
---