---


A-Z Artist Index
Compilations
Record Labels
Media
Help Us!
Contact Us
Resources
Timeline
---
- under construction-
From: Limerick

Active: 1967-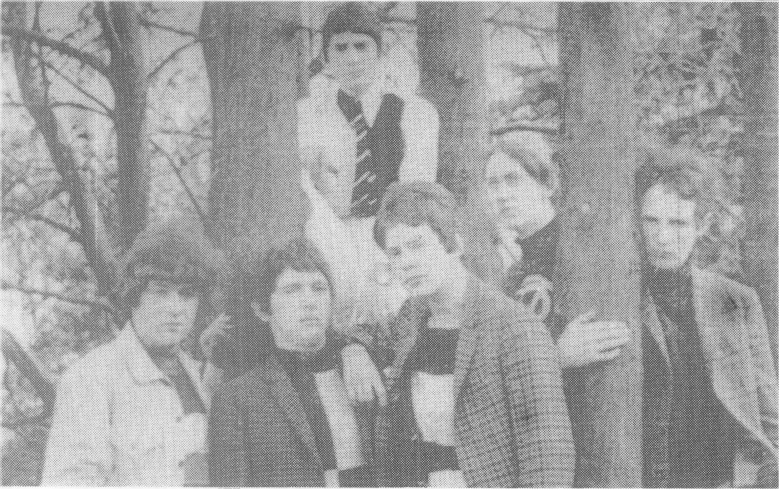 Joe O'Donnell (extreme left) with The Intentions AKA Granny's Intentions in 1965.




Bio:

Joe O'Donnell is a classically trained violin player from Limerick who is best known for his innovative playing in various folk-rock bands including The Woods Band and East Of Eden. He also pioneered the development of the electric violin, making his own instruments. However, he is not the same Joe O'Donnell who played fiddle for celtic rock band Mushroom in 1973.

Joe O'Donnell began playing violin at a young age. During the beat era he played with a number of groups, most notably the Limerick bands Granny's Intentions (a short stint as guitarist in 1966) and Sweet Street (1967-69), with a pre Horslips Johnny Fean. Sweet Street folded when Joe moved to Dublin to study at the Royal Irish Academy of Music. Joe was also briefly in an unrecorded, late lineup of psychedelic pioneers the Orange Machine in 1969, taking the band in a Jefferson Airplane-ish direction.

In 1971 he joined The Woods Band who'd just released their debut LP on the Greenwich label. This band folded and Gay & Terry Woods signed to Polydor as a duo. Joe appears on their debut LP "Backwoods", released in 1972. He then joined the fourth, unrecorded lineup of UK folkrock legends the Trees. This was reputedly the most rockin' version of the band (see Ugly Things #25 for an extensive band history). Bootleg live recordings of this lineup exist but unfortunately I've not heard them. In 1973, Joe replaced Dave Arbus in East Of Eden.

At this point it's worth clearing up a common misunderstanding. Around the time Joe was playing with Trees and East Of Eden, there was another musician named Joe O'Donnell playing fiddle and recording with Dublin band Mushroom. That Joe O'Donnell left Mushroom in 1973, shortly before their LP came out, and is thanked in the credits. He appears to have gone completely off the radar thereafter, and at some point the two Joes became confused for the same man, and Mushroom was added to Joe's list of credits my mistake. This error has been repeated consistently over the years. Even the bio on Joe's own website contained it at one point. For the record, the Joe O'Donnell discussed here was never a member of Mushroom and it is not he who is thanked in the credits of the "One Fine Morning" LP. If the Mushroom Joe O'Donnell is out there reading this, please get in touch!

During 1973-76, Joe was involved in a number of projects. I haven't worked out the exact chronology. He was a member of a East Of Eden from 1973 onwards, debuting on the "Sin City Girls" single and playing on the "Another Eden" LP, recorded in 1974 but not released until 1975 (only in Germany). He guested on Riff Raff's "Original Man" LP, also recorded in London in 1974. Joe toured with East Of Eden throughout Europe, including Ireland (and an Irish TV appearance in November 1973 on RTE's Talk About Pop). He was not involved in the attempted reunion of the original lineup in early 1975 but was back touring with East Of Eden by March '75, supporting Deep Purple in Germany. He leaves after the tour but would perform again when needed in 1976.

Joe was also a member of Headstone circa 1975, while in and out of East Of Eden. Headstone was formed by Steve Gould, Dave Kaffinetti and Mark Ashton of Rare Bird, with guitarist Steve Bolton (ex Atomic Rooster, who later played on Joe's solo LP. Joe appears on the second, self-titled Headstone LP from 1975 and probably also their 2nd single, but I am unsure of his contribution to the rest of their discography. Also in 1975 he guested on Henry McCullough's solo debut LP "Mind Your Own Business", released in October that year on George Harrison's Dark Horse label (via A&M).

During 1976-78, Joe fronted his own Joe O'Donnell Band who did not record. In 1976 he appeared on Jade Warrior's "Kites" album (which also featured Clodagh Simmonds of Mellow Candle). The recordings were engineered by Tom Newman (ex July, co-owner of Manor House Studios with Richard Branson of Virgin Records, producer of "Tubular Bells", etc). Joe contributed to Newman's second solo LP "Faerie Symphony" released on Decca in 1977. Joe approached Jon Field (of Jade Warrior) and Newman about recording his own concept LP. This lead to a deal with Decca, who gave Joe full freedom in recording "Gaodhal's Vision", a fusion of Celtic music with rock and jazz. The album was produced and engineered by Newman & Field. The musicians included Rory Gallagher, Steve Bolton (of Atomic Rooster, Headstone, as mentioned above), Theodor Thunder and David Lennox (ex Uptown Band, Elmer Fudd, Funky Junction, Rory Gallagher Band). Through Rory, Joe meet Rory's brother and manager Donal Gallagher, who became Joe's manager and secured a release from Decca. The LP came out instead on Rory's label Polydor Records.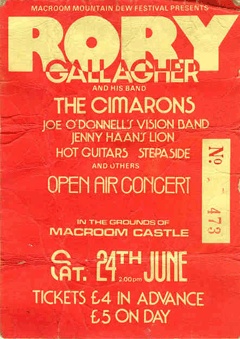 Joe O'Donnell's Vision Band supporting Rory Gallagher at Macroom, 24 June 1978
A warm up gig of sorts took place at The Savoy in Limerick on May 12th the same year.



"Gaodhal's Vision" was acclaimed at time of release and has remained of interest to collectors, not least due to Rory Gallagher's contribution. It was released in the UK and Ireland, France, Germany (in a gatefold sleeve) and the Peoples Republic of China! A single was released in Ireland to promote the album.

Musically it's not completely successful. At times it is reminiscent of the Mahavishnu Orchestra, but at other times it strays into pomp rock territory. Mark J.Prendergast describes it as follows:

"Still on crossovers, that year also produced the first symphonic Celtic concept album in Joe O'Donnell's Gaodhal's Vision... The work spans classical, jazz and rock, and charts the journey of the Milesians from Egypt to Spain and thence to Ireland. The orchestral nature of the music conveys the atmosphere of the history, with flutes, violins and percussion forming the basis of the structure. Unfortunately, the overall effect is 'pomp' rock, with nice solos and instrumentation doing little to ease the bombast. The only redeeming feature of this album is the final cut, "Poets and Storytellers", which develops into something very special when Rory Gallagher applies a searing, fast-fretted guitar sound to the mix." from Irish rock: Roots, Personalities, Directions (1987)


Joe played with various outfits in the 1980s. During 1979-80 he played with Scottish folk-rocker New Celeste but doesn't appear on their late 70s LP. During 1981-1983 he played with the New Ceilidh Band, probably AKA the Electric Ceilidh Band, who released a 12-inch EP in 1983. He played again with Henry McCullough, Crannog, and among others. He lived in Germany for part of the decade and a curious album entitled "Milesian" came out on the German Entente label in 1986; what purports to be new recordings is in fact a straight reissue of "Gaodhal's Vision"! One can only guess at the reason for this subterfuge. It was released on LP and CD, making the 2004 CD the second CD issue!

Joe contines to play up to this day and currently fronts Shkayla. He still plays material from "Gaodhal's Vision" and it sounds better now live than it did in 1977 on record. Check youtube for evidence of this where a number of recent live performances of tracks like "The Battle" and "Poets and Storytellers" can be found.
Discography:

• Gaodhal's Vision
LP - Polydor Records - 2383 465 - IRL - 1977 - imported German gatefold cover
LP - Polydor Records - 2383 465 - UK - 1977 - single cover
LP - Polydor Records - 2383 465 - France - 1977 - single cover
LP - Polydor Records - 2460 274 - Germany - 1977 - gatefold cover
LP - Incredible Sound - KS-5087 - China - 19?? - single cover
CD - BMG - CAPO505 / 692414 - UK - 2 Feb 2004 - digipak




side one:
The Vision
The Exodus
Caravan
The Battle and Retreat Underground
Tara

side two:
The Fair
The House of Hostages
For Trades and Hospitality
House of Warriors
The Great Banqueting Hall
Poets and Storytellers



CD track listing with bonus tracks:
Vision
Exodus
Caravan
Sea Crossing and Storm (previously unreleased bonus track)
The Battle & Retreat
Palace Of Tara
The Feish
Hostages
Hospitalities & Trades
Warriors
Great Hall
Poets & Storytellers
Lament For Coire Sainnte (previously unreleased bonus track)
Tribes (previously unreleased bonus track)
Credits:
Joe O'Donnell - violin, violectra 8-string violin
Rory Gallagher - guitars (lead on "Poets and Storytellers")
Bill Smith - bass
Theodore Thunder (Jon Dentith) - drums
David Lennox - keyboards
Jon Field - bass, flutes

Notes:
Conductor: Fiachra French
Producer: Jon Field
Engineers: Tom Newman and Tom Nordon
Recorded at: The Argonaut and Decca Studios
Executive Producer: Donal Gallagher
All compositions by Joe O'Donnell.




• Poets & Storytellers / The Banqueting Hall
7" - Polydor Records - 2058 930 - IRL - November 1977 - no PS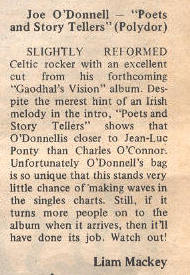 Liam Mackey's review in Hot Press, vol.1 nr.10, October 1977


• Milesian
LP - Entente/AudioLabor/SPV Records - 12-3064 - Germany - 1986
CD - Entente/AudioLabor/SPV Records - 88-3064 - Germany - 1986
Reissue of Gaodhal's Vision with altered song titles.








side one:
Milesian (Part One)
- Prophecy
- Milesian Exile
- Isle of Destiny
- Milesian Landing
- The Burial Place Of Tea

side two:
Milesian (Part Two)
- The Feish
- Sunhouse
- The Star Of The Bards
- Craftsmen
- House Of The High King
- Breens - Laws And Fili
Notes:
Though you wouldn't guess as much from the credits, this is a reissue of "Gaodhal's Vision", possibly remixed though I don't hear any differences. AudioLabor was a German audiophile label with high quality pressings. Additional sleeve credits not present on the Polydor original include:
• Steve Bolton - guitar
• Paul McDonald - guitar
• String arrangements - Jon Field & Joe O'Donnell & Roger
and the drummer is identified as John Dentith.






Other appearances:

1973 - East Of Eden - Sin City Girls/All Our Yesterdays 7" (United Artists UP 35567, UK 29 June 1973)
1973 - East Of Eden - Sin City Girls/All Our Yesterdays 7" (Polydor 2000 461, Germany 1973) (PS)
the B-side is Joe's only compositional credit with the band
1974 - Riff Raff - Original Man LP (RCA, 1974)
1975 - East Of Eden - Another Eden LP recorded 1974 (Harvest 1c-062-97101, Germany 1975)
1975 - Henry McCullough - Mind Your Own Business LP (Dark Horse AMLH 22005, 10/1975)
1975 - Headstone - s/t (2nd) LP (Trident, 1975)
1975 - Headstone - s/t (2nd) LP (20th Century Records T-0483, USA 1975)
1974 - Headstone - Turn Your Head / Searching Light (EMI 2274, Feb 1975)
1976 - Jade Warrior - Kites LP (Island ILPS 9393) - track: "Arrival Of Chia Shan"
1977 - Tom Newman - Faerie Symphony LP (Decca TXS 123, UK 1977)
1983 - Electric Ceilidh Band - Ceann Traigh Ghruineard EP 12" (Raucous ECB1A, 1983)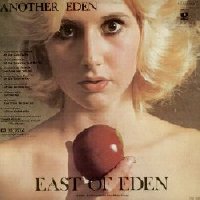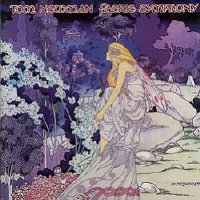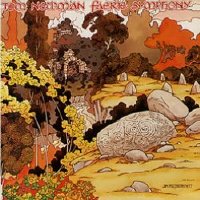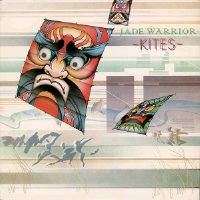 See also: Granny's Intentions, , Sweet Street, The Woods Band
External Links: www.joe-odonnell.com



Help!: We need your help to complete this entry. If you can tell us more about this band then please do! We welcome any corrections, missing details, connections to other bands, where are they now, etc. We also need photos, scans, copies of releases or live or demo recordings, and any other memorabilia gathering dust in the attic. If you can help, then please get in touch.



---

A-Z Artist Index
Compilations
Record Labels
Media
Help Us!
Contact Us
Resources
Timeline
---