---


A-Z Artist Index
Compilations
Record Labels
Media
Help Us!
Contact Us
Resources
Timeline
---
The Outfit / The Street Urchins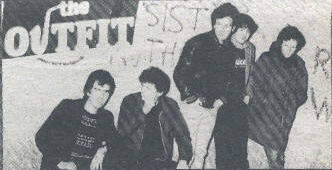 From: Limerick

Active: 1981-84

Style: Pop/Punk Reggae

Lineup:
Ger Costelloe - vocals & guitar
Mick O'Brien - lead guitar
Paul Healy - vocals & guitar
Dermot Lynch - sax
Brian Healy - bass
Brendan Wallace - drums




Bio:

Reggae/rock quintet reminiscent of The Beat. While there is something odd about a white boy from Limerick singing with a slight Jamaican accent, The Outfit were a good band. The did classic reggae covers as well as original material. They released a couple of singles on Scoff Records during 1982-83 and also made several promotional videos.

The band was originally known as The Street Urchins before a name change in 1981. Prior to that there was another band named The Outfit from Fermanagh, who took part in the 1980 Tramore Band Competition.

The Street Urchins was originally a four piece. Ger Costelloe and Brian Healy had previously been in Ravengale (active ca 1979-80); the Healys and Brendan Wallace had previously been in The I.O.U.s (same late 70s/early 80s period). The Street Urchins played punky reggae in and around Limerick. Their first real break came when they were given a spot at the 1981 Carnsore Point Rally, an Anti Nuclear festival held at Carnsore Point. When they arrived at the band entrance for the festival, they were told that they were not on the list, only to discover they'd been entered as "The Sea Urchins". This precipitated an immediate name change to The Outfit.

The Outfit went went down a storm at the 1981 Carnsore Point Rally, which earned them a lot of exposure in the media. They made their Dublin debut as a support act at the Baggot Inn on Saturday and Sunday February 27-28, 1982. They also played a TCD lunchtime gig on March 4th. Paul Healy joined in mid 1982, expanding the lineup, and Mike Ryan joined on keyboards. This expanded lineup signed to Scoff Records in 1982, releasing two singles. They split ca 1984. Ger Costello went on to several outfits including Out Of The Fog, Giant Kites and The O'Malleys. Brendan Wallace and the Healy brothers then formed The Groove in 1984. Mike Ryan later formed Toucandance.





Discography

• El Salvador / Radiation
7" - Scoff Records - DT019 - IRL - 1982


• Toytown / A Sharp
7" - Scoff Records - DT024 - August 1983


• various artists - Non Stop Pop Vol.2
LP - RTE Records - RTE 69 - IRL - November 1982
See Compilations section for full track listing.


• various artists - Stock 'N Trade
LP - Scoff Records - DTLP30 - 1983
See Compilations section for full track listing.



tracks: Toytown

Help!
We need your help to correct and/or complete this entry. If you can provide more information about this band, have scans, photos or any other memorabilia we can use, or spare copies of any releases, then please get in touch.
---

See Also: The Groove


---

A-Z Artist Index
Compilations
Record Labels
Media
Help Us!
Contact Us
Resources
Timeline
---