---


A-Z Artist Index
Compilations
Record Labels
Media
Help Us!
Contact Us
Resources
Timeline
---
From: Belfast

Active: 1965-67

Style: Psychedelic Soul

Lineup (1966):
Ernie Graham (RIP) - lead vocals, guitar
George O'Hara - guitar
Eric Wrixon - keyboards
Mike Niblett - bass
Davy Lutton - drums

The People in November 1965, pictured with Julie Grant.
l-to-r: Ernie Graham, Eric Wrixon, Mike Niblett, (Julie Grant), George O'Hara and Davy Lutton.
The People backed Julie during this tour.

Bio:

Belfast beat/soul group who developed out of an earlier beat group called The Telstars (1964-65). Graham, O'Hara and Lutton has all been Telstars. Guitarist Tiger Taylor recalls briefly being a member of The People during the initial period 1965, leaving shortly after the arrival of Mike Niblett on bass, who joined in late 1965. Eric Wrixon played keyboards. This is the lineup that made the bands only recordings which appeared on the Ireland's Greatest Sounds LP released on Ember Records in February 1966. Ernie Graham sang lead vocal on "I'm With You" and George O'Hara on "Well All Right"

In 1966 The People moved to Blackpool, following in the footsteps of The Wheels, who'd gained a huge local following there. Eric Wrixon left to join The Wheels during the Blackpool period, appearing on the latters "Kicks" single released in 1966. He was not replaced and the band contined as a quartet.

George O'Hara left in 1966 and was replaced by Henry McCullough, late of Gene & The Gents. McCullough suggested the band move to Dublin where he'd heard they could do much better financially than the tough living they were eeking out in Blackpool.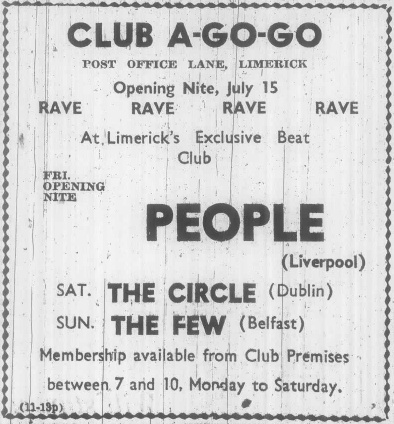 Opening the Club A Go Go in Limerick in July 1966.
Note "from Liverpool".





The People had a huge impact on the Dublin beat scene. Their manager during this period was Dave Robinson, later head of Stiff Records. Mike Niblett left at the end of 1966 and was replaced by Chrissie Stewart, ex Telstars. This lineup left for London in May 1967 and were renamed Eire Apparent by new manager Chas Chandler.

George O'Hara returned to the College Boys (1975-77) and was later in Light (1977-80).
Mike Niblett was in many other bands including The Stellas; Eric Wrixon had been a founding member of Them and was later in The Trixons, the fledgling Thin Lizzy and the late 1970s reformed version of Them.
Tiger Taylor joined Teddie & The Tigers and would later join Eire Apparent, of course.




Discography:

• v/a - Ireland's Greatest Sounds: Five Top Groups from Belfast's Maritime Club
See Compilations section for full track listing.
LP - Ember Records - FA 2034 - UK - February 1966



tracks: I'm With You / Well... All Right


• various artists - Belfast Beat Maritime Blues
See Compilations section for full track listing.
CD - Big Beat Records - CDWIKD 152 - UK - 1997
tracks: I'm With You / Well... All Right





See also: College Boys, Eire Apparent, Ernie Graham, Light, Henry McCullough, Teddie & The Tigers, Telstars, Wheels,



Help!: We need your help to complete this entry. If you can tell us more about this band then please do! We welcome any corrections, missing details, connections to other bands, where are they now, etc. We also need photos, scans, copies of releases or live or demo recordings, and any other memorabilia gathering dust in the attic. If you can help, then please get in touch.



---

A-Z Artist Index
Compilations
Record Labels
Media
Help Us!
Contact Us
Resources
Timeline
---