---


A-Z Artist Index
Compilations
Record Labels
Media
Help Us!
Contact Us
Resources
Timeline
---
From: IRL

Active: early 1980s

Style: New Wave

Lineup:
Pat Dunne - guitar & vocals
Stephen Klitz - keyboards
Brian Coleman - AKA Brian Nylon - bass
Lester Dorman - drums


Pat Dunne at top

Bio:

Paradigmatic new wave pop, still surprisingly unknown and under-rated. This is an outstanding new wave pop single, reminiscent of XTC with a very Bowie-like vocal. Note the name is Pop Mecanics (no 'h'), not Mechanics.

"Soldier Boys" was one of several tracks recorded at Windmill Lane studios with engineer Kevin Maloney. Initial (promo?) copies included an invite to see the band perform on Saturday 5th June 1982 at the Baggot Inn in Dublin. The probable follow-up single "Drowning" / "Blue Skies" was recorded at the same session but it never came out. The band appeared twice on Non Stop Pop, the first time for "Soldier Boys" and the second (on 13 October 1982) performing the unreleased second single "Drowning" (see below for youtube link).

Pop Mecanics opened for Katmandu at the Baggot Inn on Sunday nights over a period of several months in 1982 and became great friends. They opened for Roxy Music on their August 1982 tour of Ireland with dates in Limerick (The Savoy, now sadly demolished) and three nights at the RDS in Dublin.

The band split in early '83 while were recording some new tracks at Windmill Lane with an engineer named Baz. Pat Dunne recorded a 3-song Dave Fanning session backed by members of Katmandu (Pat Fitzpatrick, Iggy Ward, Peter McKinney & Trevor Hutchinson)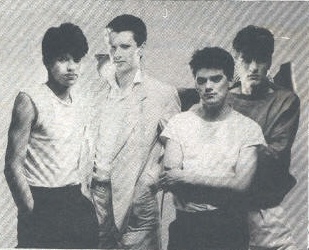 Band leader Pat Dunne was later in the Flash Harry's and The Big Noise. He works as a studio producer in Dublin. Lester Dorman emigrated to the USA in April 1983 and now lives in the San Francisco area. He never joined another band.





Discography

• Soldier Boys / It Feels Like I'm Alone Again
7" - Polydor Records - 2078 144 - IRL - 1982 - PS



Help!


We need your help to correct and/or complete this entry. If you can provide more information about this band, have scans, photos or any other memorabilia we can use, or spare copies of any releases, then please get in touch.



---

See Also:

External Links: Unreleased second single 'Drowning' performed on Non Stop Pop on youtube


---

A-Z Artist Index
Compilations
Record Labels
Media
Help Us!
Contact Us
Resources
Timeline
---