---


A-Z Artist Index
Compilations
Record Labels
Media
Help Us!
Contact Us
Resources
Timeline
---
From: Belfast

Active: 1988-93

Style: Heavy Metal/Hard Rock

Lineup:
Norman Boyd – lead guitar and Vocals
Tony Hamilton – rhythm guitar
Andrew Smith – bass guitar and backing vocals
Willy Vincent – drums (1st drummer ca 1989)
Rory Mooney – drums (2nd drummer)
Glen Matthews – drums (3rd drummer ca 1991)
Ed ?? – drums (4th drummer)


Preacher John photographed at The Marquee ca 1992.
LR: Norman Boyd, Glen Matthews, Tony Hamilton and Andrew Smith.
[photo courtesy Tony Hamilton]

Bio:

Metal/hard rock band who gigged extensively in Northern Ireland for 4-5 years. Terry Hoolie managed them for a short while. They also played The Marquee club in London 4-5 times.

The lineup was stable apart from the drummer. The first drummer Willy Vincent played on the excellent debut single. The third drummer Glen Matthews played on The Mountain EP. The first track on this 12inch employs some Irish airs a la Horslips.

Norman Boyd still plays in Glam Slam. He also plays in Shake together with his son Garry. Original drummer Willy Vincent went on to play for Belfast indie band Chimera (1990-97)





Onstage at the Marquee in 1992.
[photos courtesy Tony Hamilton]


Recording History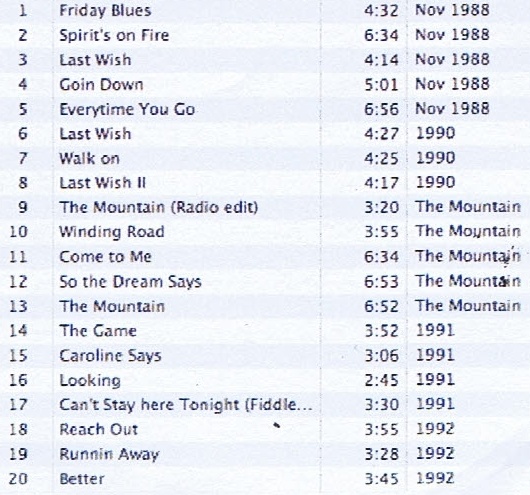 Discography

• Last Wish / Spirits On Fire
7" - self-released - PJR 1 - 1989 - no PS
A-side by Norman Boyd, B-side by the band.
Recorded at Jingle Jangles
Produced and Engineered by Hugh Mater & Preacher John.


• The Mountain EP
12" - Good Vibrations Records - GOT-26 - 1991 - PS
4-track EP.



Help!


We need your help to correct and/or complete this entry. If you can provide more information about this band, have scans, photos or any other memorabilia we can use, or spare copies of any releases, then please get in touch.



---

See Also:


---

A-Z Artist Index
Compilations
Record Labels
Media
Help Us!
Contact Us
Resources
Timeline
---