---


A-Z Artist Index
Compilations
Record Labels
Media
Help Us!
Contact Us
Resources
Timeline
---


From: Dublin

Active: 70s onwards
Style: Rock




Bio:

From Irish Rock: Roots, Personalities, Directions:

Guitarist Jimi Slevin, an inheritor of the sixties guitar-based style, continued to play vigorously up and down the country without a care in the world. Definitely forming a vital bridge during the lean mid-seventies, Slevin became a number one live attraction and the most popular home-based guitarist. After breaking formidable ground with the classical rock oriented Peggy's Leg, he was enrolled in Skid Row for a brief phase before forming his own Jimi Slevin Band in 1975, the hottest band in the country at the time. I can remember hundreds of long-haired youths descending on a large Dublin park on a summer's day in 1976 just to hear Slevin play. It was the time of flared designer trousers and open- necked shirts, and Slevin personified enough energetic freedom for young people to identify with.
Slevin changed the name of his group to Firefly and cut the record "Getting There" for EMI in 1978. A mixed album of guitar music, the tracks 'Magic Lands' and 'Wouldn't It Be Nice' are prominent displays of Slevin playing at his inspired best. Deciding to level off and work on his own, Slevin spent many years conceiving his first solo project which was finally released in 1982. "Freeflight" (Ceirnini Cladaigh) is a masterwork. Jimi plays electric and acoustic guitars including a twelve-string, mandolin, tin whistle and percussion. Trevor Knight is on keyboards. The music involves a series of classical guitar introductions and uilleann pipe passages, The track 'White Cottage' uses an echo effect to evoke the atmosphere of the Irish outdoors – the feeling of being out on the highland reaches, gulls circling overhead as dawn cracks through the mist and water slaps against the shore. Recorded in Slane Studios in county Meath, an area rich in mythology, the record is a perfect swan song to the idealism of the hippy rock culture. Here Slevin manages to transcend the limitations of that culture by summoning forth the more aesthetic side of his own background and melting it with the traditions of his Celtic environment. Even though the guitar is still utilized as a basic tool for development, Slevin's use of the instrument is never indulgent or histrionic. For these reasons Freeflight was and still is one of the most essential of Irish rock albums.
-- Mark J. Prendergast
| | |
| --- | --- |
| | |
| Solo live at the Cork Stardust, August 1978 | Halloween '78 in Cork with Jimi Slevin & Firefly |
| | |
| The second Falling Asunder Rock Review reaches Teach Furbo, 19 December 1976 | |



Born Dublin 1950. Formed bluesrock trio Crossroads in 1969, then joined Alice in 1970, who changed their name to Brogue during an extended period in New York in 1972. After returning to Ireland in late 1972, Jimi formed Peggy's Leg with Don Harris, Jimmy Gibson and Vincent Duffy, who released the seminal "Grinilla" LP in 1973. In 1975 he joined the reformed Skid Row, appearing on their fine 1975 single, but left 8 months later to form his own Jimi Slevin Band. The JSB toured Ireland in 1976 as part of Smiley Bolger's Falling Asunder Tour, and made their vinyl debut on a CBS EP of the same name which also featured Limerick's White Falls Band. They became Firefly in 1977, releasing an excellent and now hard to find LP in EMI the same year. After various lineup changes, Jimi dissolved the band and finally went solo in 1980. Drummer Brian Despard (ex Aura, Medium Wave Band and Dave Prim Band) was later in The Cheaters and Toy With Rhythm.

Jimi played the folk clubs for a couple of years and released "Freeflight" on Claddagh in 1982, a progressive folk masterpiece. He then joined Auto Da Fe for their 1983 tour.

More details to follow.


Discography:

• v/a - The Falling Asunder Rock Review Part II EP
7" - CBS Records - EIR 1 - 1976 - no PS
Split EP shared with the The White Falls Band





tracks:
I Don't Wanna Leave
Innocence


• Jimi Slevin & Firefly - Hold On Pretty Woman / Air On A G String
7" - EMI Records - IEMI 5080 - IRL - 1977


• Jimi Slevin & Firefly - Getting There
LP - EMI Records - LEAF 7017 - IRL - 1978







side one:
Don't Wanna Leave
Zodiac
Child Of Peace
Magic Lands
Eternal Crown
Just Thinkin'

side two:
Hold On Pretty Woman (B.Shiels)
Magical Lady
Air On A G String (Bach)
Living On Secrets
Wouldn't It Be Nice
Cavatina (Myers)
Notes: All tracks by Slevin and/or Gibson except where noted. Recorded between August 1977 and March 1978, mixed in April 1978 in Dublin Sound Studios. Arranged by Jimi Slevin. Produced by Pat Morley and Jimi Slevin. Cut at EMI Abbey Road Studios.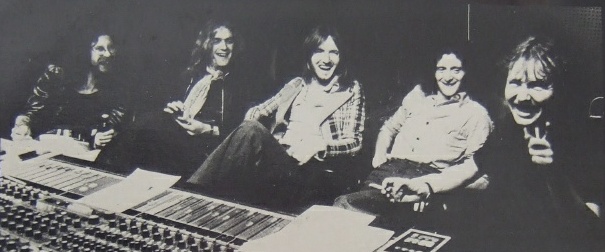 Lineup:
Jimi Slevin - lead guirar, electric & acoustic guitars, vocals, tin whistle
Jimmy Gibson - electric & acoustic guitars
Mickey Hanway - bass
Brian Despard - drums & percussion
Guests include Trevor Knight (organ, electric piano) and Dermot Kerins (bass on several tracks).



• Freeflight
LP - Claddagh Records - CCF 7 - IRL - 1982


Notes: Guests include Mick Coyne (pipes), Trevor Knight (keyboards) and Maggie Cody (vocals).



• Sanctus EP
K7 - J.S. Records - JSEP01 - IRL - 1989





See also: Alice, Auto Da Fe, Crossroads, Peggy's Leg



Help!: We need your help to complete this entry. If you can tell us more about this band then please do! We welcome any corrections, missing details, connections to other bands, where are they now, etc. We also need photos, scans, copies of releases or live or demo recordings, and any other memorabilia gathering dust in the attic. If you can help, then please get in touch.



---

A-Z Artist Index
Compilations
Record Labels
Media
Help Us!
Contact Us
Resources
Timeline
---