---


A-Z Artist Index
Compilations
Record Labels
Media
Help Us!
Contact Us
Resources
Timeline
---
From: Dublin

Active: 1978-79?

Style:

Lineup:
Turlough Hill - vocals
Lar Rogan - guitar
Tony Leonard AKA Lenny Lunge - guitar
Ken Doyne - bass
Denis McGrane - drums


Bio:

Punk/new wave band from Dublin. They practiced in a seedy basement squat in North Great Georges Street and played every Thursday night during the Winter of 1978 / Spring of 1979 in the Magnet with The Alternatives and The Blades They also played the Dandelion Market on one occasion, on Sunday 27th May 1979, supporting The Blades. The soundman was Angus (a librarian at UCD?).

Strange Movements released an excellent single on Good Vibrations. At the time of it's (imminent) release in May 1979, their lead guitarist was in hospital, recovering from a motor cycle crash. After it's release, the band moved to London in an attempt to make it but they got lost in the crowd. They returned to Dublin after a few months and split shortly thereafter, spawning two new bands Neon Heart and The Bats, neither of whom made much headway. Neon Heart played the Dandelion Market on Sunday 11th November 1979 (with The Alternatives), so they may have been concurrent outfits.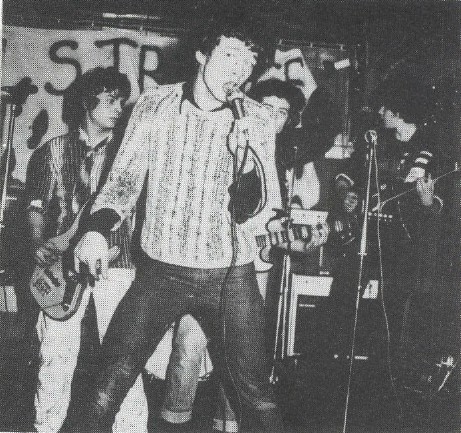 Other band members included Sammy Richards (keyboards) and Pete Clements (bass). There is at least one unreleased recording ("Loughlan House") and probably more. The band also included a cover of "Sympathy for the Devil" in their live set.





Discography

• Dancing In The Ghetto / Amuse Yourself
7" - Good Vibrations International - GVI GOT-5 - N.IRL - 1979 - poster PS
Announced for May 1979 but delayed for re-mixing.
A reel-to-reel for the A-side dated 14.5.79 recorded at Keystone Studios has surfaced.



Help!


We need your help to correct and/or complete this entry. If you can provide more information about this band, have scans, photos or any other memorabilia we can use, or spare copies of any releases, then please get in touch.



---

See Also:


---

A-Z Artist Index
Compilations
Record Labels
Media
Help Us!
Contact Us
Resources
Timeline
---