---


A-Z Artist Index
Compilations
Record Labels
Media
Help Us!
Contact Us
Resources
Timeline
---
From: Wexford

Active: 1970s onwards

Style: Rock



Bio:

Pierce Turner is an unfairly neglected artist who has produced some interesting work. The insistence of certain sections of the Irish print media (i.e. Hot Press) on comparing him favourably with James Joyce is bollocks of the highest order and does him a disservice. This praise while well-meaning is ludicrously out of proportion. Despite this hype, or because of it perhaps, Pierce Turner's solo career never really took off and his major label records are to be found in bargain bins the world over. Even so, he maintains a cult following and continues to perform and record.

Turner's early history is not well documented. He almost certainly played with Paul Raven AKA Gary Glitter in Germany and also had a stint with the Arrows Showband in Dublin, appearing on one of their singles. Another Wexford showband The Supreme committed the first ever Turner/Kirwan composition to vinyl in 1970. Both of these singles are very hard to find.

His musical partner for most of the 1970s was Larry Kirwan. Both Turner and Kirwan grew up in Wexford Town. They recorded a single as Aftermath circa 1971 released on Irish Polydor which gained some airplay. This is now very difficult to locate. The duo moved to New York City in the early 1970s and became Turner & Kirwan of Wexford, playing the Irish pubs and clubs around the city. They developed a style which mixed Irish traditional folk music with full-blown progressive rock, creating an odd folk-rock Frankenstein in the process. Their 1977 album is will worth hearing. It includes a cover of "The Travelling People" which is a good illustration of their strengths. The LP was released on Polydor in Ireland but is easier to find as the US edition issued in the Peters International Cosmos series, rubbing shoulders with German and Italian progressive releases (and the first Gary Moore LP!)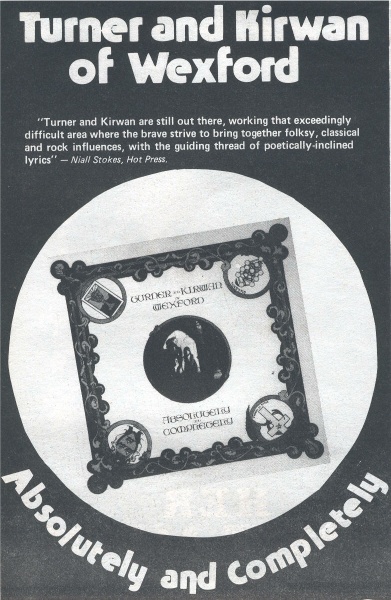 In 1978 they began gigging with poet/spoken word performance artist Copernicus, with Turner acting as musical director. Both he and Kirwan appear on several Copernicus albums, the first of which "Nothing Exists" (1984) is by far the best. Turner also appeared on an obscure release by a duo called Trinity II during the NYC period in the late 1970s. There may be other guest appearances from this era.

Around 1979 the duo changed musical direction and became the Major Thinkers scoring some success in the early 1980s, mainly it must be said because American record companies seemed fairly clueless about 'new wave'. And yet this led to an association with Philip Glass, and when Turner & Kirwan split in 1985, Glass contributed to Turner's debut solo LP.

Since then Turner has pursued a solo career, first with Beggars Banquet (via RCA in the USA) until he was dropped in 1991, and subsequently on his own label. He still performs regularly in Ireland. For more details of his solo career, check out the official website (see links below).

Kirwan meanwhile was involved in Chill Faction and then formed another NYC-based band called Black 47 with Chris Byrne. Both bands involved several ex Copernicus musicians. Black 47 pander to American ideas of 'Oirishness' and roughly fit in the category of bands who followed in the wake of The Pogues. See Larry Kirwan's entry for more details.





Solo Discography (1986-1991)

• How It's Shone
7"/12" - Beggars Banquet - BEG 169 - 1986


• Wicklow Hills / Everyone Loves A Virgin (In Their Past)
7"/12" - Beggars Banquet - BEG 178 - 1986


• It's Only A Long Way Across
LP - Beggars Banquet - BEGA 77 - 1986


• Orange Coloured Sun / Musha God Help Her
7" - Beggars Banquet - BEG185 - 1987


• Uncertain Smile
7" - Beggars Banquet - BEG196 - 1987


• Surface In Heaven
7"/12" - Beggars Banquet - BEG 223 - 1988


• The Sky And The Ground
7"/12" - Beggars Banquet BEG 227 - 1989


• Have You Looked At The Sun (Lately)?
7"/12" - Beggars Banquet - BEG 231 - 1989


• The Sky And The Ground
LP - Beggars Banquet - BEGA 97 - 1989


• Now Is Heaven
LP - Beggars Banquet - BEGA 117 - 1990


• Thunderstorm
7" - Beggars Banquet - BEG 251 - 1991


• Moonbeam Josephine
12" - Beggars Banquet - BEG 252 - 1991


Arrows Showband (1969)
• Mercy / See Saw
7" - Target - 7N17756 - 1969
This is the only Arrows release to feature Pierce Turner.


The Supreme Showband (1970)
• I Can't Go Back To Boston / The Big Bamboo
7" - Release Records - RL.536 - IRL - 1970 - no PS


While neither Turner nor Kirwan appear on this rare single as far as I'm aware, it is notable for containing the first ever recording of a Turner/Kirwan composition. The Supreme were an obscure showband and this single is now very hard to find. The A-side was also recorded by one Dermie Mac on a 45 released on the small US Coby label.



Copernicus (1980s)
• Nothing Exists
LP - Nevermore/Ski Records - SR2085 - USA - 1984


• Victim of the Sky
LP - Nevermore/Ski Records - SR2086 - USA - 1986


• From Bacteria
LP - Dead Man's Curve Records - DMC 017 - UK - 1987
UK remix compilation


• Deeper
LP - Nevermore/Ski Records - 2087 - USA - 1987


• Null
CD - Nevermore? - ??? - USA - 1990
Features Larry Kirwan only


• No Borderline
CD - Nevermore? - ??? - USA - 1993


Trinity II
• Trinity II
LP - Coby Records - CB 1006 - USA - 197?


Trinity II were a folk duo formed in 1972 by Chris King & Mike O'Brien. Coby Records was an NYC-based label. Pierce Turner is credited with piano & Moog on this their first LP. He does not appear on their second LP "On Campus" (Coby CB 1019) from 1980 which was recorded live at Rutgers University by King, O'Brien & Mike Lussen. King & O'Brien also recorded an LP in 1975 titled 'Eira Nua' which featured Turner & Kirwan. Chris King passed away from cancer in the early 90s, Mike O'Brien from complications of Parkinson's Disease in November 2011. Mike Lussen is still active in the folk music scene. From the liner notes of the debut:

"Chris King and mike O'Brien joined forces in 1972 to form Trinity II. As a duo combining music, song and humor, they have performed in clubs and concerts throughout the United States.
Chris, who grew up in St.Lousi after emigrating from County Tipperary in Ireland, is an actor with credits in American as well as foreign films and various repertory company productions in the Midwest. Mike, who plays six instruments, started his career in Ireland and performed with a group that won the first irish International Ballad competition. Having played with the World famous Abbey Tavern Singers for a year in Dublin, he came to New York and appeared in concert with the Clancy Brothers at Carnegie Hall and around the country."
Thanks to Coby O'Brien for the scans.


Dermie Mac
• I Can't Go Back To Boston / Born To Be With You
7" - Coby Records - CB 551 - USA - 197? - no PS


Another Coby release of interest to completists is this 45 credited to Dermie Mac. The A-side is a recording of an early (and not very good) Turner/Kirwan composition which was originally released by the The Supreme Showband in 1970.



Help!


We need your help to correct and/or complete this entry. If you can provide more information about this band, have scans, photos or any other memorabilia we can use, or spare copies of any releases, then please get in touch.



---

See Also: Aftermath, Larry Kirwan, Major Thinkers

Links: http://www.pierceturner.com, Copernicus


---

A-Z Artist Index
Compilations
Record Labels
Media
Help Us!
Contact Us
Resources
Timeline
---