---



A-Z Artist Index Compilations Record Labels Media
Help Needed Contact Us | Resources Links Timeline Videos
---
Non Irish Bands
last update 27 November 2013
last update 14 June 2013
Anyone can make a mistake - and this website is no exception!
Several bands were incorrectly listed as Irish on this site in the past, in most cases because they were described as such in some other source. The purpose of this page is to correct such errors. I've also included bands who are regularly incorrectly described as Irish on eBay and other sites for various reasons.
Of course there is a very large grey area, as so many Irish musicians joined or formed bands in the UK (and elsewhere). The (loose) criteria I use is that the band must have been initially based in Ireland or is comprised of all Irish emigres. I realise this excludes the Gogan sisters (The Passions, Prag Vec) and a good case can be made for both, but I can't justify their inclusion (yet!). Besides, both bands already have excellent websites of their own.
Please remember I am not trying to make some nationalistic point here. It really doesn't matter! I started this site to document bands because they were not being documented elsewhere, not because of their origin. Their origin is simply the theme.
---
---


Aftermath [Derby, England]


Indie punk.

7" - The Freedom Fighter / All The Others / 1990 (private S/81/CUS1217, UK 1981) (PS)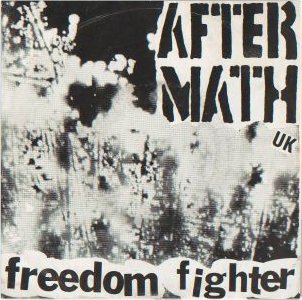 ---
Agony Column [Leeds, England]


Well-known (now) punk band with some excellent singles.

7" - (I Had It) All Worked Out/Good Grief (Tyger TYG 2, UK 1979)
7" - Love In The Head/Free Of Love (Back Door DOOR-8, 6/1980) (PS)
7" - Love is a Blank Expression/Only U/Missing Person (Lightbeat LIGHT003, 1982)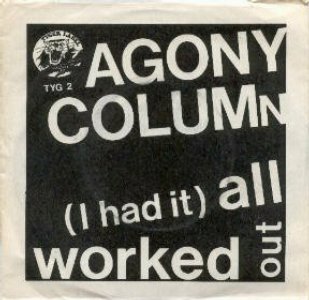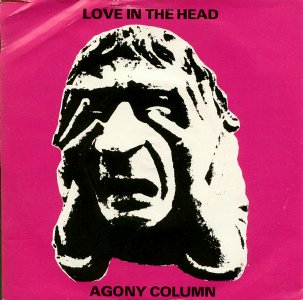 ---
Ako [Kentucky?, USA]


As previously suspected, this is now confirmed to be a USA release. The band name is actually Ko, not Ako, and they were probably from Kentucky. One review compares them to the Weirdos. This one appeared on many want lists for many years as a northern Irish band.

7" - Suitcase Bomb // Worried World / Out Of Control (Wow Records WOW1, US 1979)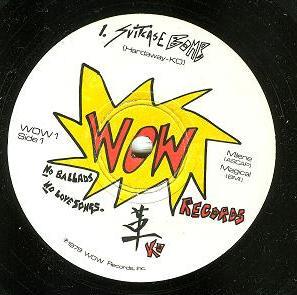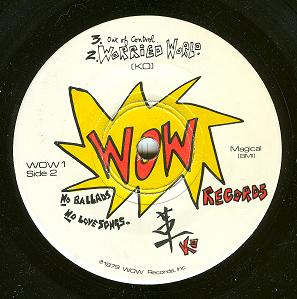 ---
Albania [Glasgow, Scotland]


At one time Albania was reported as a Portrush based band with one Dougie Gough (pre Mighty Shamrocks) on guitar.

According to an old Bill Graham piece in Hot Press, Albania are the descendents of Rodeo, Errol Walsh's mid-70s country rock band, who emigrated to Scotland. Its certainly not unusual for N.IRL bands to have Scottish links but the story is more complicated than that.

The lineup on Albania's sole LP is listed as K.Y. McKay (vocals, guitar), Nick C.Ash (keyboards/guitar), Andy Hamilton (saxes), Dusty AKA Dusty McSheffrey (bass) and Jonnie Kilometer AKA John Miles (drums). Dusty and Jonnie came out of a Glasgow band called the Kelvinators and played in Rodeo circa 1977 with guitarist Dougie Gough (pre Mighty Shamrocks) and singer/band leader Errol Walsh. Hamilton, Dusty & Jonnie were also in another Glasgow band called Croppa (a corruption of Steve Cropper). All these bands were familiar to K.Y. McKay from their live shows in Glasgow. He formed Albania in 1978, enlisting the services of these ex Croppa/Kelvinators/Rodeo players.

Albania were signed in London in 1978 but didn't release anything until 1981, by which time Dougie was in the Mighty Shamrocks. However, he is credited with rhythm guitar on 5 of the albums tracks. Also among the guest credits are Nicola Kerr (New Seekers and Chips) and Ed Deane (Woods Band, etc). A best of CD was released a few years ago (the amusingly titled Life After Death Is On The Phone: The Best Of Albania). If anyone's read the liner notes, do they say any more about Albania's pre-history and it's Irish roots?

The producer is listed as Robert Ash. Andy Hamilton went on to play sax for the Boomtown Rats, Duran Duran, Dexys, Wham, etc

PS KY McKay sent me a cryptic/enigmatic/slightly scarey email in 2010 confirming most of the above (I think) and adding that John Miles now lives in New York and Dusty McSheffrey somewhere near Sydney. McKay is still writing and recording material.

7" - Are You All Mine / Take It Away (Chiswick CHIS 136, 1981) (PS)
7" - Kaytie King / Word Is Out (Chiswick CHIS141, 1981) (PS) non-LP B-side
12" - Men In A Million // So-Ok / French Farewell (Chiswick 12CHIS 143, 1981)
7" - Go Go Go / Today And Tomorrow (Chiswick CHIS150, 1981) (PS) non-LP
LP - Are You All Mine (Chiswick CWK 3016 , 1981)
12" - Could This Be Love / Little Baby (Stiff BUYIT156, 1982) (PS) non-LP
CD - Life After Death Is on the Phone: The Best Of Albania (Chiswick CWK 157, 2001)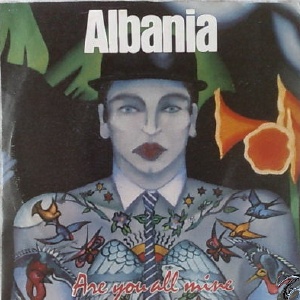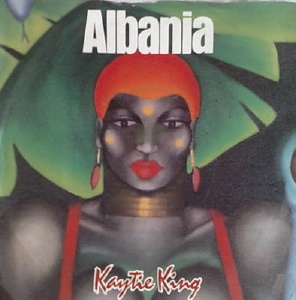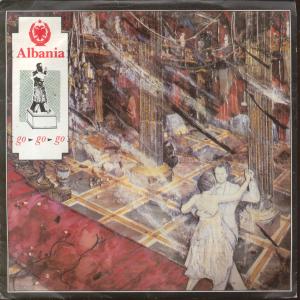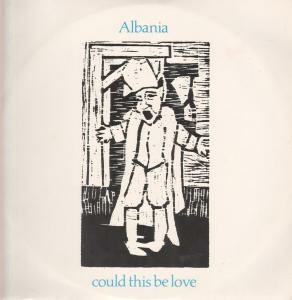 ---
Armed Force [Manchester, England]


Post-punk with female singer, a sought after single these days. I've seen this listed as N.IRL punk, but this is incorrect. The band came from Moss Side in Manchester.

7" - Popstar/Attack (Armed Force AF01, 1979) (PS) [500]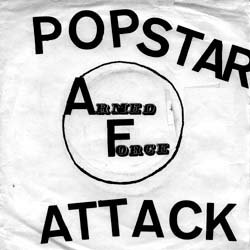 LP - v/a - Bloodstains Across the UK #4 (boot, 1999)
track: Attack

CD - v/a - Messthetics #5 (Hyped To Death #45, US)
track: Popstar





---
Baby Snakes [Sweden]


Sixties-styled mod/R&B band. No relation to the Dublin band.

mLP - Impudent Reptiles (Unicorn Records, 1987)





---
Doc Bart & Katmandu [USA]


Was this Martin Lundy's Katmandu appearing on a split single with John 'Doc' Bart in 1982? Turns out the answer is yes, this is the Martin Lundy Katmandu. All credit to the Failed Bohemian for confirming this . . . by acquiring a copy from right under my nose, and then miraculously locating a second copy for me. It's an essential addition to the Katmandu discography. Hearing it made me realise it did get some RTE airplay, which might even be the source of the two copies that turned up locally. But how this single actually came about is unknown at present. Bart was based in California. His earlier single "Remember Iran" caused some controversary on it's release in 1980 and is now a minor collectable. Katmandu back Bart on the A-side and appear in their own right on the B. Good luck finding a copy.


7" - Doc Bart - Remember Iran / Ayatollah Rocked (DRA Records 76091, USA 1980) (PS)
7" - Doc Bart & Katmandu - Coma / Katmandu - Get My Act Together (DRA Records, USA 1982?) (no PS?)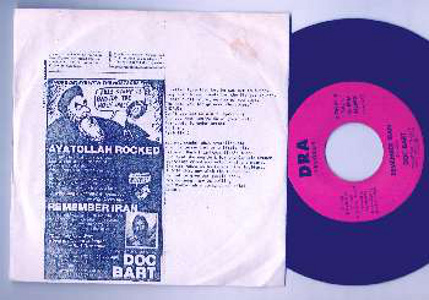 ---
Bears [Watford, England]


The Bears were on Good Vibrations International series, which many don't realise was set up specifically for non Northern Ireland bands.

7" - On Me / Wot's Up Mate (Live At Waldo's Jazz Club Watford) (Waldo's Records Jazz Series JS-001, 1978) (PS) +insert
7" - Insane / Decisions (Good Vibrations GVI-1, 1978) (PS) recorded 22/10/78
LP - v/a - Farewell To The Roxy (?) w/"Fun Fun Fun"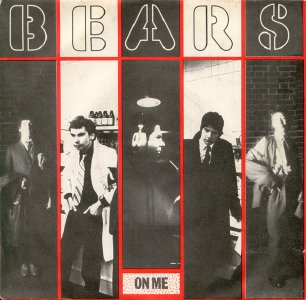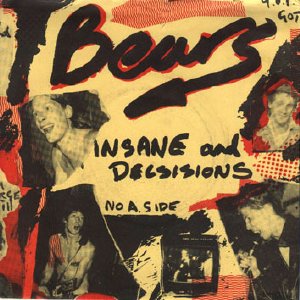 ---
The Blades [Oklahoma, USA]


Mod revivalist but no relation to the Dublin band, and I'm not sure if both singles listed here are actually by the same band.

7" - Close Shave EP (SPS 584) (PS)
7" - Don't Shoot/Without Lovin' You (self-released 403024) (PS)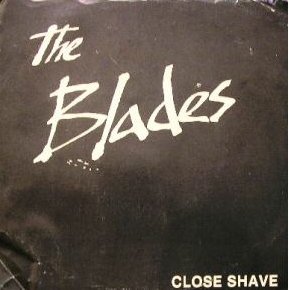 ---
Blood Donor [England]


Poppy new wave with keyboards

7" - Rubber Revolution/Chemical Babies (Arista ARIRV-262, 1979) (PS) red vinyl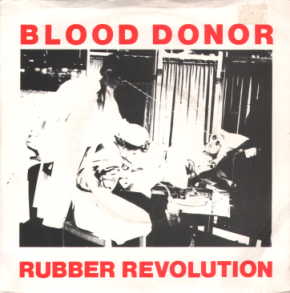 7" - Rice Harvest/Something Happened (Arista ARIST 279, 1979)
LP - s/t (Arista SPART 1089, 1979)
7" - Dr.Who/Soap Box Blues (Safari SAFE-29, 6/1980)





---
Blue Zoo [England]


English pop wave/synth-pop/dance-funk outfit on Magnet Records, undoubtedly an inspiration for Kajagoogoo.
Active: 1980-85

7" - Modern Jazz - I Shoot Sheep (1980?)
7" - Forgive And Forget/Shine (Magnet, 1981?) w/poster
7" - I'm Your Man (Magnet MAG 224) (PS, 1982)
7" - Cry Boy Cry/Off To Market (Magnet MAG 235, 1982) (PS)
12" - Cry Boy Cry/Off To Market (Magnet 12 MAG 235, 1982) (PS)
7" - Somewhere In The World There's A Cowboy Smiling/Don't Walk Away (live studio version) (Magnet MAG 250, 1983) (PS)
12" - Somewhere In The World There's A Cowboy Smiling/(instrumental version)/Don't Walk Away (live studio version) (Magnet 12 MAG 250, 1983) (PS)
LP - Two By Two (Magnet, 1983)
7" - Loved Ones An Angel/These Days (Magnet, 1983)
7" - Love Moves In Strange Ways/Chameleon Waves (Magnet, 1983)





---
Cave Of Living Streams [Coventry, England]


Devotional music by Wilfrid Usher with words by William Hewett. Based on the spiritual exercises of St.Ignatius Loyola, founder of the Jesuits (keen exponents of the Inquisition). The first album is the better of the two. It was once offered at outrageous prices by the usual dealer scumbags when it first came to light but the price soon came down once people began to hear it. It's often described as psych or psych folk but it's nothing of the sort. The songs have heavy christian (catholic) themes. The music is neither contemporary folk nor medieval. It contains chanting but in a very church-like manner. The religious ethos envelopes the music completely. Instruments used include guitar, piano, violins, cello, bass, trumpet and drums. Arrangements are by John Mallord.
There are two distinct pressings. One has the Indigo Studios logo on the label and cover, the other does not. There is no indication which is the first pressing. Both editions were pressed by EMI Ireland and have the text Made In Ireland on the label. It's tempting to view the Indigo pressing as a UK release and the other as an Irish release, but in fact both editions are UK releases pressed in Ireland.
A second LP credited to Mystery Maker followed in 1977.

LP - s/t AKA Sixteen Songs (Indigo IDS 5567, UK 1974) +14 page booklet
LP - s/t AKA Sixteen Songs (Caves UHC1, IRL/UK 1974) +14 page booklet
A cassette edition also exists.

LP - Mystery Maker - s/t - Caves UHC 3 - UK/ Ireland - 1977

K7 - Where New Winds Blow (label?)




---
Century Steel Band AKA Century S.B. [Coventry, England]


Reggae band formed in 1982 in Coventry with Charley Anderson ex The Selector. The band members come from the West Indies (Jamaica, Saint Lucia, Saint Vincent, Antigua). They recorded a reggae version of the "The Fields Of Athenry" which was a hit in Ireland and they have been popular in ireland ever since and tour there to this day.

7" - Baby Don't Want Me / ? (CSB 1, 1982) (PS)
LP - Look To The Future (CSB 102, 1984)


side one: Look To The Future / Loraine / When The Sun Is Shining / Baby Don't Want Me / Feel Good.
side two: Century Soldiers / I Want To Know That Feeling / Crazy Love / Carib Rock / Smile
7" - Fields of Athenry / Dublin Dub Mix (CSB 103, 1985?) (PS)
12" - Fields of Athenry / Musical Fields // Let It Be Me / Let It Flow (CSB ???, 1985?) (PS)
Charted in Ireland in July 1986, reaching #17.
LP - Look To The Future (compilation) (CSB 104, 198?)
Looks like a repackaging of their 1984 LP with hit single "Fields of Athenry" added and other minor changes. Distributed by WEA.


side one: Fields of Athenry / Look To The Future / I Want To Know That Feeling / Loraine / Feel Good.
side two: Century Soldiers / When The Sun Is Shining / Baby Don't Want Me / Carib Rock / Smile

7" - Century Soldiers / Baby Don't Want Me (CSB 105, 198?) (PS)
7" - The Wilf Bros with The Century Steel Band - Take It Easy / Fine Fine Fine (Ringsend Road WBS 1, April 1990) (PS)





---
Crocodile Tears AKA Crokodile Tears [Coventry, England]


A different outfit to either the band from Omagh or the pre-Coletranes band from Dublin, but I don't know any more details about them, except that they are a duo from Coventry. There was yet another Crocodile Tears active in the early 1980s based in the USA.

mLP - s/t (1985)
LP - v/a - Reptile House Sampler Vol.2 (1989)
7" - The Sue EP (1992)
12" - Love Car / Punch and Judy (Frantic Records DODG4, 1994) with Sonic Boom
plus several more releases through the late 1990s up tothe current day




---
Detonators [England]

7" - s/t EP (Local Records LR-1, IRL 1978)
tracks: Need Love Tonight/Great Big Ghetto//Shooby Shooby Do/Give Me A Helping Hand

7" - The Dance EP (Big Blast, 19??) (PS)
tracks: Don't Talk/Opening A Modern Art//Restless Kids/Passe





---
Flasher [England]


Pressed in Ireland, but Flasher were a UK band. Great packaging but fairly uninteresting music (rock/pub rock/funky rock).

LP - Secret in the Cupboard (Rabbit RRUK8197900, IRL 1979) gimmick foc + insert, pressed on red vinyl
7" - Tight And Nasty Mean And Dirty (Rabbit RRUK81979000, IRL 1979) (PS) red vinyl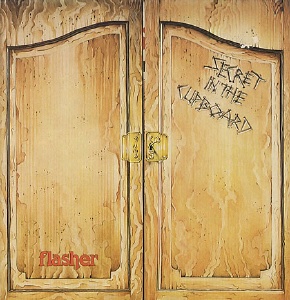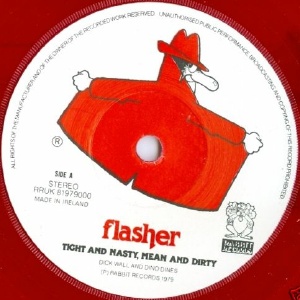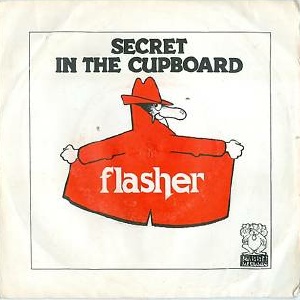 ---
The Fuze [England]


A new wave "ethno forgery" release, unrelated to the Galway band.

7" - Falklands/Follow Me Home (Relentless Records RS 100, 1982)





---
The Fuze [England]


Different band to the above.

7" - Blue Sky (1983)





---
The Gas [England]


The Gas are a relatively well known UK band who released several snappy powerpop records on Polydor and on their own Good Vibrations label, though the band was associated with the legendary Belfast label. This is undoubtedly the source of the confusion which leads to them being described as an "Irish mod band". The Gas manager in 1981 was Bob Johnston who also manged The Ruts and who helped organise gigs in England for Belfast band the Bank Robbers in September 1981; when Good Vibrations relaunched the following year, it released the Bank Robbers debut single which had been awaiting release since mid-1981. The Gas were probably considered by Good Vibes, but the label had gone under again by the time these 1983 releases came about.
Polydor singles: "Ignore Me" (1981), "Treatment" (1981), "The Finger" (1982) and "Breathless" (Polydor, 1982). LP "Emotional Warfare" (1982)
Lineup: Dell Vickers (bass/vocals), Donnie Burke (guitar/vocals), Les Sampson (drums).

7" - From The Cradle to the Grave / Look What Love Has Done To Me (Good Vibrations GAS001, UK 1983)
unreleased, test pressings exist

LP - From The Cradle to the Grave (Good Vibrations GASLP1, UK 1983)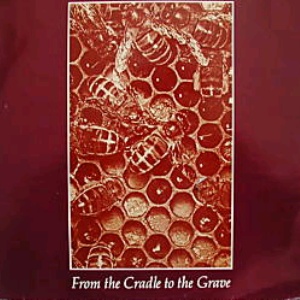 ---
Gorehounds [Portland, Oregon, USA]


This garage band from Portland used a jug (like the 13th Floor Elevators) and released the "Halloween Everywhere" LP plus a single. Their website is here. No relation to the Dublin band.






---
G Squad [England]
Unrelated to the Conor Goff outfit.

7" - In My Mind (Squid Market Times SMT007, 1981)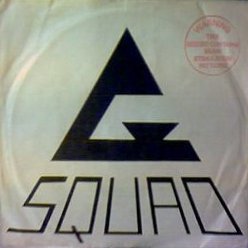 ---
Guernica [Italy]


A late 80s/early 90s Italian pop duo who recorded for RCA. There were also Spanish and Japanese bands using this name, and most recently what looks like some underground metal variation reminiscent (in packaging at least) of Neurosis.

LP - s/t (RCA PL 71920, Italy 1988)




---
Guernica [Japan]


A Japanese synth band a la YMO with striking cover artwork. The '20s fashion theme is carried through all their releases.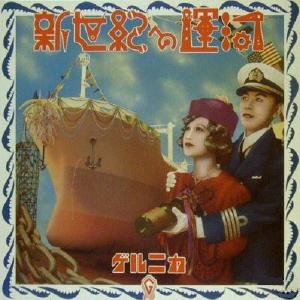 ---
Guernica [Spain]




---
High Society [England]


This was a post Hudson-Ford band, like the Monks (of "Nice Legs, Shame About The Face" fame). They released two singles ("I Never Go Out In The Rain" and "Gotta Get Out Of This Rut") on Eagle Records in 1980-81 and a self-titled LP on Stately Home in 1984. Check the related groups section of the official Strawbs website. No relation to the Irish band.






---
David Ireland [England]


Sometimes offered as "minimal synth" and described as Irish, David Ireland was in fact English and was probably based in Holland in the late 70s. He co-wrote a song on dutch progressive pop-rock band Kayak's Starlight Dancer album in 1977. Kayak mainman Ton Scherpenzeel produced this single the following year. I'm sure I've seen a self-released dutch-press solo LP from around the same time (I should've nabbed it and stuck it on ebay, eh?)

7" - Zoo Games / Nuclear Love (Polydor 2650 512, 1978) (PS)





---
The Kult [England]


The band who recorded this fantastic single for CBS was NOT the Paul Brady outfit from Dublin -- see their entry for more about this confusion. More details of the UK band are emerging all the time thanks to the efforts of various ethno/cultural archeologists. Check youtube for recordings taken off acetates, etc.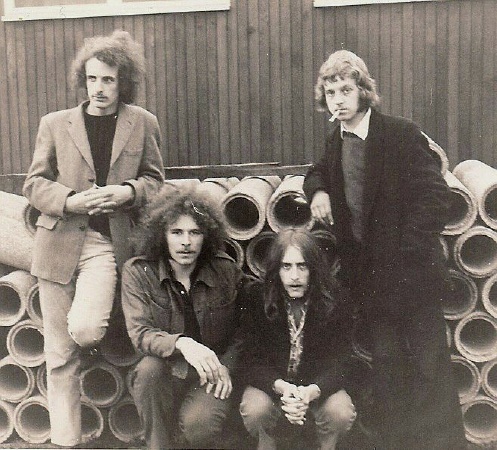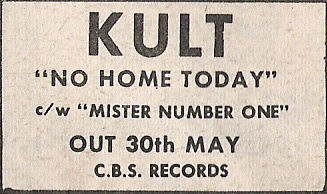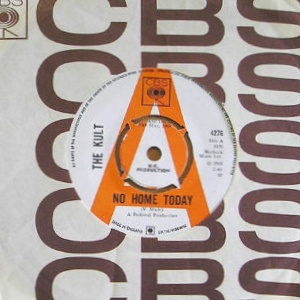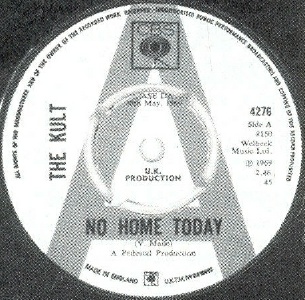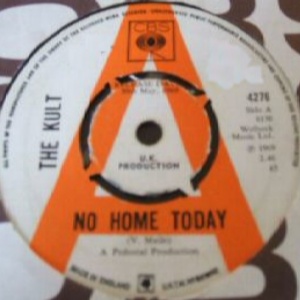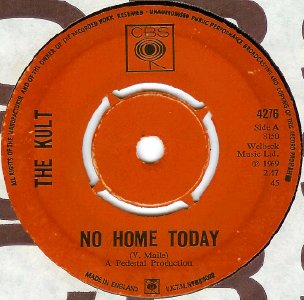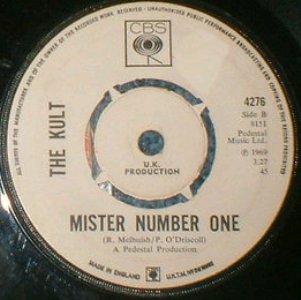 ---
The Jets -- see The Tee Vees





---
The Lower Pool [Liverpool?, England]


My current guess is this band was from Liverpool. Anyone know better? The Lower Pool had two two tracks ("Minus A Nickel", "The Tune Of It") on the Guru Weirdbrain LP (1985) which couldn't be more different. "Minus A Nickel" is pure honky tonk country+western and pretty awful. "The Tune Of It" is lo-fi bedroom tunelessness which evokes the spirit of Daniel Johnston. Both tracks are credited to F.Maher, one Frank Maher. That was all I knew about him until a single turned up on ebay credited to the Lower Pool Band, both sides by Maher, and sporting a (p) 1979. On Made To Measure Records with no other clues as to its date or origin. It's poorly recorded sub-Lou Reed. A second single on Made To Measure appeared in 1980, credited to Frank Maher. It carries the credit "Production Marita & Frank at Keystone". Maher issued more solo material during the 1980s.

7" - Sunkie Days / Way Under (Made To Measure Records B5347/B.won2ok, 1979) (no PS)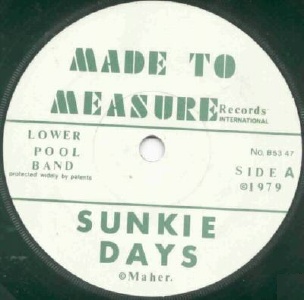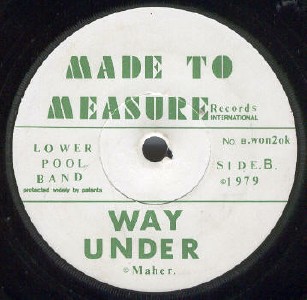 7" - Frank Maher - Who's Fool Part One / Who's Fool Part Two (Made To Measure Records No: 473, 1980) (no PS)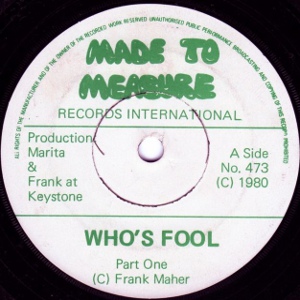 ---
Megaton [London, England]


An obscure NWOBHM trio who single was well received but the band petered out. Guitarist Jeremy Nagle was from Cork. He left in 1980 for London where he joined Megaton. He later returned to Cork in 1982-83 to join Driveshaft. Other members of Megaton were: Torvak, J. Gartland

7" - Aluminium Lady / Die Hard (Hot Metal Music HMM 69, UK 1981) (no PS)





---
Moondogs [Liverpool, England]


Lineup: David Gough, Ian Irvine, Paddy Colohan, Tony Dolman (drums)
No relation to the classic powerpop trio from Derry.

7" - Heads I Win / Two's A Crowd (Moondog LT 002, 1979)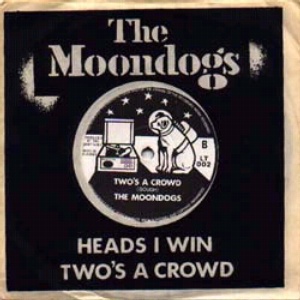 7" - Hooray for the English / When You Fly (1980)





---
Moral Support [Canada]


Canadian synth-pop duo 1982-86, comparable to Midge Ure-era Ultravox.

12" - Living With Passion (TGO Records TGO-107, Canada 1983)
12" - Strange Day For Dancing (TGO Records TGO-111, Canada 1983-84) (PS)
LP - Insanity (TGO Records, Canada 1984)





---
Natchband [Liverpool, England]


Pub rock/punk. Often listed on eBay as an Irish band (and in Henrik Beck Poulsen's book "77: The Year of Punk and New Wave") because the single was pressed in Ireland but the band was most probably from Liverpool, the home of their label Far In Records, which was distributed by Lightning Records. Some copies include this label flyer insert.
Lineup: Phil Roberts (v/g), Colin Pritchard (g), Ian Mallett (b), Micky 'Smiffy' McAlinsky (d)

7" - Cadillac (Made in USA) / Being from the Sky (Far In FARS 01, IRL 1977) (PS) +insert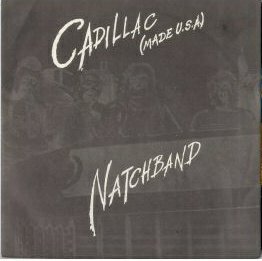 ---
Nerves [England]
7" - TV Adverts / Sex Education (Lightning GIL-520, 1978)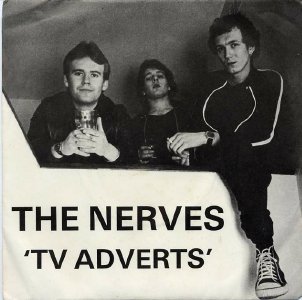 ---
Nerves [USA]


Famous for recording the original version of "Hanging On The Telephone" later covered by Blondie.








---
No Sweat [London, England]


Though guitarist Brian Willoughby was from Northern Ireland, this band is listed here. Brian had been playing in the same London folk clubs as Dave Cousins (pre Strawbs) and had already toured the world as guitarist for Mary Hopkins before becoming involved in No Sweat, who recorded one single for Pete Townshend's Eel Pie label. They forced Clive Culbertson's band to alter their name to The Sweat. Brian then joined the Strawbs in 1979 and has been involved with them ever since. See www.strawbsweb.co.uk for more details.

7" - Work On Her/Gimme Some Action (Eel Pie EPS002, 1978)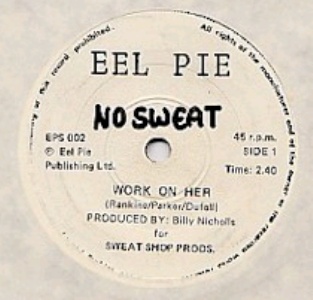 ---
Oxy & The Morons [London, England]


A UK band from Hackney, East London who played in Belfast several times and are often mistaken for a Belfast band. They were included in It Makes You Want To Spit! as a joke. "Dirty Harry on the Falls Road" is a great song title! And of course there was a Northern band called Music For The Deaf . . .

7" - Nice To Be Back / Dirty Harry on the Falls Road (Music for the Deaf MFD1, UK 1981) (PS)
7" - Work / The Good Life (Music for the Deaf MFD2, UK 1982) (no PS)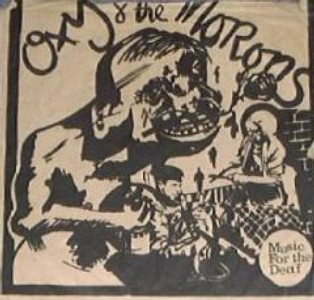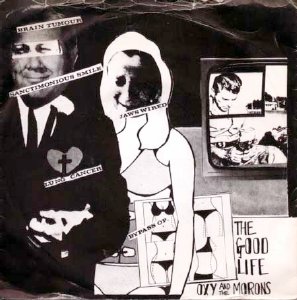 ---
P45 [England?]


Powerpop.

7" - Right Direction/B.I.N.Y.C. (Jet 190, UK 1980)





---
Pretty Boy Floyd [Edinburgh, Scotland]
7" - Look At Her Dancin' / Take Me I'm Yours (Heavenly Sound HSP-4, 2/1981) (no PS)
LP - v/a - Battle of the Bands (RCA Records RCALP5015, UK 1981)
track: Take Me I'm Yours





---
Ra Bears [Glasgow, Scotland]


Probably toured in Ireland, resulting in the single on Release. They followed this up with an LP which featured the Kick Horns horn-section-for-hire.

7" - Artist / Spain (Release RL970, 1979) (company PS) A=awful / B=good guitars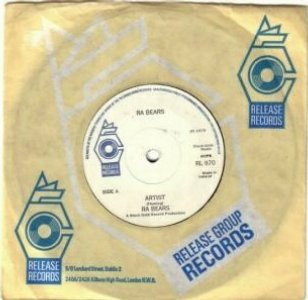 ---
Raped / Cuddly Toys [England]


Notorious London based punk/glam band. Lead singer Sean Purcell was from that den of vice known as Clonmel, Co.Tipperary. Raped's gutter-punk singles and the Cuddly Toys very Bowie damaged Guillotine Theatre LP are well worth tracking down. Sean moved to Galway in the 80s where he joined Time In Motion






---
Revolver [Liverpool, England]


Black Maria re-christened for an EP of Lennon/McCartney covers.

7" - One And One Is Two - Rox Records - UK - 1979 - PS





---
Revolver [Scotland]


See Steve LDK's excellent blog for details.

7" - s/t EP - Ellie Jay - UK - 1981 - PS





---
Sacre Bleu [England]


Lineup: Steve Alcoran, Nick Miller, Trevor McBride, Josh Kirby
Not the Dublin band.

7" - In This Mood/Somehow I Doubt It - SB 1 - UK - 1980 - PS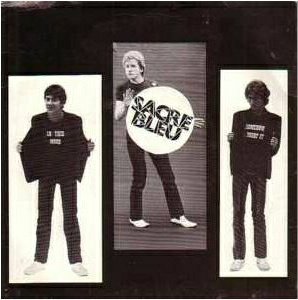 ---
Secret Rocker [USA]


Lineup: ???
Not sure how this one came to be known as an Irish band, as it's clearly a USA pressing. This error is occasionally repeated on ebay by sellers copying from older sources. I can't recall the original source. I remember discussing it with someone ages ago but I've forgotten the details. Secret Rocker were an NYC area band with at least two singles on their own SRI label. 'Rock Drill' is credited to Kelley/Burnett and is (c) 1980 SRM Inc. It's not bad, starts out great, gets a bit bogged down in the middle, finishes OK. Now a minor collectable. Cool label design.

7" - Rock Drill/Lin Piao - SRI Records - USA - 1980 - no PS
7" - Real Girls/All Of The Time - SRI Recors - USA - 1981 - no PS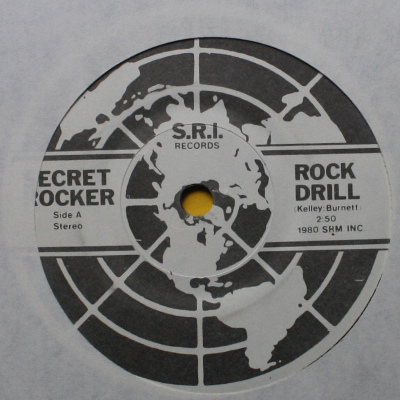 [USA]
---
(The) Shapes [Leamington Spa, England]


This band's second single was released on Good Vibrations in the main GOT series instead of the GVI series usually used for 'international' bands, i.e. bands from outside Northern Ireland. Both singles are pricey and recommended.

7" - Wot's For Lunch Mum? (Not Beans Again!) / College Girls //
(I Saw) Batman (In A Launderette)/ Chatterboks (Sofa SEAT-1, 1979) (no PS) +insert 7" - Blast Off/Airline Disaster (Sofa/Good Vibrations Seat 002/GOT-13, 1980) (PS)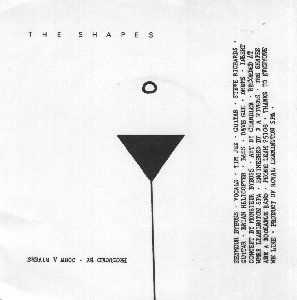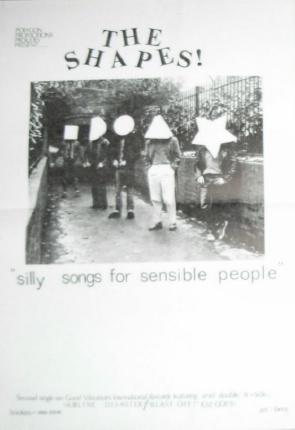 ---
(The) Shy [USA]


Detroit garage band.

7" - I Found Out/It Ain't Easy (US 1984) (PS)





---
Speed Limit & The Rhythm Machines [USA]


Mistakenly identified as Irish by this website, Speed Limit were American and their lone single, produced by Mark Stewart (ex Pop Group, On-U-Sound) was released in 1981 on Play Records through Red Light Productions. The latter had an address in LA. The EP is synth based and has been variously labelled synth-pop and post punk, and described as "mixing elements of dub and popPunk" and sounding "like house-remixes of GIRLS AT OUR BEST or DOLLY MIXTURE at times." It has surfaced in the Hyped2Death reissue series.

7" - Sound Of Music EP (Play/Red Light Productions JK 100 ARE, USA 1981) (PS)
tracks: The Sound Of Music // Patterns / Blowing Through The Trees
The A-side is an interpretation of the Rodgers & Hammerstein musical.
The B-side is credited to the Speed Limit Rhythm Corp.





---
Spider [USA]


LP on Dreamland Records. Different band to the Belfast Spider.






---
Spider [England]


NWOBHM band with releases on Alien Records, Nik Records and RCA. Different band to the Belfast Spider.






---
Spider King [England]


this is incorrectly listed as being by Spider in several sources and is often attributed to the Belfast band. The picture is from an ebay auction and confirms that this is not the case.

7" - Do You Want To Die For England?/ Animals (Test Pressing TP-2, UK 1980) (PS)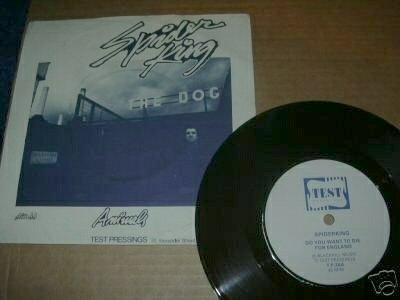 ---
Stalin Staccato [Denmark, Copenhagen]


Danish band who had a single released on Scoff Records, licensed from TIR. This came about probably through John Borrowman, who moved to Copenhagen after The Atrix split for the first time. Stalin Staccato toured Ireland in June-July 1988. The Atrix had a single released on TIR Records in Denmark under the name Afghan Trucks.
Lineup: Kenneth (v/g), Michael (g), Lars (b), Gert (d).

7" - Civilised Guy / Ocean Of Life 7" (TIR, Denmark 1988)
7" - Civilised Guy / Ocean Of Life 7" (Scoff DT043, July 1988)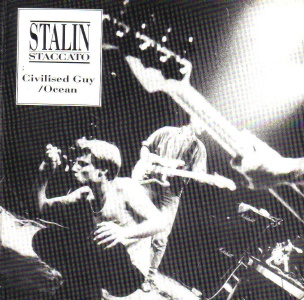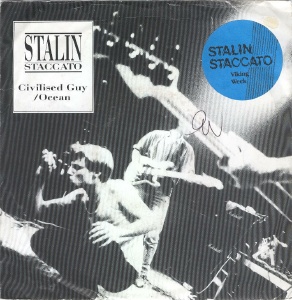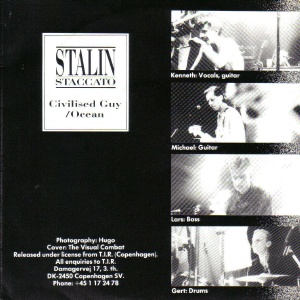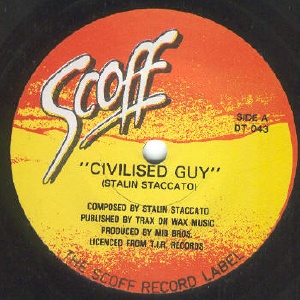 the sticker reads "Viking Week"





---
Step Ahead [France]


French progressive rock band with Irish singer Danny Brown, who sings in English.
Lineup: Danny Brown (v) + four others

LP - Step Ahead (RCA , France 1982)
LP - Step Ahead (Edison, Japan 1987) (foc+obi+insert)
CD - Step Ahead (Musea, France 19??)


---
Subterraneans [Sweden]


Alt/hard rock band.

12" - Underground īNī Round EP (Rain Records RAN 100, 1987)





---
Subterraneans [England]


Early 80s band featuring well known music journalist Nick Kent

7" - My Flamigo/Veiled Woman (Demon, 1980) (PS)





---
The Sussed [Birmingham, England]


Mod band from Birmingham.

7" - I Like You / Tango / The Perv (Shoestring LACE 002, 1979) (PS)
7" - I've Got Me Parka / Myself, Myself & I Repeated (Graduate GRAD 7, 1980) (PS)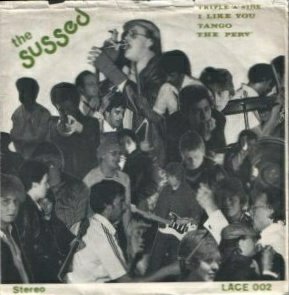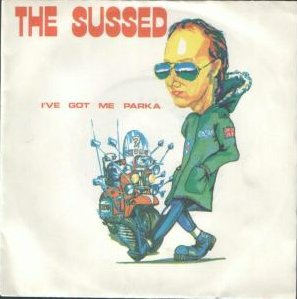 ---
Tee Vees [Luton, England]


A later incarnation of The Jets (UK). This is the second 'international' single (after The Shapes) to be released on Good Vibrations in the main GOT series.

7" - The Jets - Original Terminal/The Iceburn (Good Vibrations International GVI002, 1979)
7" - Doctor Headlove / War Machine (GOT-11, 1979)
7" - v/a - The Voxhall Tracks - Luton (Pink INK-1000, 1979) w/"War Machine"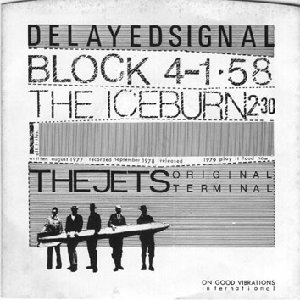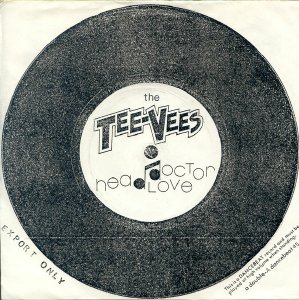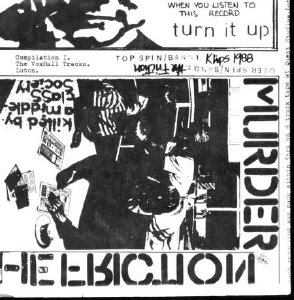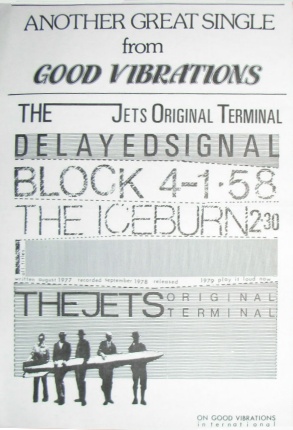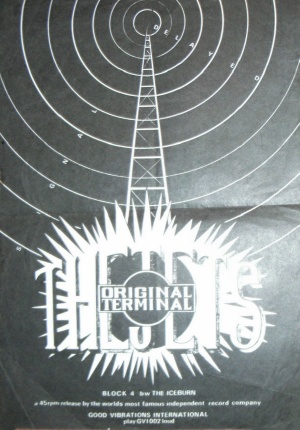 ---
Three Hands [Boston, USA]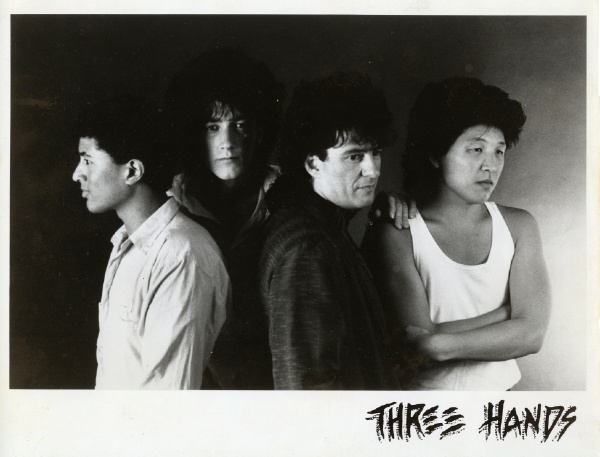 This Boston band released three singles on Scoff Records circa 1984-85. The lineup included guitarist Paul Lebel (ex Museum Directors), whose now defunct website (paullebel.com) stated that the first two A-sides were recorded at Normandy Sound studio in Rhode Island and were produced by Deke O'Brien. Irishman John Farrell played drums for Stagalee at one point (can anyone confirm?). Further details to clarify the catalogue numbers appreciated but I am not holding my breath.

Lineup: Paul Lebel (v/g), Wally Poz (g/v), John Olszewski (b/k/v), John Farrell (d/v).

7" - Climb / Big Person (self-released TH-001, 1983) (PS)
7" - No Change / Running in Circles (Scoff TH-002, ca 1984-85) (PS)
7" - What To Do / Mysterious Danger (Scoff AM-033, ca 1984-85)
7" - Can't You See / Troubled Land (Scoff AM-034, ca 1984-85)





---
Tweed [France]


Reputedly fine mod/powerpop from France.

7" - s/t EP (Smap Records SM 4502, 1979) (PS)
tracks: Fashion / I Need You / Haunted Castle
7" - Collection de Choix / Tu Ne Fais Que Rever (?) (PS) 2nd single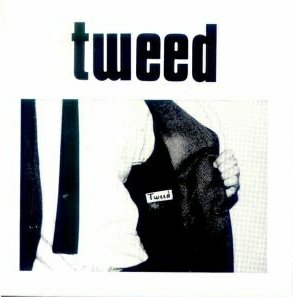 ---
The Waterboys [Scotland]


Mike Scott (ex Another Pretty Face) formed the Waterboys in the early 80s. After a number of acclaimed records, he recorded a more roots-based LP in Ireland called "Fisherman's Blues". This album was a paradigm of fake nostalgia, full of ludicrous lyrics evoking an imaginary past, about standing on windswept clifftops and sailing the seven seas and all the rest of it. Utterly fake in my opinion (can you tell I didn't like it?) but very influential in Ireland, spawning the so-called raggle-taggle bands and rotting the impressionable minds of many of my contemporaries.






---
Wishing Stones [Glasgow, Scotland]


C86 band from Glasgow circa 1986-1992 who recorded for Head and Sub Aqua Records and have appeared on the Leamington Spa compilations.

7" - Beat Girl (Head Records HEAD 2, 9/1986)
7/12" - New Ways (Head Records HEAD 6, 4/1987)
7/12" - The Old Road Out Of Town (Sub Aqua AQUA 1, 6/1988)
12" - Dead's Man's Look (Sub Aqua Records AQUA 5, 11/1988)
lp/CD - Brian School Of Dancing AKA Wildwood (Heavenly Recordings HVN LP 04, 1991)





---
Yes Let's [Manchester, England]


Mid-80s electro synth pop band who released just one single. It sounds exactly as you'd expect: busy, cluttered, overproduced, synth heavy pop music. Ingmar Kiang (ex Max, New Versions) plays bass. The German 12inch plays at 33rpm and clocks in at 24:45.

7" - Carried Away / Closer To The Ground (Irrepressible PRES1, UK 1984) (PS)
12" - Carried Away (mix) / Carried Away (mix) // Carried Away (mix) / Closer To The Ground (mix) (Irrepressible PRES1T, UK 1984) (PS)
12" - Carried Away (mix) / Carried Away (mix) // Carried Away (mix) / Closer To The Ground (mix) (Irrepressible/Stiff 601 549, Germany 1984) (PS)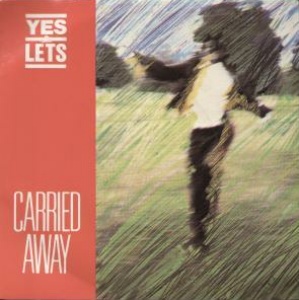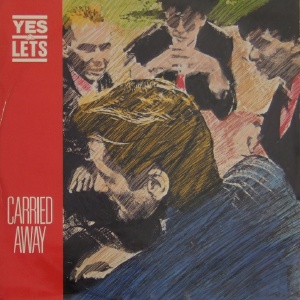 ---


A-Z Artist Index Compilations Record Labels Media
Help Needed Contact Us | Resources Links Timeline Videos
---