---


A-Z Artist Index
Compilations
Record Labels
Media
Help Us!
Contact Us
Resources
Timeline
---
From:

Active: circa 1968-early 70s

Style:

Lineup:
Mitch Mahon - lead vocals
Lesley Mulvey - lead guitar
Andy Dunne (RIP) - organ
Eamonn Tierney - bass
Paul O'Hanlon - drums
Paddy Frawley - tenor sax


Bio:

Began life as The First Edition but Kenny Rogers success forced a name change to Mitch & The Editions, sometimes billed as The Edition. Early member Ronnie Duff was electrocuted onstage in Dublin in 1968. The lineup shown above is the one that recorded for Pye.
Organist Andy Dunne wrote both sides of the band's Love Affair style single for Pye, which features two session players on trumpet. The B-side turned up on the Paddy Is Dead compilation a few months later, along with a new track 'Make Me Stay A Little Bit Longer'. Another Andy Dunne original 'I Can't Stop' was recorded for the second single in 1970 but for some reason it was not released. Incidentally Andy Dunne also had a song in the National Song Contest in 1968 titled 'Look For Love' which was sung by Roly Daniels.



The band underwent some changes. The relationship with Pye came to an end. Alan Murray replaced Eamonn Tierney on bass in mid 1971. The band attempted to break into the ballroom (showband) circuit and were eventually successful in their efforts. They recorded three singles for Polydor Records during 1971-72, again featuring songs by Andy Dunne. In 1972 they appeared more than once on Ken's Klub on RTE Radio, performing (or playing tapes of) original tracks.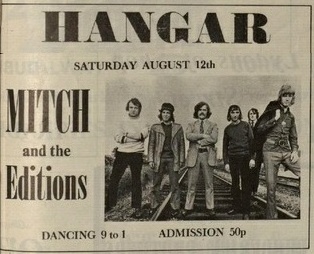 Still gigging in August 1972: advert for a gig at The Hangar, Galway on August 12th





Peter Carr recalls playing in a revamped lineup of the Editions, long after all the original members had left apart from Andy Dunne. The lineup was Andy Dunne (keyboards), John Farrell (vocals) (ex The Movement, Dreams, Freedom, The Groundhogs) Eric Bell (guitar) (Dreams and Thin Lizzy), Peter Carr (drums) (ex Some People (1967-69), Purple Pussycat (1969) and Alice (1970)) plus baritone sax player and a bassist. Peter Carr remembers playing a regular Saturday night gig at UCD and supporting The Tremeloes on their Irish tour. Peter Carr emigrated to Australia in 1974, so this must have occurred during 1972-73. Eric Bell's involvement rules out any date earlier than 1973. If Eric is excluded, it could have happened in 1972 and indeed The Tremeloes did tour Ireland in August that year. If anyone knows the answer, please get in touch.



The band had split bu 1974. Andy Dunne died in 1986. Mitch Mahon was also in The Fugitives.





Discography:

• You Got What I Need / I've Thrown Our Love Away
7" - Pye Records - 7N 17844 - 1969 - no PS
A-side by Andy Dunne.


• various artists - Paddy Is Dead And The Kids Know It
See Compilations section for full track listing.
LP - Golden Guinea - GGL 0451 - UK - 1969



tracks: Make Me Stay A Little Bit Longer / I've Thrown Our Love Away


• Mitch and the Editions - I'm Going Home / Couldn't Live Without You
7" - Polydor Records - 2078 008 - May 1971 - no PS


• Mitch and the Editions - Hey Diana / Lovin's Really Livin'
7" - Polydor Records - 2078 015 - August 1971 - no PS




Notes:
A-side by Andy Dunne. B-side by Alan Murray and James Doolin. Produced by Jackie Hayden at Trend Studios.



• Mitch and the Editions - God's Children / What A Crazy Feelin'
7" - Polydor Records - 2078 021 - 1972 - no PS





See also:



Help!: We need your help to complete this entry. If you can tell us more about this band then please do! We welcome any corrections, missing details, connections to other bands, where are they now, etc. We also need photos, scans, copies of releases or live or demo recordings, and any other memorabilia gathering dust in the attic. If you can help, then please get in touch.



---

A-Z Artist Index
Compilations
Record Labels
Media
Help Us!
Contact Us
Resources
Timeline
---