---


A-Z Artist Index
Compilations
Record Labels
Media
Help Us!
Contact Us
Resources
Timeline
---
From: Churchtown, Dublin

Active: 1963-1972

Style: rock

Lineup (ca 1966):
Harry Evans - guitar & vocals
Niall 'Smiffy' Byrne - lead guitar
Bob Bolton - bass & vocals
Fran Byrne - drums



Some People ca 1966, L-R: Niall Byrne, Harry Evans, Bob Bolton, Fran Byrne
[photo courtesy Bob Bolton]


Lineup (ca 1969-70):
Brendan Connolly – vocals
Niall Byrne – lead guitar
Anthony Dunne – rhythm guitar
Con O'Brien – bass
Christy Kavanagh – drums
Bio:

Some People were originally called The Rollintones (or The Rollin' Tones), managed by '50s Rock'n'Roll singer Jackie Johnson. The Rollintones won a competition for groups and showbands in Dublin which led to some dates in the UK which in turn led to bookings in Germany in February or March 1965 through producer Peter Collison, one of the competition adjucators. Unfortunately the German gigs had to be cancelled when work permits fell through due to one of the band members being underage. Some hastily arranged dates in Holland were organised instead. Confusion over the band's name resulted in a mini riot when 3000 dutch fans expecting to see the Rolling Stones turned up in the small town of Sprundel. A name change was considered wise after this incident.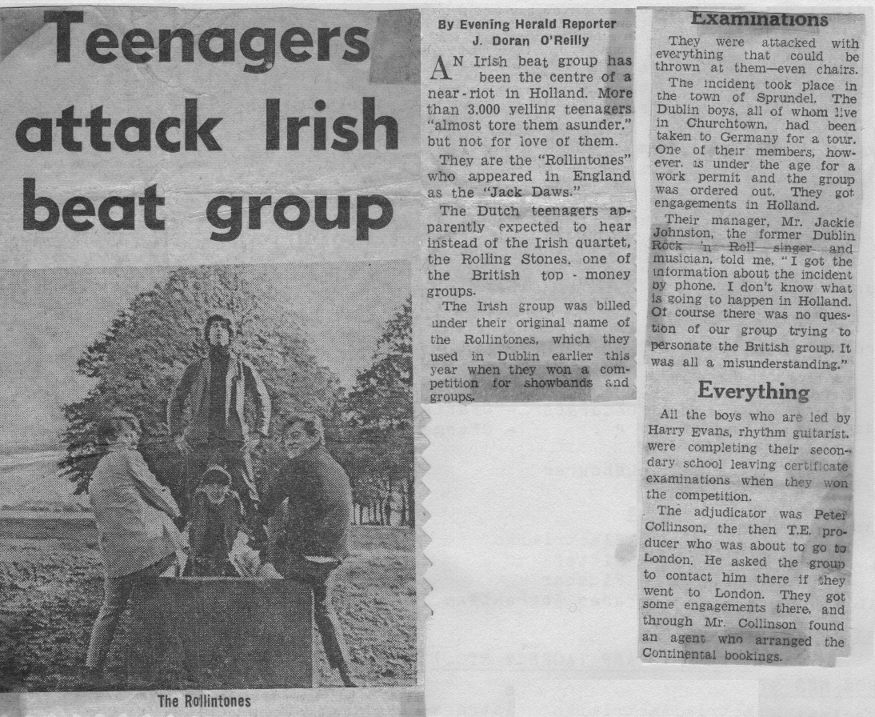 Newspaper article about the Rollintones reception in Holland in 1965.

Once back in Dublin, a competition was arranged for fans to pick the new name. The winning entry was Some People. Some People started their own production company S.P.Productions to promote beat group gigs in Ireland. They signed to Tempo Records in 1965 and their debut release was announced for November that year but it never came out. The band would have to wait another 4 years approx for a chance to release their debut single. Niall Byrne was replaced (temporarily) by Brendan Bonass, but Byrne later returned to reclaim his place, ousting Bonass.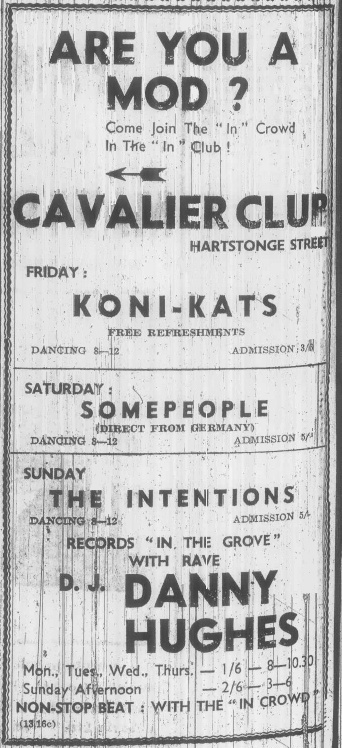 At the Cavalier Club, Limerick, July 1966.
"Direct from Germany".









In February 1967 Some People made some demos in a used clothing warehouse on the Quays in Dublin city centre. They were recorded by Peter Selwood, manning a two-track Studer. These recordings were instigated by the manager rather than the band. Two Peter Lee Sterling songs were recorded, "I Don't Want Nobody Else But You" (Harry Evans lead vocal) and "How Can A Man Get It So Wrong" (Bob Bolton lead vocal). These tracks were not part of the band's normal repertoire and were never performed them live. They were very schmaltzy and the band was very into blues, so they were not representative of the bands sound.
I've read that these tracks were suggested by John Woods of Pye, but this may have been spin from the manager. No deal with Pye was discussed, and in fact the recordings were never mentioned again. I've also read that a third track was recorded at the same session, a cover of The Seeds "Pushin' Too Hard". Sadly this is not true. These recordings have never been released and while they still exist on tape, they are probably not worthy of attention.

Harry Evans decided to leave, in July 1967. Bob Bolton also left during 1967, joining the Uptown Band. Fran Byrne left to join the the Sands in September 1967. His replacement Peter Carr recalls playing on the demos, so Fran may have left the band sometime earlier. Peter Carr also recalls Jay Malone (guitarist of The Kingbees) playing with the band during his tenure with Some People. Peter Carr also recalls Phil Lynott playing bass and singing with Some People for a very short period, short because band leader Harry Evans wasn't happy with the standard of his playing and the conflict over who was the real singer with the band, and so he had to go. This was probably in 1967.

Ditch Cassidy fronted the band for about six months (at a guess in the 67-68 period). Peter Carr left for the Purple Pussycat and was later in Alyce.

By 1969 Niall Byrne had assembled a completely new line-up with with Brendan Connolly (lead vocals), Anthony Dunne (rhythm guitar), Con O'Brien (bass guitar) and Christy Kavanagh (drums). This is the lineup which made the bands vinyl debut in December 1969 on the Paddy Is Dead compilation LP (Pye Records) with two tracks, one of which was to become the A-side of their debut single in 1970. This was an unremarkable (except that they chose to record it! . . . though actually it was manager Jackie Johnson's choice, the band weren't all that keen) cover of "Walk Like A Man". The B-side is much better, an instrumental that mixes The Shadows, surf guitar and Westerm movie themes with a slightly psychedelic edge. This was a band original, written by Niall Byrne. It is well worth tracking down.

Some People played one or both of the open air afternoon benefit gigs for the Central Remedial Clinic in Dublin in July 1970, sharing the bill with Thin Lizzy. They were still actively gigging in August 1971, playing at the Holyrood Hotel in Bundoran on the 2nd according to contemporary listings. Two further singles were recorded for Pye in 1971, "Flowers Never Bend With The Rainfall", a Simon & Garfunkel cover and "Bluebird".

Niall Byrne left the band in '71 or '72. We're not sure if he is present on the final single which paired a cover of Al Jolson's song "Mammy", the less said about which the better, with an unremarkable cover of the Goffin/King classic "Goin' Back". This was released in April 1972. More of the same was to follow on the band's debut LP, released in '72 or '73. The sleeve notes list the lineup as Brendan Connolly, Tommy (sic) Dunne, Con O'Brien and Christy Kavanagh. It consists entirely of covers.

Mick Tully & Christy Lundy joined from Dublin band Switch circa 1972-73 by which time only Dunne & Kavanagh remained from the previous lineup. Brendan Connolly was replaced by Brian Conway. Tommy Mangan also played somewhere in this late timeline. The band finally split ca 1973.

Fran Byrne was also in Rockhouse, The Creatures, The Chosen Few and the Sands. Bassist Bob Bolton played in a number of bands after Some People (1963-66) including The Uptown Band (1966-67), The Stellas (1967-69), The Chosen Few (1969-71), Stepaside (1971-78), The Swarbriggs Band (1978-80) and The Negatives (1980-81).
Peter Carr was later (mid-70s) in a band with John Farrell (ex Movement, Dreams, Groundhogs, etc.), Eric Bell (ex Dreams, Thin Lizzy) and keyboard player Andy ??? (The Editions); does anyone recall the details?





Discography:

• various artists - Paddy Is Dead And The Kids Know It
LP - Golden Guinea - GGL 0451 - UK - December 1969
tracks: Walk Like A Man / Thats Why I'm Crying


• Walk Like A Man / The Saga of the Incredible Rubber Stamp Man
7" - Pye - 7N.17934 - April 1970 - no PS
A side on the Paddy Is Dead comp.


• Flowers Never Bend With The Rainfall / Dawn (Go Away)
7" - Pye - 7N.45037 - January 1971 - no PS
A-side by Simon & Garfunkel.
Produced by Darby Carroll at Eamonn Andrews Studios.


• Bluebird / Elsie
7" - Pye - 7N 60001 - July 1971 - no PS
A-side by Garth Watt-Roy; B-side by R.White.
Produced by Fred Meijer at Eamonn Andrews Studios.


• Mammy / Goin' Back
7" - Pye - 7N 60012 - April 1972 - no PS


• s/t
LP - Arrow Records - ARO 101 - ca 1973
An album of covers recorded by Tommy Dunne, Brian Conway, Con O'Brien and Christy Kavanagh circa 1973.



side one:
Be My Baby
Way Of Life
See You In September
He's In Town
I Must Be Seeing Things
Under My Skin

side two:
Run Baby Run
Rainy Day Feeling
God Created Woman
Sherry Baby
This Boy
Oh Carol





See also:




Help!: We need your help to complete this entry. If you can tell us more about this band then please do! We welcome any corrections, missing details, connections to other bands, where are they now, etc. We also need photos, scans, copies of releases or live or demo recordings, and any other memorabilia gathering dust in the attic. If you can help, then please get in touch.



---

A-Z Artist Index
Compilations
Record Labels
Media
Help Us!
Contact Us
Resources
Timeline
---