---


A-Z Artist Index
Compilations
Record Labels
Media
Help Needed
Contact Us
Resources
Timeline
---
Kabuki Records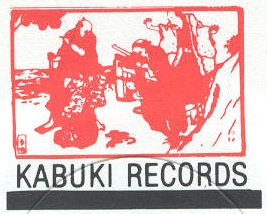 Kabuki was a London based label which concentrated on the releasing and marketing Irish material.

After almost signing to Go Feet Records, Kissed Air chose to start their own record label. Thus Kabuki Records was launched in the summer of 1982. The name and logo design was by Cormac Tohill. Kabuki established a manufacturing and distribution deal with Rough Trade Records through Dubliner Gareth Ryan. Ryan was a friend of the band who had worked in the Liffey Street branch of Golden Discs in Dublin (known for it's punk/new wave stock) and been in a band called Atonomy before moving to London where he worked for the Rough Trade collective. As such he was ideally placed to help. Ryan suggested Microdisney for the label's second release and was also behind the Operating Theatre release but the rest were chosen by band members. Kabuki effectively ended when Kissed Air called it a day in 1985. According to Eric Briggs, who worked at Kabuki for a period, it actually evolved into Shellshock Distribution, currently one of the UK's biggest distributors.

KA8 was planned as an Exile In The Kingdom single but it never happened. Gareth Ryan later released it on his own Prophet Records label and gave it a custom number reflecting it's history (PROFEX 8).
KAR  1  Kissed Air - Kariba/Kissed Air  7" [summer 1982]
KAMD 2  Microdisney  - Hello Rascals/Helicopter  7" [October 1982]
KA   3  Kissed Air - Out Of The Night/Change of Attention  7" (12/1982)
KAMD 4  Microdisney  - Pink Skinned Man/Fiction Land  7" [1983]
KA   5  Five Go Down To The Sea - Knot A Fish EP 7" [1983]
KAOT 6  Operating Theatre - Miss Mauger LP [1983]
KAR  7  Ruefrex - Capital Letters/April Fool 7" (4/1983)
K    8
KA   9	Kissed Air - Kawaraya EP 12" [1983]



---

A-Z Artist Index
Compilations
Record Labels
Media
Help Needed
Contact Us
Resources
Timeline
---