---


A-Z Artist Index
Compilations
Record Labels
Media
Help Us!
Contact Us
Resources
Timeline
---
From: Carlow

Active: 1985?-1991

Style: Indie

Lineup:
Gala Hutton - vocals & guitar
Liam O'Brien - guitar
Ray Lowry - bass
Gerry Farrell - drums

Azure Days in 1987, l-to-r: Gala Hutton, Ger Farrell, Liam O'Brien, Ray Lowry
Bio:

The original band included Liam O'Brien, Gala Hutton on bass with and a singer named Joe. Hutton left to attend college and was replaced by Ray Lowry. Hutton later rejoined the band as vocalist towards the end of 1986, replacing Joe. Gerry Farrell on drums completed the lineup. Azure Days finished as finalists in the Carling / Hot Press Band of the Year competition in 1986 and won the following year in June 1987. They relocated to Dublin in 1987. Their excellent debut single came out in November. The band toured Ireland November 5-27 in support.

The band recorded four Fanning sessions, including the track "Pale Green Visions" circa 1988. Unreleased demo tracks include "Sweetest Chain".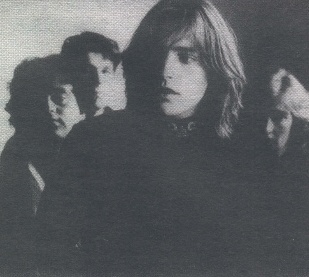 Azure Days relocated to London but their career never took off. They slimmed down to a trio without O'Brien at some point. They returned to Ireland in 1991 and promptly split up. Ray Lowry and Gerry Farrell were later in The Floors. Gala Hutton later featured in 79Cortinaz, The Trains and Sugar Factory.





Discography

• various artists - Comet LP Two
LP - Comet Records - COME 2 TP - IRL - 1987?
See Compilations section for full track listing.



track: The Old Tradition
Recorded at Slane Recording Studios in Navan.



• Blew My Clouds Away / My Mexican
7" - Mystery Records - MRS 15 - IRL - November 1987 - PS?



• Anything For You EP
7" - Grape Records - 6 - 1991 - PS
CDS - Grape Records - 6 - 1991 - PS




tracks: Anything For You / Azure Days / White Horse / Back Down To Justice



• various artists - Breaking Sound Barriers Vol.1
CD - PPI Records - BSBCD-1 - 1992
See Compilations section for full track listing.




track: Anything For You

Help!
We need your help to correct and/or complete this entry. If you can provide more information about this band, have scans, photos or any other memorabilia we can use, or spare copies of any releases, then please get in touch.
---

See Also:


---

A-Z Artist Index
Compilations
Record Labels
Media
Help Us!
Contact Us
Resources
Timeline