---


A-Z Artist Index
Compilations
Record Labels
Media
Help Us!
Contact Us
Resources
Timeline
---
From: East Belfast

Active: 1964-65

Style: Beat

The Beat Boys 1964 Lineup:
Gary Moore - guitar
Bill Downey - guitar
Robert Thompson - bass
Robin Lavery - drums


The Beat Boys rehearsing in 1964 in their stage gear - the shirts were red!
LR: Berty Thompson, Gary Moore, Bill Downey and original drummer Robin Lavery.
Possibly taken at the Queens Court Hotel.
[photo courtesy Bill Downey]


The Beat Boys 1965 Lineup:
Gary Moore - guitar
Bill Downey - guitar
Robert Thompson - bass
Robert Wilkinson - drums


The Beat Boys in 1965 featuring an impossibly young looking Gary Moore.
For this publicity photo the band wore matching blue shirts and white trousers.
If anyone has a colour version of this photo please get in touch!
LR: Robert Thompson, Robert Wilkinson, Bill Downey, Gary Moore (with Rosetti Lucky Squire guitar).


The Barons Lineup (1965-66):
Pete McClellend - vocals
Gary Moore - guitar (for a short period)
Bill Downey - guitar
Brian (Barney) Cruthers - bass
??? - drums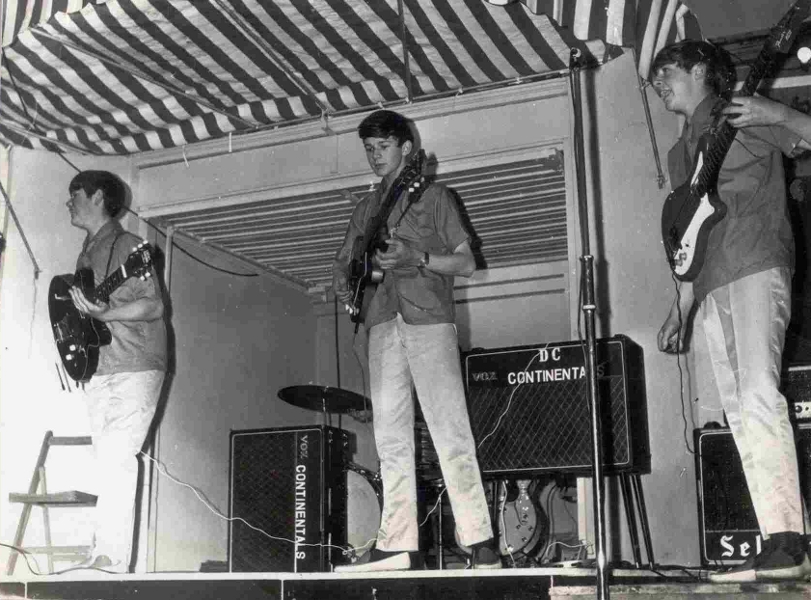 The Beat Boys onstage at Picky Pool (sp?) in Bangor in 1965, using the Continentals gear.
LR: Gary Moore (Lucky Squire guitar), Bill Downey (Hofner guitar), Berty Thompson (bass).
Drummer Robo Wilkinson is out of shot.
[photo courtesy Bill Downey]




Bio:

The Beat Boys were Gary Moore's first (schoolboy) band. Gary Moore was a naturally gifted guitar player. His playing ability and dedication to the instrument was well known to his schoolfriends and playmates in the area of East Belfast where he grew up. Though naturally left handed, he learned to play in the conventional right-handed manner. Legend has it that when given his first guitar he could play "Wonderful Land" by the Shadows instantly. Gary's father Bobby Moore was a promoter and he encouraged his son's musical inclinations.

Gary Moore and Bill Downey, who also played guitar, attended Ashfield Boys Secondary School together. They formed The Beat Boys in 1964 with Robert Thompson on bass guitar and another Ashfield pupil Robin Lavery on drums. They learned Beatles songs off the radio and played them at the Queens Hall in Holywood, and again on the train journey back to Belfast for their co-passengers. Lavery was replaced by Robert Wilkinson in 1965. Bobby Moore undoubtedly had some influence in the choice of stage gear shown in the photos above.

After the Beat Boys, Gary and Bill played together in various bands on-and-off for about 4-5 years before Bill pursued his studies at Queens University and Gary followed his musical career. One of these bands was The Spartans who'd entered a talent contest in Bangor. Bill persuaded Gary to join them temporarily in order to improve their chances of winning. During the heats, the band changed lineup and became The Barons. Lead singer Peter McClelland had very good stage presence and reputedly drove the girls wild. They made it to the final but lost out to lesser competition when their equipment let them down. This event was filmed for TV, which suggests footage of Gary with The Barons is out there somewhere.

Other players included Alan Moffett (or Moffat), drummer for The Spartans, and the unnamed drummer(s) in the photographs on this page (why it is always the drummer's name thats most likely to be forgotten?!). If they or anyone else out there connected with these bands is reading this, please get in touch.

Gary Moore later played in Platform Three (who Brian Downey recalls once supported Sugar Shack) and The Method, and possibly other bands, before moving to Dublin to join the legendary Skid Row in 1969.
After he left school, Robin Lavery became the drummer for Belfast soul band Heart And Soul, and was a founder member of Chips with whom he played from 1969 to 1975 before joining Bananas.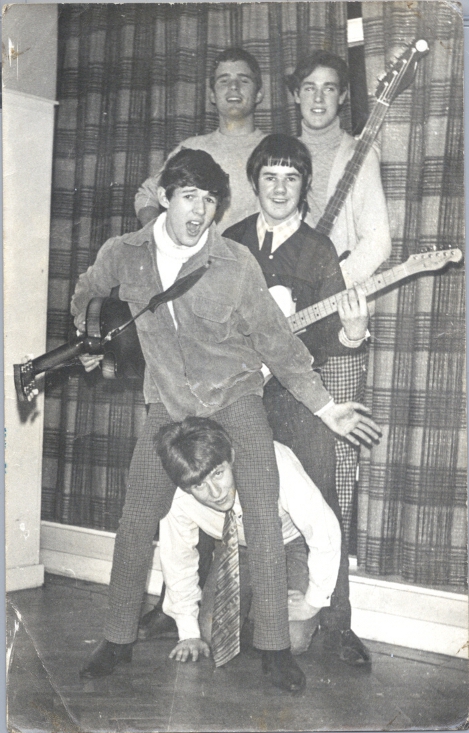 The Barons ca 1965/66. From the front: unknown drummer (kneeling),
Bill Downey, Gary Moore (now with Fender telecaster), Brian (Barney)
Cruthers (with bass) and at the back Pete McClellend (vocals).
[photo courtesy Bill Downey]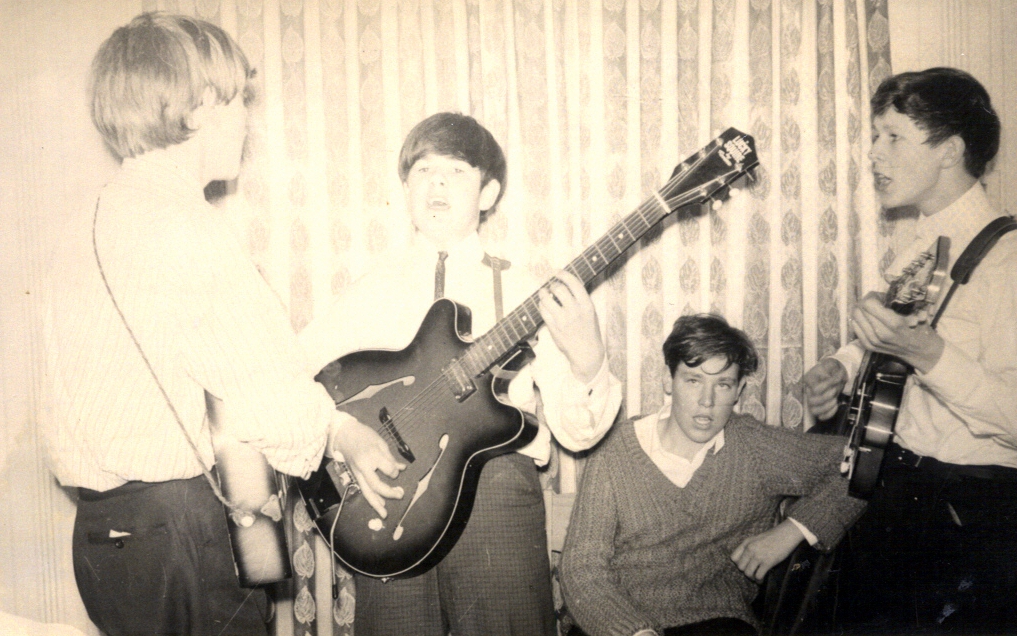 Practising in Bill Downey's house in East Belfast ca 1964.
LR: Berty Thompson, Gary Moore (adjusting the volume), future Barons bassist Barney Cruthers and Bill Downey.
[photo courtesy Bill Downey]



See also:



Help!: We need your help to complete this entry. If you can tell us more about this band then please do! We welcome any corrections, missing details, connections to other bands, where are they now, etc. We also need photos, scans, copies of releases or live or demo recordings, and any other memorabilia gathering dust in the attic. If you can help, then please get in touch.


Thanks to Bill Downey
---

A-Z Artist Index
Compilations
Record Labels
Media
Help Us!
Contact Us
Resources
Timeline
---