---


A-Z Artist Index
Compilations
Record Labels
Media
Help Us!
Contact Us
Resources
Timeline
---
From: Meath

Active: 1978?-83; 1985

Style: Rock

Lineup:
Jimmy Smyth - guitar
Donald 'Doish' Nagle - bass
Paul Moran - drums


l-to-r: Jimmy Smyth, Paul Moran, Doish Nagle
Bio:

Under-rated rock trio fronted by Jimmy Smyth [sometimes written as Smith], a highly gifted guitarist from Navan. Bassist Doish Nagle had previously been in Dublin rock trio Angel.

Some accounts of their early days, in Hot Press for example, portray a band still trying to find it's feet, dabbling in too many different styles through a varied set designed to show off Jimmy's playing abilities but suggesting they were unsure of which musical path to take. As a result the record companys adopted a wait-and-see approach. How accurate this portrayal is I can't say.

In December 1978, they supported Rory Gallagher at the National Stadium, by which time they'd focussed on tight, straight ahead R&B in Dr.Feelgood/Pirates vein. They appear briefly in an RTE piece about Gallagher's '78 tour made by Dave Heffernen (for Aspects of Rock). Their manager at this point was Brian Kennedy.

They signed a one single deal with Chrysalis Records (through Polydor in Ireland) and released "Friday Night" which was a big hit locally. This led to a full deal which resulted in two LPs. Their first LP "Friday Night" (1979) is great but was probably too trad rock for the punks. The second "Jimmy Did It!" (1980) didn't advance their cause much further. Neither is available on CD as far as I know but they can be picked up cheap on ebay. There were also four singles with mostly non-LP tracks.

They played the famous Dandelion Market gig in Dublin on one occasion, on Sunday 16 December 1979 with The Epidemix.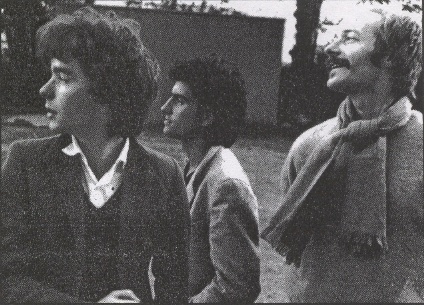 Pictured in In Dublin magazine at the end of 1980.
By 1981 the rhythm section was Davy Watson (ex Male Caucasians, bass) and Tony Smyth (drums). Peter Duff (see Cheeky Pigs) took over as manager around 1982. They appeared on TV quite a few times in the early 80s, and gigged heavily for several years. Neil Whiffen played bass somewhere along the line as did Iggy Ward who was with them for about a year, including their USA trip.

The Bogey Boys went to the USA in 1982 with manager Peter Duff who'd set up money and gigs on an earlier trip. When they landed at JFK they were delayed getting off the plane and were last off. They walked from the plane all the way to arrivals and out on to the street without being stopped once by customs, immigration, etc [wouldn't happen today!]. The band spent a year playing around Detroit and the Michigan area and recorded in Sidartha studios in Grand Rapids. The band finally broke up during negotiations with two record companies in 1983. The Sidhartha recordings (including "Car Independence" and "Chinese Wedding") were never finalised and are presumably lost. Jimmy went to L.A. and played with various people.

Tony Smyth joined the No Name Band. Old boys Doish Nagle and Paul Moran joined Phil Lynott's Grand Slam and Pulling Faces respectively.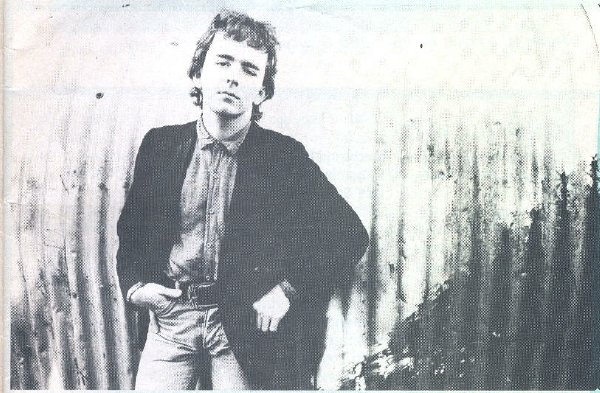 The Jimmy Smyth Band toured Ireland in December 1985 with the No Name Band in support which became the Bogey Boys relaunch on the "Back To Basics Tour" in January 1986. As far as I know this later version of the band did not record. Jimmy later became involved in production and soundtrack work. He turned up in Toni Childs backing band performing at the 1989 Grammys and reputedly 'stealing the show', though the clip I've seen on youtube ('Don't Walk Away') is truly awful.

The Bogey Boys reformed for the Sportsman's Inn 25th Anniversary gigs in 2002?. Jimmy Smyth, Tony Smyth, Davy Watson and Francis Geraghty of the No Name Band regularly play together as Deep 6 in the Meath area. They released a CD titled "Undercover".

Jimmy's sister is famed country singer Gloria whose version of "One Day At A Time" caused mass hysteria in Ireland where it topped the charts for a record 37 years.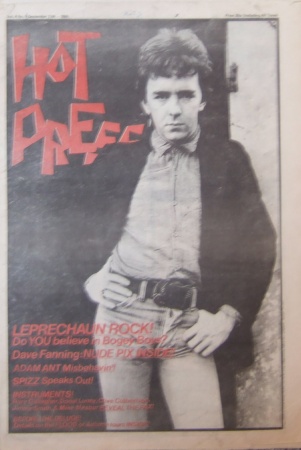 Discography

• Friday Night / Our Times
7" - Polydor Records - 2078 097 - IRL - March 1979 - PS, blue vinyl
Non-LP B-side, though the A-side was re-recorded for the debut LP and is a unique version.
The B-side ends in a locked groove which says turn the record over.
Release date may be July 1979, though Ian Wilson describes it as "out now" in In Dublin in March 1979.
Repressed on black vinyl without PS.


• Friday Night
LP - Chrysalis/Polydor Records - CHR 1241 - IRL - 26 October 1979
LP - Chrysalis Records - CHR 1241 - UK - 26 October 1979
LP - Chrysalis Records - 6307 684 - Germany - 1979
LP - Chrysalis Records - 51-1241 - Netherlands - 1979





side one:
Friday Night [re-recorded]
Heartbreaker
Success Story
Gunslinger
It Could Happen To You

side two:
I'm Alright Jack
Rock n' Roll Romance
Hard Times
In My Own Time
Closing Time
Notes:
All titles by J.Smyth except "Gunslinger" by Ken Kiernan (Pulling Faces) and "Rock n' Roll Romance" by Nagle. John Keogh (Greenbeats, Full Circle) guests on keyboards on "Closing Time". Recorded late summer 1979 at Windmill Lane Studios, Dublin, produced by Leo Lyons (of Ten Years After, a house producer at Chrysalis). Mastered at Abbey Road.



• various artists - The London R&B Sessions
LP - Albion Records - DAI-2 - UK 1980
CD - Albion Records - ALCD 9.00135 - UK - 19??
LP - Albion/Arista/EMI Records - SBLL 6132 - New Zealand - 1980
LP - Line Records - ALLP 4.00135 - Germany - 1986 - white vinyl
CD - Line Records - ALCD 9.00135 - Germany - 1986
Recorded live at the Hope & Anchor Bar in late 1979
See Compilations section for full track listing.



tracks:
Madison Blues
You Can't Catch Me


• Jimmy Did It!
LP - Chrysalis/Polydor Records - CHR 1298 - IRL - August 1980
LP - Chrysalis Records - CHR 1298 - UK - August 1980



side one
The Word Is Out
Blind Eye
Who's Sorry Now?
Never Let Up
Bang Bang

side two
Lone Grey Mare
Do The Buzz
Trouble
The Emigrant
Stop Messin' Around
Notes:
All titles by Smyth except "Who's Sorry Now?" (Kalman/Ruby/Snyder), "Bang Bang" (Sonny Bono), "Lone Grey Mare" (Peter Green) and "Stop Messin' Around" (Peter Green/Clifford Adams). Recorded at Point Studios Belgravia, produced by Alan O'Duffy. Guest appearances by Tom Bailey (piano), Dave Rose (organ) and a brass section: Pete Tantrum (tenor/baritone sax), Pete Beachill (trombone), Stuart Brooks & Steve Sidwell (trumpets).



• Death of a Clown (Kinks) / You Can Go
7" - Chrysalis Records - CHS 2462 - IRL - October 1980 - no PS
Only single to chart in Ireland, reaching #29.
Both sides non-LP.


• Ain't No Rock'n'Roll Tonight / Okie From Muskogie
7" - Polydor Records - 2078 121 - IRL - 1980 - no PS
Hardest to find single. Both sides non-LP.
Sounds like a Christmas single, so possibly released in December 1980.


• Obituary / She's The One
7" - Polydor Records - 2078 129 - IRL - 1981- two different PS designs
Both sides non-LP.
"Obituary" Is No Obituary Wait And See... says the small print on the 2nd PS.


• various artists - Non Stop Pop
LP - RTE Records - RTE 63 - IRL - 1982
See Compilations section for full track listing.



track: Obituary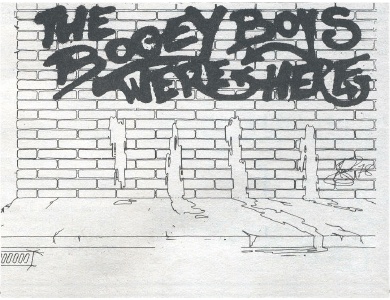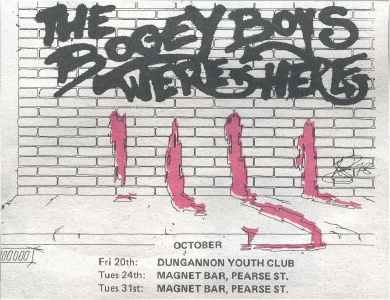 • various artists - Sunflower Nights
2xCD - Hospice Foundation - HFCD001 - 2 May 2008
See Compilations section for full track listing.



tracks:
Madison Blues
Still in Love with You (Thin Lizzy)
Help!
We need your help to correct and/or complete this entry. If you can provide more information about this band, have scans, photos or any other memorabilia we can use, or spare copies of any releases, then please get in touch.
---

See Also: Male Caucasians, No Name Band, Pulling Faces


---

A-Z Artist Index
Compilations
Record Labels
Media
Help Us!
Contact Us
Resources
Timeline
---