---


A-Z Artist Index
Compilations
Record Labels
Media
Help Us!
Contact Us
Resources
Timeline
---
From: Dublin

Active: - November 1978-early 1981

Style: New Wave

Lineup:
Paul Bonnar (aka Paul Bonner) - sax/vocals
Colin Devlin - guitar
Gerry Grogan - bass
Dave Bell - drums


Bio:

Formed in November 1978 while still at school, this was a student punk band with Paul Bonnar (sax/vocals), Colin Devlin (guitar), Gerry Grogan (bass) and original drummer Lester. The early lineup also included two female backing singers, Tanya Kiang and Hanna Woods. Lester was replaced by Dave Bell (drums, who had several years experience as percussionist in the Irish Youth Orchestra). They gigged extensively in the Dublin area. Their set included two covers, "Let's Dance" by the Ramones and "Stepping Stone" by The Monkees/Sex Pistols but the rest was original material mostly penned by Bonnar (lyrics) and Devlin (music). They opened for U2 many times, mostly at the Dandelion Market, where they also headlined.





Their first Dublin gig was in a community hall in the Liberties. They played all the late 70s haunts; the Darndale Community Center, Howth Community Center, Toners (a regular Monday night slot), The Magnet Bar, McGonagles; they opened for The Blades, DC Nien, The Bogey Boys, The Rezillos at Liberty Hall and John Otway & Wild Willy Barrett at the TV Club, where the band also recorded their 4 song demo tape which was sent to Dave Fanning (who played one track) and John Peel. They also received airplay on pirate radio in Dublin. The band split in late 1980 or early 1981. Paul Bonnar played in an early incarnation of The Golden Horde before moving to New York in 1983. Band manager and classmate Christopher Deignan also resides in New York. Dave Bell appeared on the Passion Machine single and was in Red Square.

None of the band members appear to have a copy of their demo tape, so if anyone out there has one please get in touch.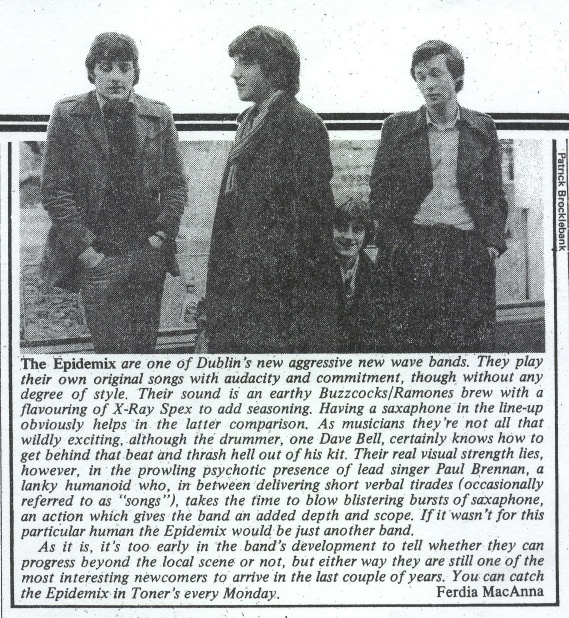 Ferdia Mac Anna's write up of the band in In Dublin, March 1980.
[photo: Patrick Brocklebank]




Dandelion Dates

• Sunday 21 October 1979 - billed as The Epidemics
• Saturday 17 November 1979 - supporting U2 (and billed as The Epidemics)
• Sunday 16 December 1979 - supported by The Bogey Boys
• Saturday 5 January 1980
• Saturday 12 January 1980
• Sunday 9 March 1980


Discography

• 4-song demo
K7 - 1979?

tracks:
Easy Penetration
Basement Life
Shift 14
Let's Dance
Notes:
An article in Imprint #9 (May 1980) lists the following song titles:




Whore
Unknown Quantity
Easy Penetration
Basement Life
Shift 14
The Ad-man Cometh
Middle Class Life
Help!
We need your help to correct and/or complete this entry. If you can provide more information about this band, have scans, photos or any other memorabilia we can use, or spare copies of any releases, then please get in touch.
---

See Also: The Golden Horde, Passion Machine, Red Square


---

A-Z Artist Index
Compilations
Record Labels
Media
Help Us!
Contact Us
Resources
Timeline
---