---


A-Z Artist Index
Compilations
Record Labels
Media
Help Us!
Contact Us
Resources
Timeline
---
From: Dublin

Active: 1980-82

Style:

Lineup:
Eoin Freeney - vocals
Robbie Wogan - guitar
Larry Murphy - bass
Paul Monahan AKA Mono - drums

Ferdia Mac Anna's introductes Chant! Chant! Chant! to the readers of In Dublin magazine in 1980
[photo: Patrick Brocklebank]


Bio:

Fantastic new wave/avant punk quartet formed in Dublin in 1980. Larry Murphy and Paul Monahan had previously been in the original lineup of The Threat which split circa September 1979. Chant! Chant! Chant! won the Best Newcomer Award at the first Stag Hot Press Awards in 1980.

They played numerous gigs with the Blades, Microdisney, Moondogs, The End and The Real Wild West.
They supported The Fall at the Arcadia in Cork on 17 October 1980, John Cooper Clarke at UCD (with Rocky DeValera), and the 4 BE 2's at Trinity (October 1980, with John Lydon in attendance to watch his brother Jimmy's band). They were also one of the first bands to play a Saturday afternoon half hour gig in Base X Records on Batchelor's Walk in Dublin in 1982. Tapes of these higher profile shows may exist. Anyone out there with any live tapes?

Their vinyl debut came with the Boddis EP in 1980 to which they contributed one track with a memorable bass line, "What Do You Know". They self-released their sole single the following year. Described on ebay as "like a cross between XTC and the Virgin Prunes", both sides are excellent and it well worth tracking down. Just 500 copies were pressed. It was well received and made the Hot Press chart at the time. John Peel played it several times on his radio show. They also featured in the pages of Vox fanzine among others. Vox's Dave Clifford did the cover artwork for the single, the photographs for which were taken somewhere in the Dublin mountains.

The band was reduced to a trio when Larry Murphy left in early 1982 to play double bass with a jazz group in London called Alto Affair, who recorded 2-3 cassettes and played the Guinness Jazz Festival. When Chant split, Paul Monahan and Eoin Freeney did a short stint with The End.

Paul Monahan now records electronica under the name M101. Larry's brother Vinnie Murphy was in The Sinners and also worked with Stano.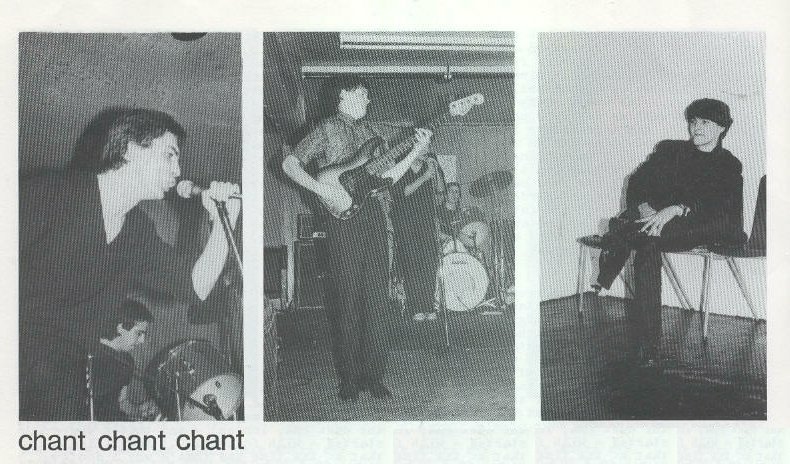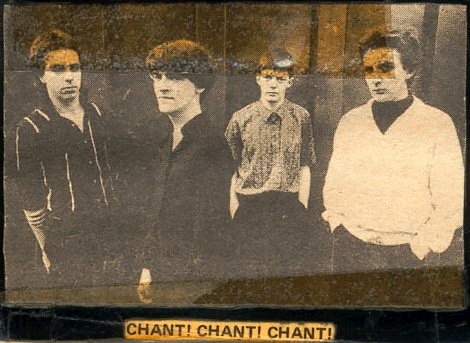 Notable dates
Oct 17, 1980 - Supporting The Fall at Arcadia, Cork
Oct ??, 1980 - Supporting 4 Be 2's at Trinity
April 24+25, 1981 - Two nights at The Gaff at the Cecil Hotel, Limerick.


Discography

• various artists - The Boddis EP
7" - Nineteeneightease Records - DC9-003 - IRL - 1980 - PS
See Compilations section for full track listing.



tracks: What Do You Know



• Quicksand / Play Safe
7" - Peig The Man - CHANT 001 - IRL - July 1981 - PS, 500 copies pressed, two sleeve variations


Notes: Only 500 copies were pressed by Carlton in Dublin but approx 900 sleeves were printed, something to do with minumum order requirements or it being more economical to do it that way. Of the 900 sleeves printed, the first few (approx 10 copies according to Lar Murphy) were printed in black and white only, without the gold ink border. The rest of the batch have the gold ink. The 10 black & white copies were used by Carlton rather than discarded. This explains the sleeve variation. So there was no second pressing, as previously speculated.



• Dave Fanning Rock Show Session
3-track session broadcast July 1981
Recorded at RTE with Ian Wilson producing(?)

tracks:
Ballet No.1
Forty One
Say So
"Ballet No.1" was in response to Spandau Ballet's "Chant No.1".

• various artists - Strange Passion
LP - Cache Cache Records - CACHE03LP - UK - 2012 - insert
See Compilations section for full track listing.


Help!


We need your help to correct and/or complete this entry. If you can provide more information about this band, have scans, photos or any other memorabilia we can use, or spare copies of any releases, then please get in touch.



---

See Also: The End, The Threat

External Links: M101 page at Soundclick.com


---

A-Z Artist Index
Compilations
Record Labels
Media
Help Us!
Contact Us
Resources
Timeline
---