---


A-Z Artist Index
Compilations
Record Labels
Media
Help Us!
Contact Us
Resources
Timeline
---
From: Howth

Active: 1977-12/1979

Style:

Lineup: (1978)
Rocky De Valera (Ferdia MacAnna) - vocals
Lord Lucan AKA Dave Hero (Dave/George Sweeney) - lead guitar
Pierre Parnell (Nicky Barrett) - guitar
Jack Dublin (Paul Brown) - bass
Harpo (Robbie Campbell) - drums


left-to-right: Jack Dublin, Rocky De Valera, Harpo, Pierre Parnell, Dave Hero
Bio:

Punk-inspired roots Rock'N'Roll band formed in the summer of 1977 by Ferdia MacAnna (AKA Rocky De Valera, ex Johnny Jurex) and Dave Sweeney (AKA Dave Hero, ex Max Quad Band). Both were working part-time at the punk badges stall in the Dandelion Market. Though inspired by punk, their sound harked back to 50's rock & roll of Vince Taylor ("Brand New Cadillac") and Johnny Kidd & The Pirates ("Shakin' All Over") and their set also included a cover of Dr.Feelgood's "She's A Wind-up".

The early lineup included ex Rat Salad drummer Robbie Campbell (AKA Harpo) and rhythm guitarist Nicky Barrett (AKA Pierre Parnell). There was also a sax player named Baz (extreme right in poster below) but he left during 1977.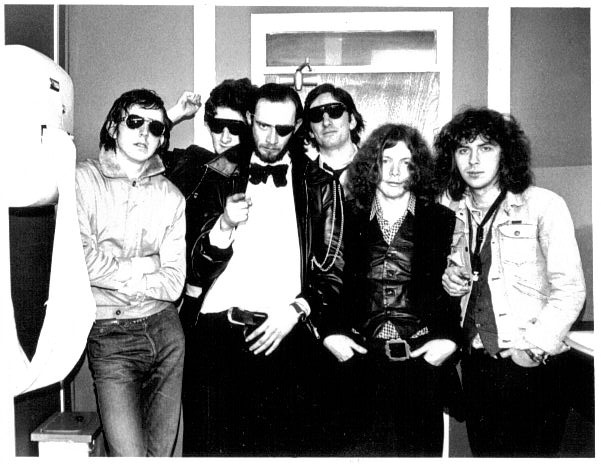 l-to-r: Fionn McCool (Rob), Lord Lucan (Dave Hero), Rocky DeValera, Pierre Parnell
(Nicky Barrett), Sgt. Floyd Pepper (Tony Floyd Kenna), Basil Hornblower (Baz)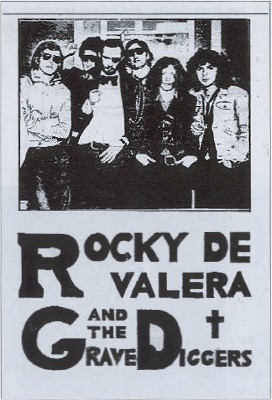 January 1978 band photo and poster




The Gravediggers played their first gig in the Belfield Bar in UCD in January 1978. Original bassist Tony Kenna (later in Face To Face) was replaced by Paul Brown (AKA Jack Dublin, also ex Rat Salad). In July 1978 Dave Hero left to join The Vipers (and became known as George Sweeney), and Rocky and bassist Jack Dublin assembled a new lineup including guitarist Martin Meagher (AKA The Lizard) (ex Electron) from Finglas and Pat Rooney on drums. This was the most stable lineup.

They played the Dark Space Festival at the Project Arts Centre in Feb 1979 and were the second ever band to play the Dandelion Market on Saturday 28th April. The same year they recorded 4 songs at Lombard Studios in Dublin with money supplied by Terri Hooley of Good Vibrations Records. Hooley was impressed with the band. Rocky sang "Good Golly Miss Molly" with the Outcasts at the Harp Bar on his visit to Belfast to discuss releasing a single on Good Vibrations. This was the mooted "Greatest Hits" EP but it never came to pass. One track from the Lombard session turned up on the "Just For Kicks" compilaton LP. Good Vibrations finally announced it's release in mid-1982 but it failed to materialise. Prior to all this, the original Gravediggers had recorded a demo in a small studio in Balinteer in 1977 which included a cover of Buddy Holly's "Midnight Shift" but the sound quality was reputedly disappointing. The other songs were a cover of "Red Hot" and three originals: "Waitin' in the Rain", "Pool Hall Baby" and "Heard the News'. (Update: someone who owns a copy of this tape says the sound quality is not that bad!)

The band played the pub circuit in Dublin and various venues around the country. They played the Magnet on Pearse Street and McGonigles on South Anne Street and had a lengthy residency at Toners in 1979. They did a live broadcast on 2FM (RTE) which included "Psychobilly Sinne Fianna Fail Blues" which caused offence to one of the political parties in Ireland (have a guess...) and was subsequenly banned. De Valera is a politically charged name in Ireland and it's use caused a certain amount of infamy and confusion (see MacAnna's The Rocky Years book for more details). The band shortened it's name to Rocky & The Gravediggers at one point in order to improve bookings. But the big break never came and the band finally ran out of steam in December 1979. Rocky returned the following year fronting a new band called The Rhythm Kings.

After the split, Ferdia MacAnna and Martin Meaghar later continued as the Rhythm Kings. Dave/George Sweeney joined The Vipers in July 1978. Ritchie Taylor (guitar) was a Gravedigger in 1978 and subsequently became a Rhythm King. Jack Dublin joined Deaf Actor and later helped form In Tua Nua. Pat Rooney played drums for most of 1978-79. Dave Buckley played drums circa 1979.

In 2005, Rocky De Valera, Jack Dublin, The Lizard and drummer Paul Byrne (AKA Pall Bearer, ex Deaf Actor, In Tua Nua) reformed the Gravediggers for a packed gig in Howth. Original members original Rob Campbell and Dave Hero joined for the encores of "Pool Hall Baby" and "Shakin' All Over". The reformed band have since recorded.

Apologies if I've mixed up nicknames and real identities.





Discography

• various artists - Just For Kicks
LP - Kick Records KK-1 - IRL - 1979
See Compilations section for full track listing.



tracks: Lady Loves to Rock'n'Roll


• The Dice Man
CDS - 2005


• Sinne Fianna Fail Blues
CDS - 2005


• various artists - Sunflower Nights
2xCD - Hospice Foundation - HFCD001 - 2 May 2008
See Compilations section for full track listing.



tracks:
Peter Gunn Theme (Henry Mancini)
I Can Tell (Smith)
Help!
We need your help to correct and/or complete this entry. If you can provide more information about this band, have scans, photos or any other memorabilia we can use, or spare copies of any releases, then please get in touch.
---

See Also: Electron, Face To Face, Max Quad Band, Rat Salad, The Rhythm Kings, The Vipers

External Links: Audiokiss


---

A-Z Artist Index
Compilations
Record Labels
Media
Help Us!
Contact Us
Resources
Timeline
---