---


A-Z Artist Index
Compilations
Record Labels
Media
Help Us!
Contact Us
Resources
Timeline
---
From: Gillingham

Active: 1964-

Style: Rock



Bio:

Mick Cox (born Gillingham 1943-2008) was posted during military service to Northern Ireland where he met local musicians and played in the local scene where he met such guitarists as Henry McCullough and Billy Hollywood of the Alleykatz. His brother John Cox was another guitarist who also played in local Belfast bands. John Cox almost became a member of The Just Five and lived with Sam Mahood for a period.

Mick Cox replaced Billy Hollywood in the Alleykatz in 1964 and toured with them and other bands before returning to London in 1967.

On the recommendation of his brother John who'd meanwhile played with Van Morrison in the USA, Mick joined Van Morrison's band in 1967, playing the same Northern circuit he'd earlier played with the Alleykatz, before Van returned to the states. He then got the call from Dave Robinson to come to the USA to replace Henry McCullough in Eire Apparent after Henry has been deported for possession sometime before the Summer of 1968. While McCullough's name is frequently associated with Eire Apparent, Cox remains less known. Even though he was with the band for a relatively short period, it was arguably the most fruitful of the band, during which they toured with Jimi Hendrix and recorded their sole album with Hendrix's help. Cox plays on the LP and his name appears in half the writing credits. He left Eire Apparent in November 1969, a few months before the LP's release. His replacement was Tiger Taylor.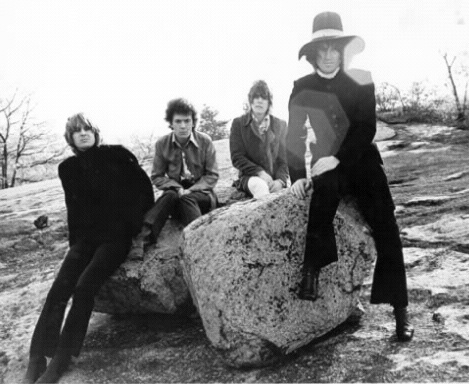 Mick formed his own band Magnet (1969-71) who has some success in the USA, releasing a single. He then toured with Arrival (1971-72) and the post- Arrival outfit Kokomo (1974) but he doesn't play on any of either bands records. He worked again with Van Morrison playing on the "Common One" (1979), "Poetic Champions Compose" (1985) and "The Philosophers Stone" (1998) albums as well as live work.

In between he released his solo album on Capitol Records in 1973.

See Mick's site for further details of his career.




Discography:

• Magnet - Let Me Stay / Mr Guy Fawkes
7" - CBS - 4472 - UK - 1969 - stock and promo


• Magnet - Something To Remember Me By / Everything
7" - Date - 1671 - USA - 1970
7" - CBS - 4844 - UK - 1970
7" - CBS - 4844 - Germany - 1970 - PS
7" - CBS - 4844 - France - 1970 - PS
Lineup: Mick Cox, Tony Kelly, Keith Evans, Eddie Middleton.


The B-side is late 60s pop with a brass section.



• Mick Cox Band - Stuck On You / (Interstellar) Ranger
7" - Capitol Records - 3675 - USA - 1973


• Mick Cox Band - s/t
LP - Capitol Records - ST-11175 - USA - 1973
Charted in the USA, registering sales of over 50,000 copies.




side one:
Stuck on You
This Time Round
Ranger
Queens Avenue

side two:
White Lie
Redirecting Mary
Ego Trap
Questions
Notes:
The lineup on the album is Mick Cox (guitar), Tony O'Malley (Arrival/Kokomo) (vocals), Chrissie Stewart (ex Eire Apparent)(bass), Mick Weaver (keyboards), Peter Arnesen (keyboards), Alan Skidmore (sax), Andrew Steele (ex-Herd) (drums).



• Mick Cox - Compose Yourself
CD - Drive - DRIVE 3207 - UK - 1990
CD - Rize - rrcd 9001 - UK - 1995 - different cover


tracklisting:
Inside Information
Trickery
The Saga Of Bold Axis
Con Amore
Billiards
Simonian Rhapsody
Paper Never Bleeds
Compose Yerself
The End Of The Beginning
Notes:
With Van Morrison, Lavern Brown and Mel Collins.






See also: Anno Domini, Clancy, Ernie Graham, Grease Band, Henry McCullough

, Teddie & The Tigers External Links: www.mickcox.net




Help!: We need your help to complete this entry. If you can tell us more about this band then please do! We welcome any corrections, missing details, connections to other bands, where are they now, etc. We also need photos, scans, copies of releases or live or demo recordings, and any other memorabilia gathering dust in the attic. If you can help, then please get in touch.



---

A-Z Artist Index
Compilations
Record Labels
Media
Help Us!
Contact Us
Resources
Timeline
---